Ultimate Guide to Cooking Knives
Preparing a delicious meal is possible by using a single knife, but you will also need proper knives on hand to make the process safe and seamless. However, with the plenty of cutting tools variation available in the market, it's challenging to find the ones that can cater to your needs. It requires the proper knowledge to select the best knives ideal for your kitchen.
Although you can just buy a set of knives to make the shopping more straightforward, the chances are that you'll only use a few of them. So, you have to consider questions like, "what am I using the knife for?"-- is it for the meat, fish, or vegetables? It will help you determine the ideal types of cutting tools perfect for your kitchen needs without wasting your money on knives that you're not even sure when you will ever use them.
Therefore, to make your life simple, here's an ultimate guide to complete your cooking knife set without overwhelming your utensil drawers. This article covers the variations of cutting tools, their usage, and essential tips to note when buying cooking knives. Plus, bonus takeaways on keeping the tools sharp and lists of best knives recommendations just for you.
Different Types of Cooking Knives
In preparing dishes, there are times that you can't avoid wishing for a better knife to cut the ingredients nicely. Sometimes, you struggle when slicing meat or vegetables -- we know it's frustrating but remember that it's not about you. It's about the cutting tool you're using since most knives are specifically designed for specific cutting purposes. So, it's about time to be familiar with these different types of cutting utensils for cooking:
The Basics
One of the most common and convenient knives for novice and seasoned cooks is the chef's knife. It's a versatile tool ideal to cater to most kitchen cutting tasks. It's perfect for chopping, dicing, and slicing ingredients easily with its long, broad, and sharp blade. Usually, the size of this knife may vary from six to eight inches long. It's recommended to depend on its length to how big your hand is or the chef who will use it.
If you ask about the must-have type of knife, the answer is always the chef's knife. Although, you should also remember that this tool is available in either forged or stamped variations. And, forged chef's knife is the best option as it is more durable.
You might need to cut smaller ingredients, and using a broad cutting utensil, then the chef's knife is not the best option. In this case, your solution is to use a utility knife. Its slim edges and narrow blade allow you to handle chopping precisely and slicing smaller items.
A much smaller tool like the paring knife is the best option for thinner and more precise ingredients. It comes with a slim and short blade, usually 3 to 4 inches long. So, if you're fond of creating elaborate garnishes for your food, you should not forget to add this to your collection. You can find various styles of these cutting tools, including the common ones: sheep's foot, spear point, and bird's beak.
If the chef's knife of European is a bit heavier for you, the Japanese knife Santoku is your best bet. It offers a slimmer and smaller blade than the latter, making it ideal for a more convenient cutting. Its lightweight yet the durable quality is why most chefs find it hard to choose between using a chef's knife or the Santoku.
Great Addition to Knife Set
Besides the essential knives to have in your kitchen, special knives would come in handy. These are made with particular roles to make the cooking process quick and simple. Having them will probably reduce your headache when you can't chop the hard meat.
A steak knife is designed to cut the steak meat easily and have a sumptuous meal based on the name itself. However, it's also perfect to use for slicing uncooked steak, fish, chicken, or other meat. This cutting tool's pointed and sharp edge is a great addition whenever you need to cut and trim delicate items.
The boning knife is known for its versatile blade that can handle meat and fish bones. It's a handy cutting tool to have, especially if you love cooking fillets. It makes separating the bone from the meat straightforward.
It's also convenient to have the biggest and heaviest knife that you can have in the kitchen, a cleaver. It has a wide, razor-sharp, entire tang blade that easily handles heavy-duty cutting tasks. The design allows you to cut through thick and intricate items. It's usually the knife that you can see with butchers since it's the best for chopping and pulverizing meat.
If you love making pastries such as bread and cakes, you should buy a bread knife. It's specifically made to have big and sharp teeth on its blade to cut through soft items nicely. You can usually find this cutting tool with a long blade, varying from 7 to 10 inches.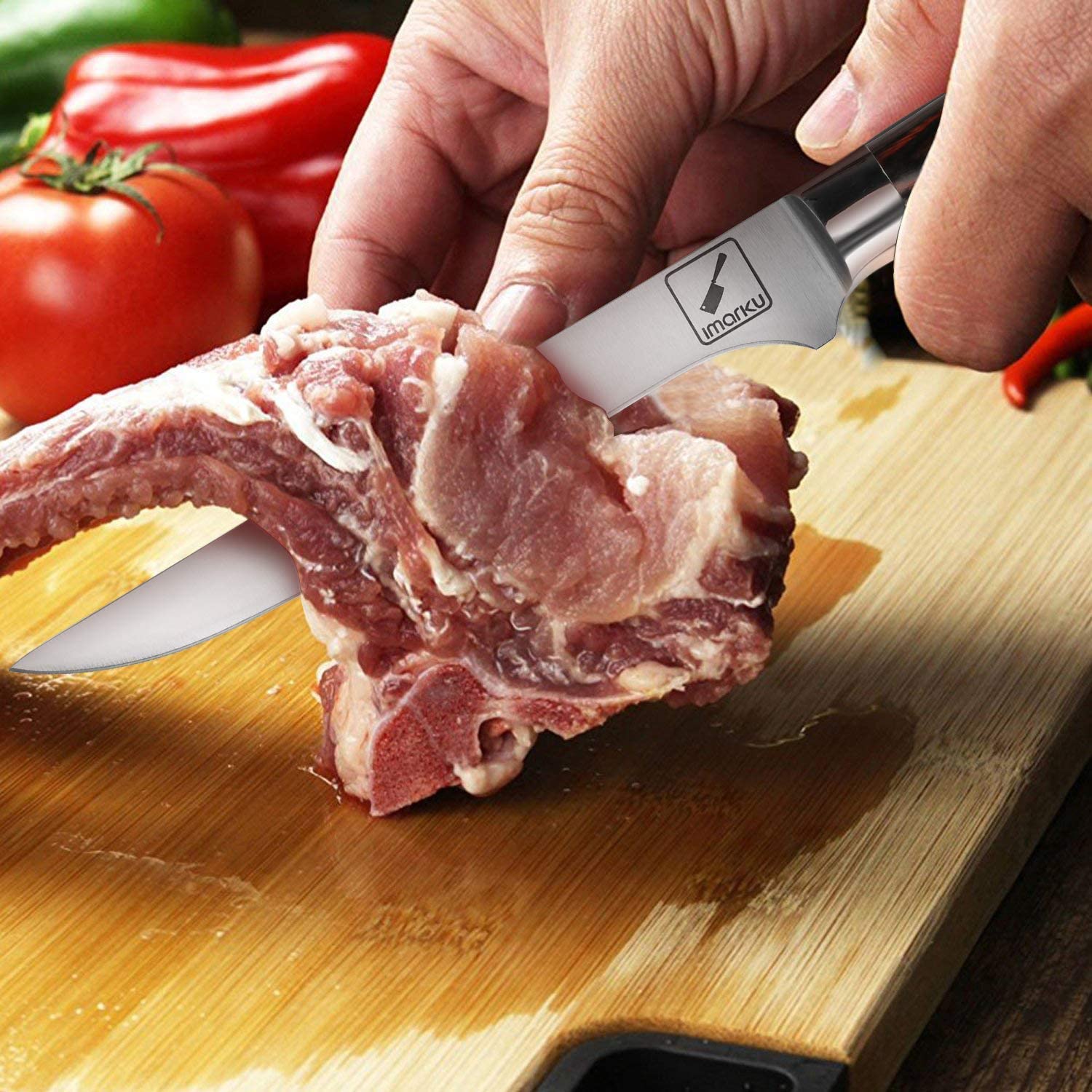 When to Use Each Cooking Knife
Knowing the variations of cutting tools for cooking is one thing, but it's also essential to know when to use each knife.
Chef's Knife
A chef's knife is a comprehensive tool that can handle most ingredients' simple chopping, slicing, mincing, and dicing. This sharp Western blade is your cook-buddy whether you want to cut vegetables, meat, and herbs. You can also use it to smash and crush garlic for the seasoning.
Utility Knife
Like the chef's knife, a utility knife also serves as a one-fit knife that you can use for various cutting tasks. But with its lightweight feature, it's ideal for precise trimming of meat fats, thin slicing o vegetables, and easy pealing of fruits. Although, this is not great for handling thick and challenging items.
Paring Knife
A paring knife is more designed for cutting through soft fruits and vegetables because of its smaller and shorter blade. You can use it to peel fruit and vegetables easily. It's also great for trimming food with great precision.
Santoku Knife
Similar to the chef's knife, Santoku is perfect for tougher jobs such as cutting through squash and potatoes. You can also expect this Japanese version to handle fish and meat on a pro-level. Although, it's more reliable when you want thinner slices of veggies than mincing herbs because of its flat blade.
Steak Knife
Besides cutting steak, you can also use a steak knife to slice sandwiches without squishing them. You can also use it to cut fish accurately to cook it as a fillet because of its pointed tip.
Boning Knife
As the name suggests, a boning knife is purposely made to cut and remove bones in meat and fish easily. It's also used for slicing chickens, and other poultry produces nicely without sticking flesh on the blade. Its sharp edges are the best explanation for a clean and easy cut.
Cleaver Knife
If you're dealing with huge and challenging items, such as meat with bones, you can use the cleaver knife. Its bulky and wide blade can cut through thick ingredients effortlessly. It will also come in handy if you're crushing lots of garlic, as you can easily smash them with a cleaver.
Bread Knife
As the name suggests, it's designed to slice through bread, cakes, pastries, and other soft items. You can also use it to trim thin fats off the meat.
What to Look for When Purchasing Cooking Knives
There are plenty of things to consider when purchasing cooking knives for your kitchen. It's not just about choosing the tool that suits your cutting needs at the moment, but it's also about the features and quality. So, it's essential to check out some of these factors to consider before shopping for cooking knives. You'd better know the parts of a knife. 
Right Size
Knives eventually become extensions of chefs' hands, which is why choosing the right size for your cutting tools is essential. The dimensions of different knives vary from 3 inches to 8 inches long, depending on the usage. If you prefer heavier variations, you can choose between buying a chef's knife or a cleaver. On the contrary, the Japanese Santoku is an excellent alternative if you have small hands.
Great Features and Quality
There are two ways of manufacturing these knives, either through forging or stamping. The making process significantly affects the quality and features of each blade.
Stamped knives are made from lightweight steel, making them less durable. Meanwhile, forged cutting tools have sturdy material, increasing their longevity, stability, and reliability. Although forged knives are costly, it's more worth it than the latter.
Types of Blade Styles and Edges
In looking for the best knife, you should also consider the styles of blades, whether it's full tang or half tang. Basically, if you look into the anatomy of the knife, the tang is the portion of the blade extending up to the handle of the tool. So, when we say full tang, the blade is extended, providing more sturdy and stable handling. On the contrary, the half tang is the latter's opposite, offering a weak knife.
Furthermore, you should take note of the different styles of blade edges as they are indicators of how you can take advantage more in using each knife. You can find flat or straight edges, like the chef's knife, paring, and Santoku. Some have serrated edges that you can find on bread and steak knives.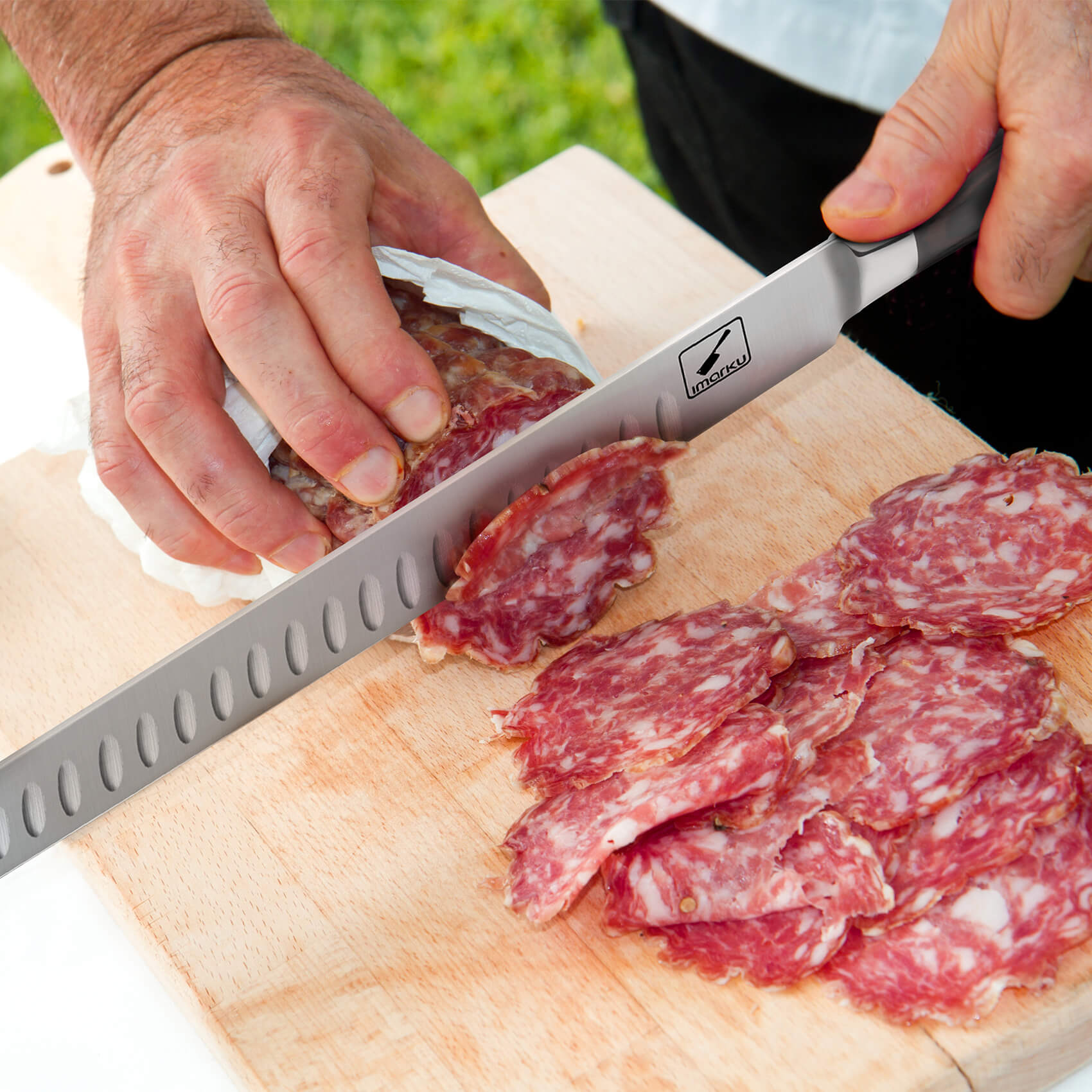 How to Keep Your Cooking Knives Sharp
There are various ways to increase the durability and longevity of your knives; one of them is knowing the best method to sharpen the tools. Here are some of the tips on how to keep your kitchen knives sharp and reliable.
The most common trick to keep the blade of your knives sharp is using a whetstone. It's a handy and affordable way to redeem the slicing power of the cutting tools. You can also opt to use manual sharpeners to navigate its straightforward system easily.
Best Cooking Knives
Admit it or not, it's still challenging to pick the best cooking knives, even if you know what to get. There are various brands and styles to choose from. So, we want to make it easier for you with our list of the best cooking knives.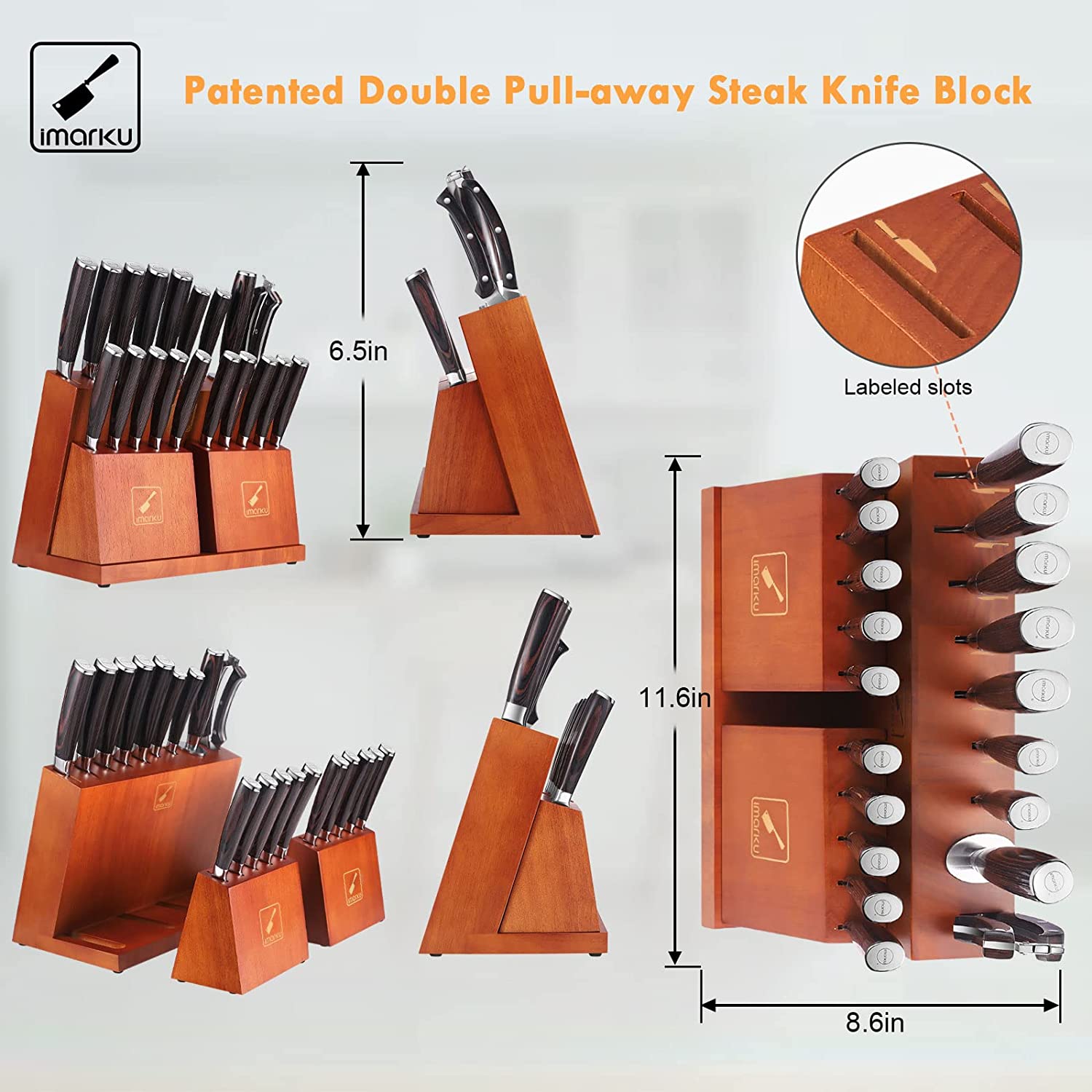 One of the professional chefs' top knives is Japanese cutting tools because of their versatility and lightweight features. With this 20 pieces Japanese knife set, you'll be able to prepare the food seamlessly. The set includes all the basic knife essentials, including a chef's knife, paring knife, bread knife, and more.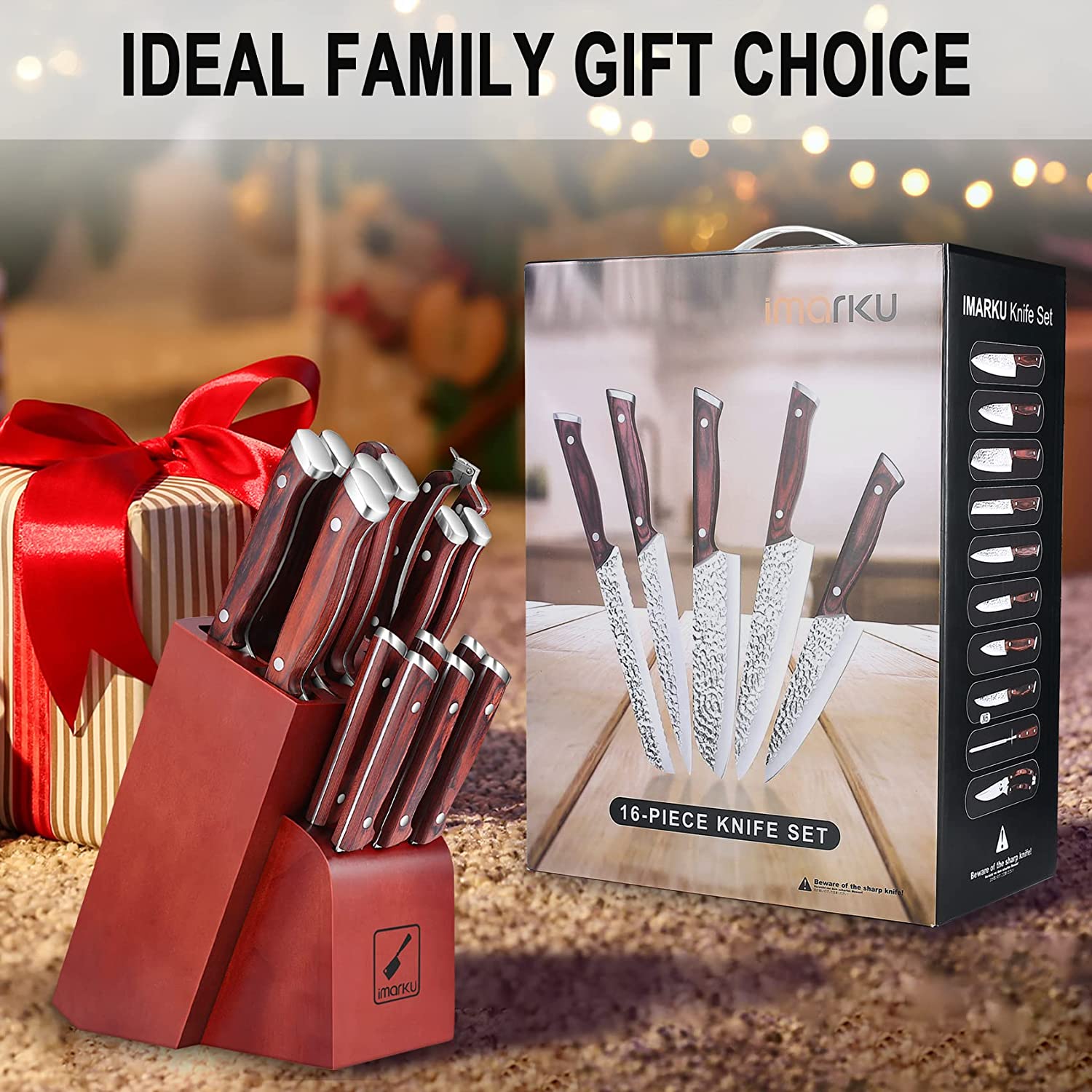 If you want your kitchen to be filled with high quality and classy appearance, this 16-piece Hammered knife set is your best choice. The handle of the knives matches the exquisite wooden block that will go well in your kitchen. You can also expect each tool included in the set to be flexible, stain resistance, and durable.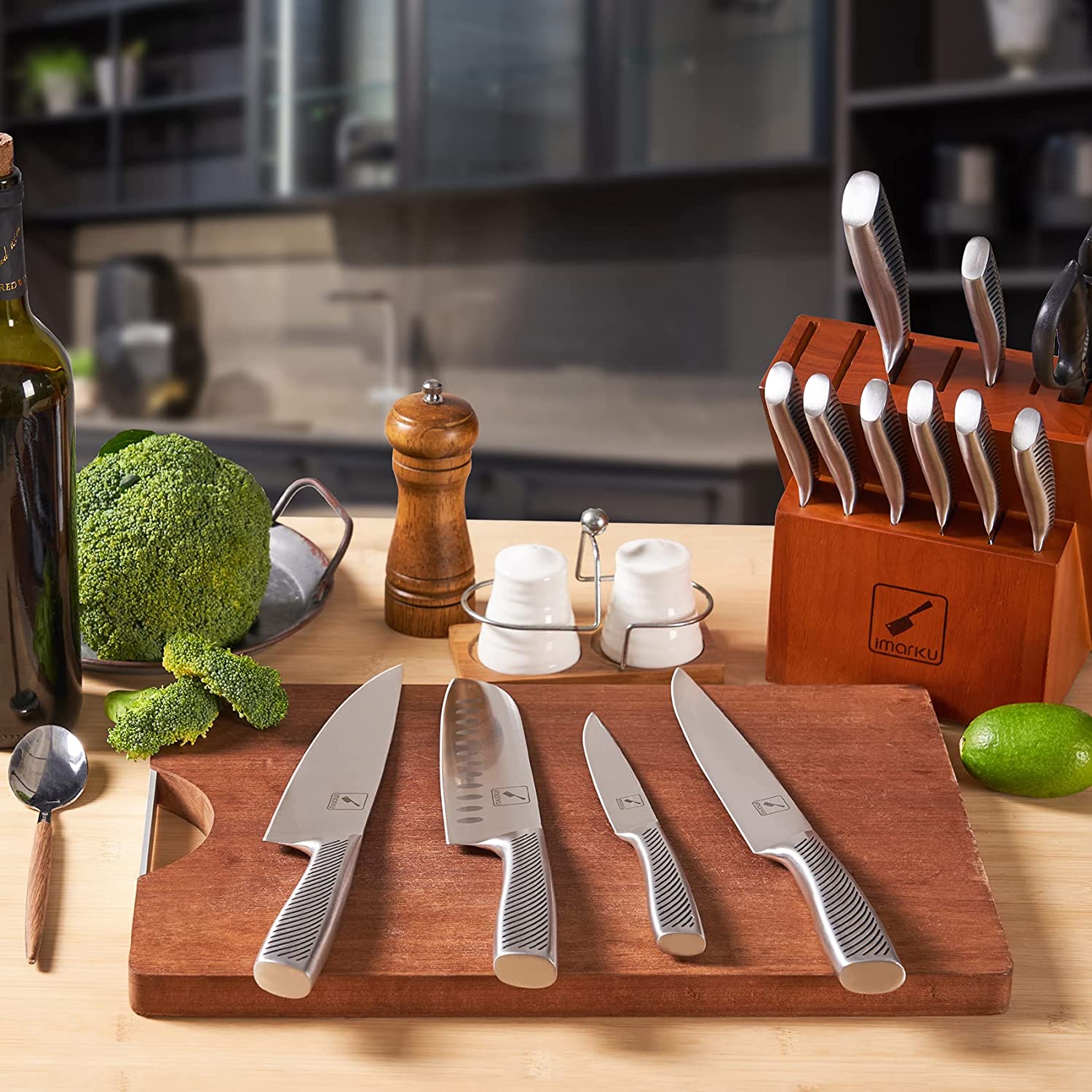 Another top of the list for best cooking knives is this 14-piece high carbon stainless steel knife set made from premium quality. The set is delicately manufactured to achieve each knife's razor-sharp and durable feature in the collection.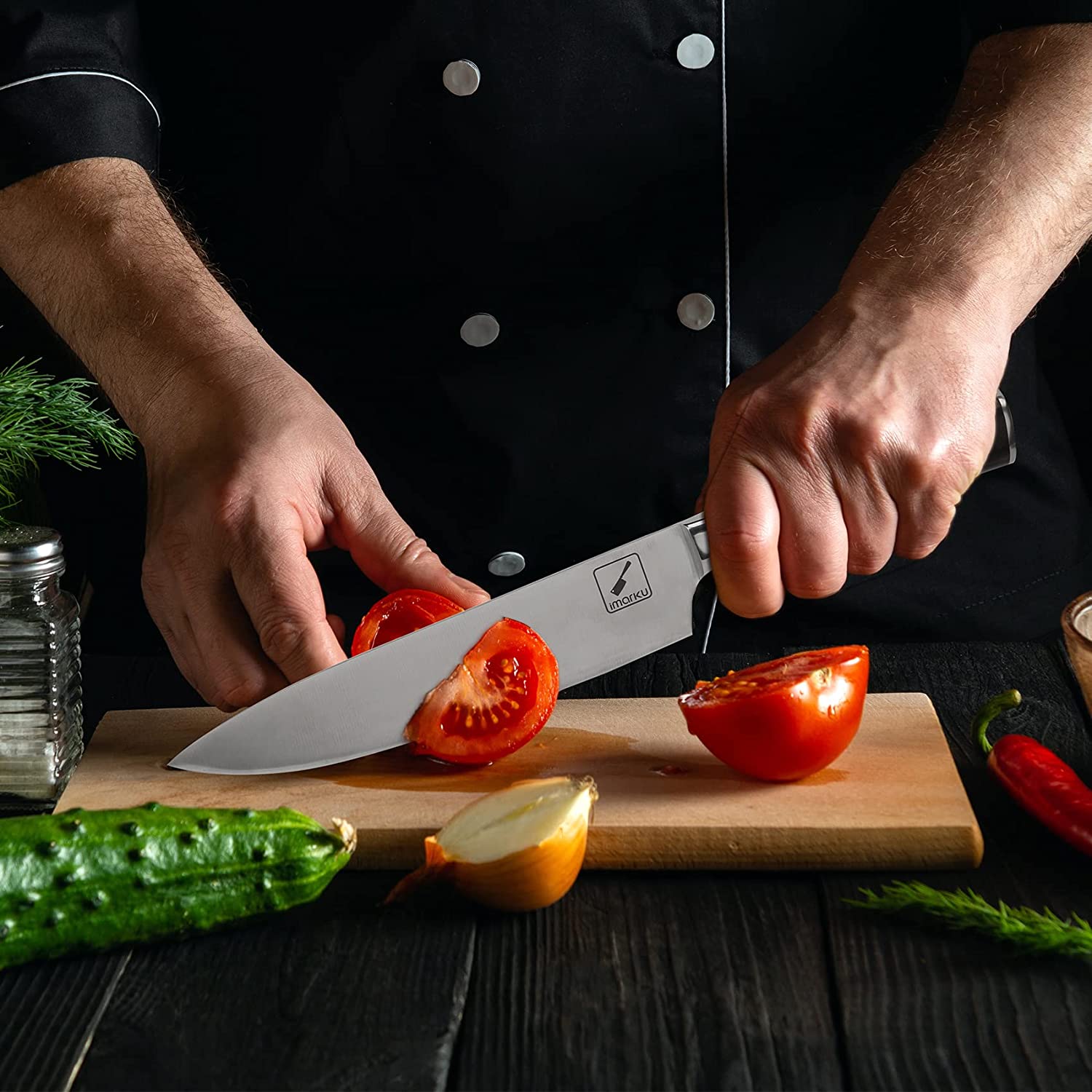 This 8" chef's knife from imarku is worth every penny for a multi-functional knife because of its remarkable features and premium quality materials. The blade is made of high-carbon stainless steel with a sturdy handle made from Pakkawood, which allows the handle to be water-resistant.
One of Hammered Kiritsuke Knife 7.5's best features is the anti-stick effect for clean and precise ingredients cutting. It's also made from sturdy steel and crafted delicately, making it more reliable to do various cutting tasks for a long period.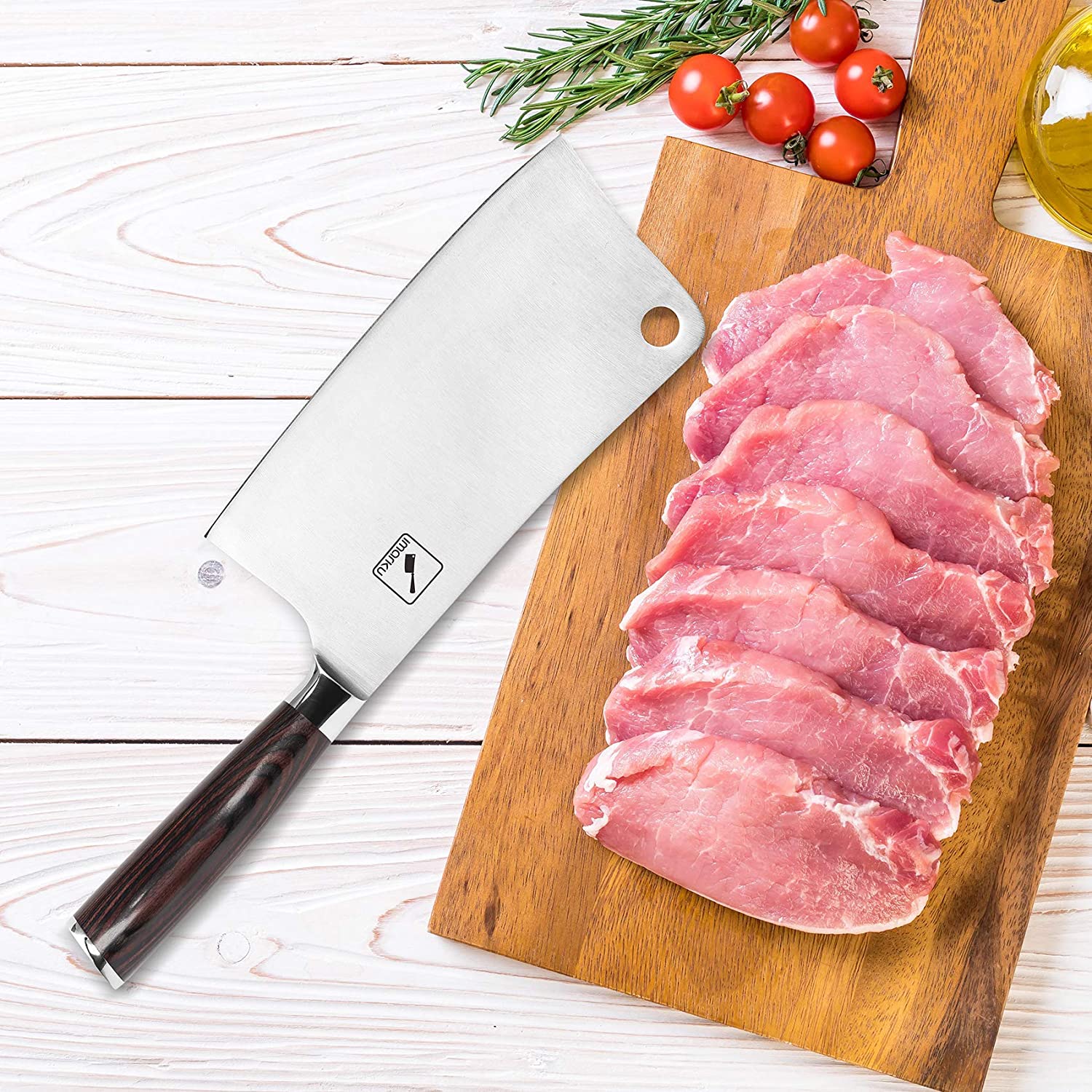 Imarku' Cleaver knife is your kitchen buddy to finish tough cuts and slices in your kitchen. It is forged from high-quality stainless steel, allowing you to have a sharp and robust chopper knife.
Prepare any fish dishes seamlessly with this Deba Knife. With its sharp edge, you'll be able to handle the various process in cooking different types of fish meal. It's ideal for gutting, cutting bonefish, and filleting.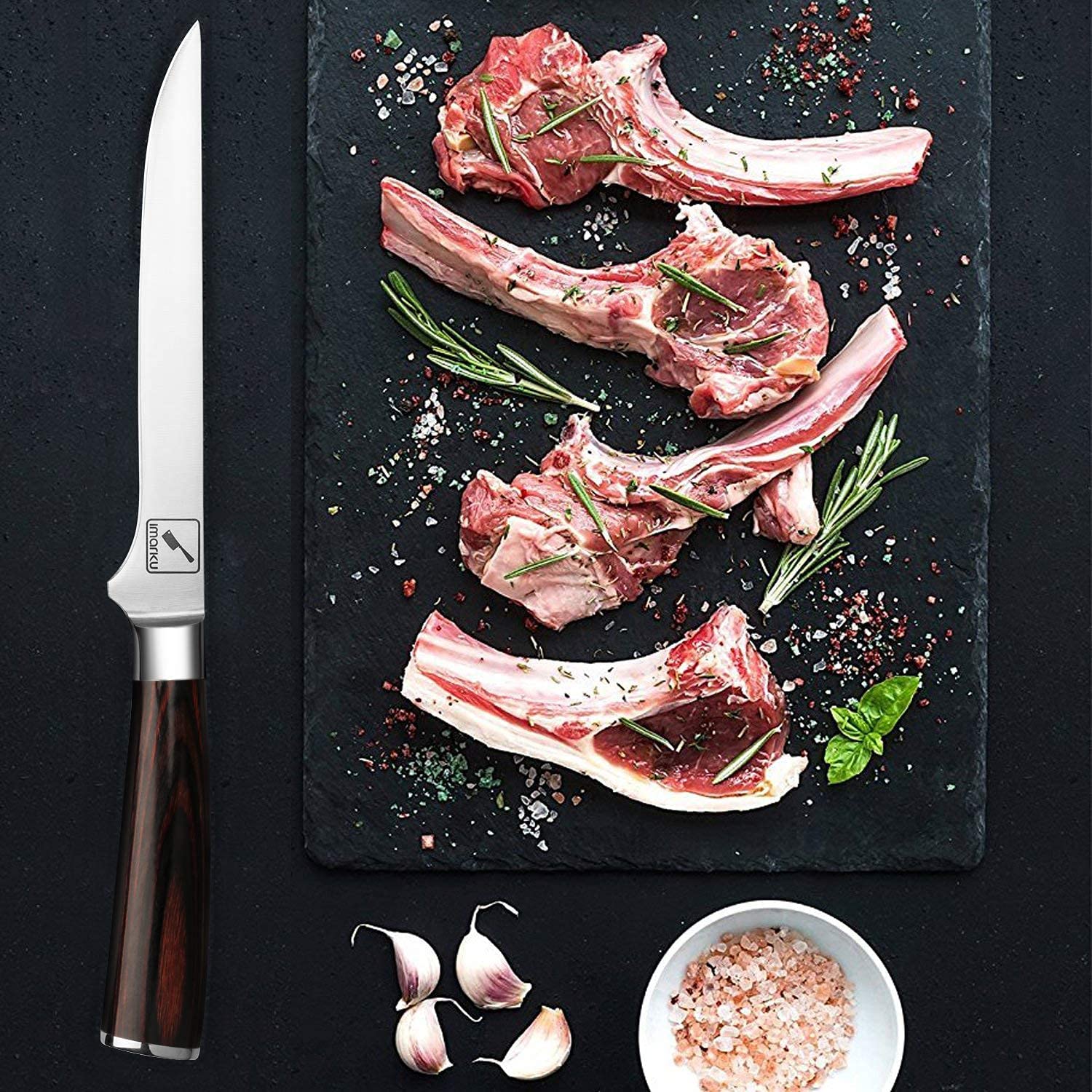 Get rid of bones and cut through meat flesh easily with this 6 inches boning knife by imarku. It's a top-notch recommendation, mainly because of its razor-sharp edge and blade. You will also give in with its comfortable and convenient design, particularly made for exceptional performance.