Best Kitchen Knives
Cooking is fun, but it's all too easy for many of us to find excuses for not getting in the kitchen. With a constant barrage of clips of famous chefs and internet personalities showing off their knife skills, you'll often hear people use their lack of "real kitchen knives" as an excuse. "As soon as I buy a set of nice knives," they'll say. 
Luckily, the best kitchen knives are pretty affordable and easy to purchase online. Here's everything you need to know about what type of knives you need and the best options for each category for the budget-conscious chef.
The Most Important Knives Every Kitchen Should Have
1) A Chef's Knife
Chef's knives are about 8" long with pointed tips and long, non-serrated cutting edges. They usually feature a slight curve along this edge to facilitate rocking motions while cutting. Chef's knives are used for slicing, chopping, and carving.
The chef's knife is an essential part of your kitchen arsenal. It's explicitly designed to be an all-purpose tool. While a chef's knife isn't always the best tool for specialized jobs, it's perfectly adequate for almost every type of work in the kitchen. Unless you only intend to cook a narrow range of specialty dishes, you want a chef's knife.
2) Knives For Your Favorite Style of Cooking
Beyond a chef's knife, it's challenging to recommend generic blades for every kitchen. Different households will perform other tasks while they're cooking. If you chop a lot of vegetables, for example, you'll probably want a santoku knife, but if you find yourself working with lots of whole poultry, you'll probably want a boning knife and possibly a cleaver.
One of the best ways to pick up many specialty knives on a budget is to buy a mid-range knife set. These often come with blocks or magnetic holders and feature a wide range of specialty knives with matching handles and trim. Not only do these sets let you try out all sorts of different styles of knives, but they also serve as excellent decorative pieces for your kitchen.
When comparing kitchen knives, there are three significant factors you should look at.
The first (and most important) thing to consider is the steel that the knife is made out of. The type of steel and the knife's hardness should match your intended use and how often you plan to sharpen the blade. Look for a Rockwell hardness number (HRC) for the knife or the type of steel it uses. This number is usually between about 52 and 65, with lower numbers corresponding to the softer steel. Good general purpose chef's knives tend to be in the 56-60 range.
Softer knives (below 56 or so) are easier to sharpen and harder to damage. The weaker a blade is, the less brittle the edge is, making it less likely to chip. This makes dull knives ideal for cutting boned meat or other tough foods. They're also great if you like sharpening your knives, as you'll be able to quickly put a killer edge on your knife with each sharpening session.
More rigid knives (above 58 or so) are more difficult to sharpen and more brittle. Their advantage comes with their ability to hold an edge. A knife with a hardness rating of 60 HRC can have a very sharp edge for days, weeks, or even months with little to no maintenance required. This makes them ideal for tasks like cutting vegetables, fileting deboned meat, and most general kitchen work, especially if you're not a fan of sharpening your knives yourself.
The second factor is the shape of the knife. There's a relatively big spread of blade shapes and designs even within a category (like santoku knives or chef's knives). Think about your ideal use patterns and the size of your cutting board when you consider different blades. In a small kitchen, you might prefer a chef's knife that's closer to 6" than 8", while in a big home kitchen with big cutting boards, you might be okay stretching up to a 9" knife. Other details to consider include the tip angle, the curvature of the knife, and how far back into the handle the metal part of the blade stretches (this is called the tang). Consider the grip as well. Do you want an ergonomic knife with finger guards? How big are your hands? These questions can help you find a blade that fits both your hands and your kitchen.
Finally, consider the appearance of each knife. Kitchen knives are tools, but they still can look nice. Magnetic knife racks, knife blocks, and other visible storage apparatus often display your knives when they're not in use. Pick knives you like to look at. It'll make cooking a bit more fun and help contribute to the decor of your kitchen.
For the new chef (or the experienced chef on a budget), the iMarku 8" chef's knife is pretty darn hard to beat. Its combination of price, quality steel, and elegant aesthetics is ideal for any household that wants a great, beautiful knife while keeping things affordable.


Unlike most other "budget-friendly" chef's knives, this iMarku 8" knife cuts no corners. It's made of 56-58 HRC high-carbon steel, making it easy to maintain and hard to chip. The blade features a full tang, giving the knife excellent balance in hand and helping it hold up to accidents and rough use a little bit better. The beautiful Pakkawood handle delivers the same rich, natural appearance and organic wooden feel as knives four or five times more expensive.

The combination of features on this iMarku chef's knife is extra perfect for beginner chefs. The blade is corrosion-resistant, easy to care for, and difficult to damage. Combined with the excellent balance, great design, and fantastic price point, it's an attractive choice for anyone looking to get into cooking.
Like the chef's knife above, this iMarku santoku knife offers a perfect blend of features for household chefs. Slightly harder steel (7Cr17Mov) is used here to give the thin blade more strength and edge retention. 7Cr17Mov is very comparable to 440A stainless, which is one of the best steels around for knives that you don't want to spend a lot of time maintaining. It's corrosion-resistant, it holds an edge extremely well, and it holds up very well in the face of accidents, misuse, and abuse.
The classic santoku design of this iMarku is ideal for quickly chopping vegetables, but the durable steel and great edge make it quite acceptable for the occasional off-label use. A thin, scalloped edge helps food separate quickly from this knife, while the overall light design reduces fatigue over long cooking sessions.
Just like the other iMarku products highlighted here, the handle is made from tastefully patterned pakkawood and is available in multiple colors. It's easy to find a variant of this santoku knife that fits with your kitchen and lifestyle.
Again, the low price point, excellent aesthetics, and quality steel make the iMarku santoku knife here absolutely perfect for new chefs or experienced cooks looking to replace a knife on a budget. It's durable, great at holding an edge, and has wonderful design and balance, making it a pleasure to use.
If you find yourself doing certain types of cooking, you'll quickly realize that having a sharp paring knife can be just as important as having a brilliant chef's knife. The iMarku paring knife is the perfect companion to your larger blades when it comes to delicate, small-scale cutting. Like the other options here, this knife has been chosen due to its affordability, aesthetics, design, and steel. It's a great blend of all four factors ideal for any chef in need of a sharp, reliable paring knife.
Just like the santoku knife above, this paring knife is somewhat on the harder side. This is ideal for smaller and thinner blades, making the knife much harder to bend or break accidentally. It also assists with edge retention. While you'll probably want to use a honing steel to re-align your knife's edge every once in a while, you'll probably only have to sharpen this knife once or twice a year.
Paring knives often can be the odd knife out in your collection, but iMarku has covered that problem quite well. The same Pakkawood styling that's found on the two knives above is again featured in this paring knife. The classic brown wooden styling goes great with almost every knife set there, making it a tasteful inclusion.
Paring knives can be incredibly pricey, especially if you want an elegant knife that will retain an edge. This iMarku paring knife manages to look fantastic while featuring some of the best steel on the market without breaking the bank. If you need a smaller blade for precise cuts, this iMarku paring knife might be the right choice for you.
Unlike straight-edged knives, serrated knives are difficult to sharpen by hand. This iMarku bread knife skirts around this challenge by utilizing hard German stainless steel. Not only does this provide corrosion resistance and longevity, but it also helps the knife hold an edge for months or years without any attention.
iMarku's classic Pakkawood styling returns, giving your bread knife the same look and feel like the other wooden-handled knives in your collection, regardless of brand. It's a nice touch. In many kitchens, the bread knife is a cheap blade picked up at a supermarket. This iMarku is somehow still affordable while offering a classic wooden handle that will give your kitchen a touch of elegance.
Bread knives are often prone to breaking due to the high stresses of cutting into a loaf of freshly made bread. This durable iMarku knife is an affordable way to ensure your bread knife lasts for a bit longer. The strong, flexible, corrosion-resistant steel makes this knife perfect for any kitchen that wants a beautiful bread knife that will last for a while.
Boning knives have unique requirements, and iMarku has proven that they understand what chefs need with this small, sharp blade. It's a bit softer than the other knives on this page, with a hardness of between 54 and 58 HRC. Out of the box, the blade is sharpened to a much more substantial 14-16 degree angle, giving it the power it needs to handle bones without chipping or breaking. It's a little bit thicker than you might expect, but it's still incredibly sharp out of the box. You'll have no problems using this knife to debone poultry, fish, and larger animals.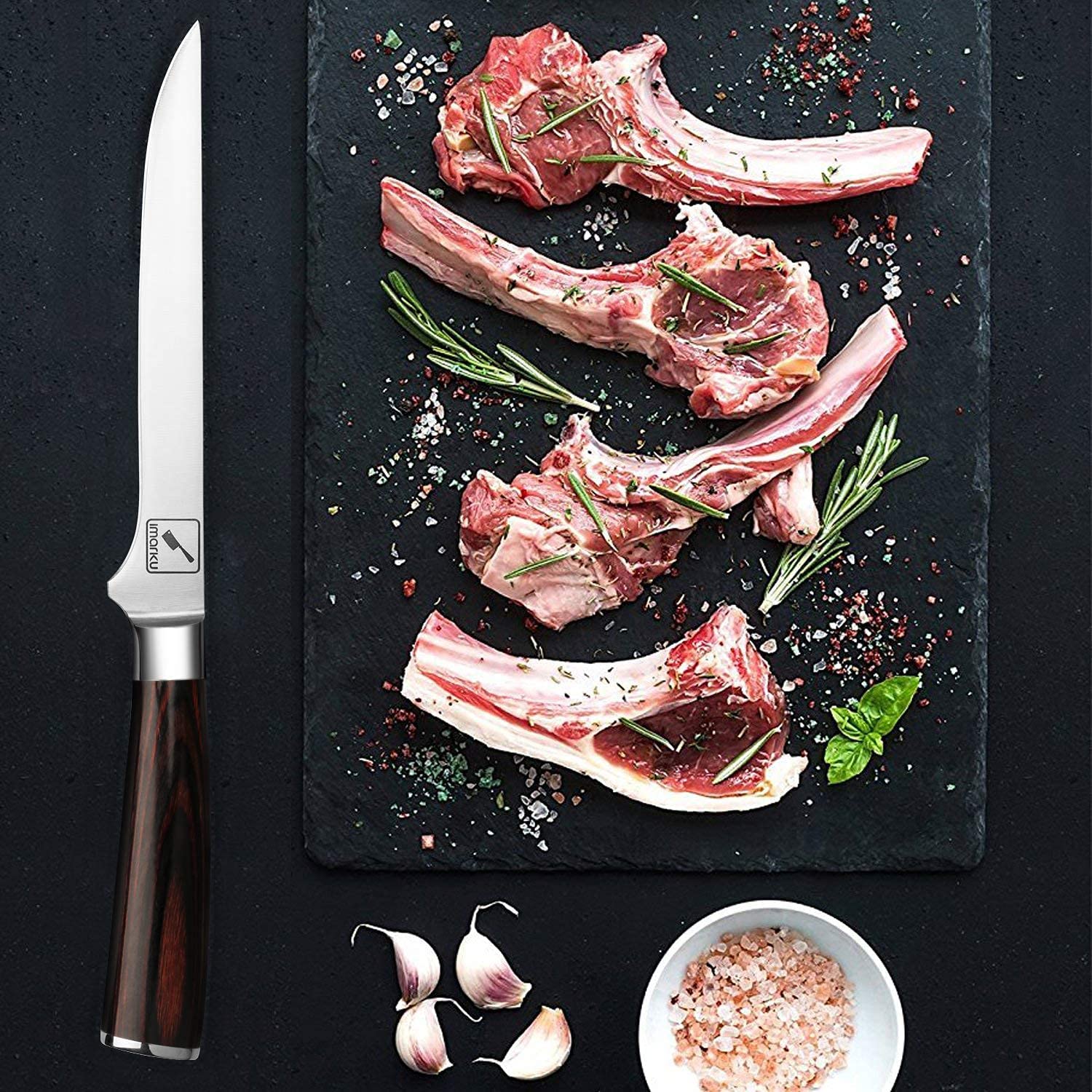 Of course, this knife wouldn't be an iMarku without the signature blend of excellent aesthetics and affordable pricing. It's tough to beat both simultaneously, especially if you want soft steel that won't chip when you use this knife for its intended purpose. You'll have to put a little bit of care into this knife to retain the edge, but this beautiful blade is worth it.
iMarku breaks their classic formula a bit with this 7-inch fillet knife. By utilizing traditional Japanese forging methods, employing softer steel, and sharpening the single-bevel edge to a blistering 12-15 degrees, they've delivered a knife that takes a bit of skill and practice to use. While the sturdy construction, great design, and forgiving edge will give you plenty of room to make mistakes, you'll probably find that you should sharpen this knife regularly.
Like any Japanese-style fillet knife, this iMarku has a big, thick blade that tapers down to an incredibly sharp point. This gives you a hefty edge with lots of weight that chops with satisfying ease. The back and side of the blade are beneficial for crushing and separating fish parts as you prepare your food for the table. An elegant Pakkawood handle reminiscent of the traditional round handles on super-high-end Japanese knives seals the deal and gives this knife incredible aesthetics.
The great steel, extra sharp edge and traditional design make this knife a worthy contender for the title of best filet knife. Despite this, it's pretty affordable, coming in at well under a third or a quarter of the cost of many "mid-range" Japanese-style fillet knives. It'll require a bit of care, practice, and regular sharpening to get the most out of this blade, but it's well worth the opportunity to add a beautiful knife to your collection.
If you're looking to pick up more than one kitchen knife at once, knife blocks like this iMarku option here deliver brilliant value. Not only do you get a great deal on the knives themselves, but you also get a stylish wooden block that serves as a great accent to your kitchen while displaying your elegant new knives.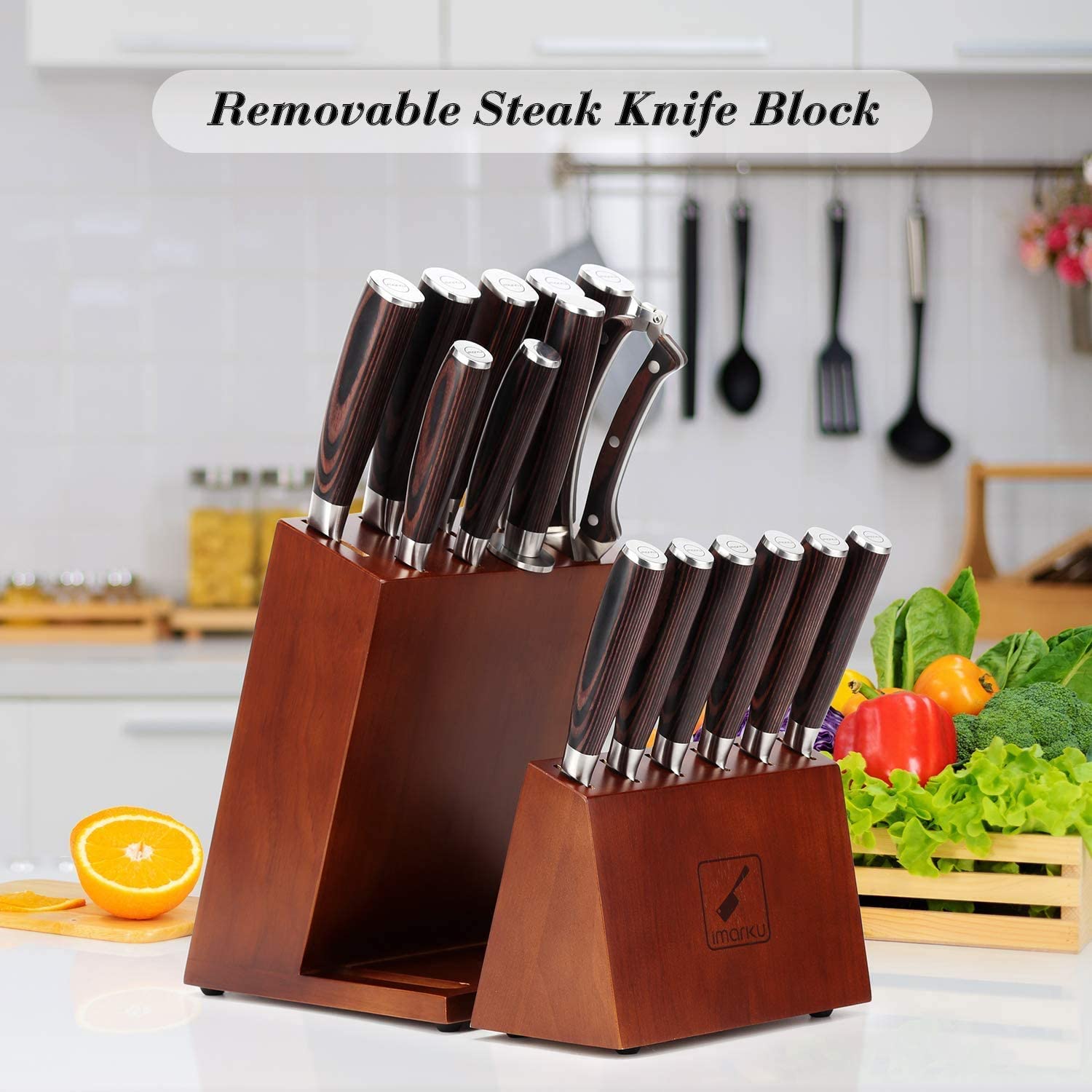 This particular knife block offers most of the knives above as well as a set of steak knives. It's got an 8" chef's knife, a bread knife, an 8" slicer, a santoku knife, a 6" chef's knife, a utility knife, a paring knife, kitchen shears, and 6 steak knives. An included sharpening steel helps hone your blades and reduce the amount of time you spend sharpening. The removable steak knife holder allows you to display your steak knives in a different place, giving you versatility in your kitchen arrangement. Entertaining guests? Stick the holder on the table to be extra fancy and then dock it with the other block when it's time to break out the board games.
The individual knives are all made to different specifications, giving you the best tool for each specialized task. Despite their unique designs, beautiful matching handles make this an incredible display piece and ensure that your hands stay secure and comfortable as you cook. All of the knives feature the same no-nonsense iMarku engineering that delivers excellent performance without needlessly wasting your budget.
For anyone looking to pick up more than two or three knives, this knife set from iMarku is an excellent bargain. Priced well under the cost of two fancier chef's knives, you get significantly more than two knives and a beautiful display block that will impress your guests and make it easy for your family to cook. It's a great deal for almost every kitchen.
If you've already got the cooking knives included in the set above, this steak knife set gives you the ability to entertain in style without purchasing duplicate blades. The high-quality German stainless steel blades make it easy to maintain these serrated knives over long periods of time, while the elegant handles are sure to impress your guests (and family members). Between the quality knives, the attractive block, and the large number of items included, this set still manages to deliver excellent value for its price.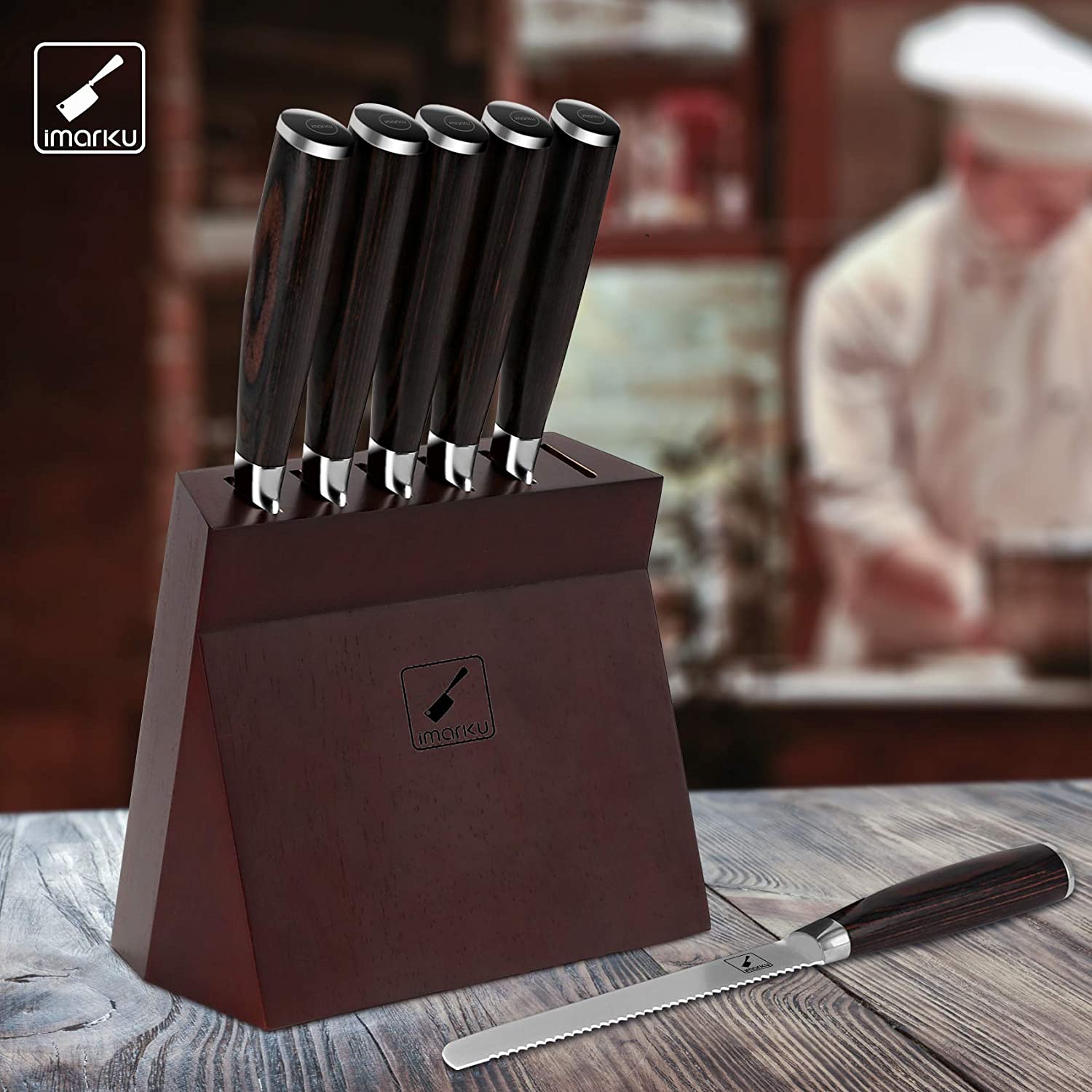 This firm, thick iMarku cleaver makes it easy to chop lots of meat in short periods. With a tough blade (60-62 HRC), the sharp steel edge on this knife will hold up for many long cutting sessions with little need for maintenance. An ergonomic handle from patterned Pakkawood makes this cleaver every bit as elegant and tasteful as the chef's knives above.
While it's big and heavy like the fillet knife above, this cleaver is incredibly strong and has a more traditional European edge. It's still extremely sharp, allowing it to chop through thick cuts of meat with ease. A hole will enable it to be hung from a knife hook handle down, making it easy to retrieve when it's time for us to use it.
Just like other iMarku knives, this cleaver offers incredible value for its price. It's made of the same sort of high-quality, high-carbon steel as much more expensive knives, and the Pakkawood handles and classic styling help it look incredible. If you find yourself in need of a cleaver, this iMarku is an excellent choice that will help you save a bit of money to spend on your cooking endeavours.