How To Make Tuna Poke Bowl at Home
One of my favorite ways to satisfy a sushi craving when I can't make it out to my favorite restaurant is to make a Poke Bowl at home. This trendy creation has all the flavors that I love in my favorite sushi bar Tuna Roll, is healthy and easy to make. Everyone in my family loves these bowls. They are perfect for lunch or dinner and are becoming one of my favorite recipe rotations lately.
What Exactly Is A Poke Bowl?
Contrary to popular belief, the Poke Bowl is not Japanese in origin. People tend to think that because it is similar to the components in sushi. Instead, the poke bowl originated in Hawaii and was thought to be first prepared by native Polynesians on the island a long time before westerners even arrived there. Even though its popularity has spread across the country and become quite sought-after in the biggest cities, it still remains a staple food on the Hawaiian islands.
When we say "poke" we mean that we are cutting something in pieces, usually crosswise, and describing the actual method used to cut the tuna for the recipe. Ahi Tuna is the most common main ingredient you'll find in a poke bowl, but other variations have come about in recent years and use various other fish options such as octopus, mussels, and salmon.
Health Benefits Of Tuna Poke Bowls
Tuna Poke Bowls are definitely considered to be a pretty healthy choice primarily because Ahi Tuna has so many health benefits on its own. The fish has been known to improve heart health (due to omega-3 fatty acids), lower blood pressure, boost immunity and fight inflammation.
In addition to these benefits, the other toppings that you combine with the tuna typically include veggies like carrots, radishes, cucumbers, and edamame. I love this poke bowl recipe because it also combines avocado, green onions, and a drizzle of wasabi mayo for a kick of spice.
Most of the calories in this recipe come from the rice at the bottom of the bowl. So if you are genuinely counting calories and want to cut back, I recommend putting less rice at the bottom of the bowl and loading up on the other healthier toppings instead.
By now your mouth is surely watering and you're ready to try making this delicious dish on your own. I guarantee that once you try it, you will make it over and over again.
What You'll Need To Make The Poke Bowls
Utensils Needed:
A Sushi knife or very sharp chef's knife

Cutting board

Rice-cooker or pot to boil the rice

Medium bowl to mix the tuna with the dressing

Small bowl to mix the spicy mayo

4 serving bowls to assemble and serve the poke
Ingredients Needed:
For the Rice:
3- 4 cups fully-cooked brown or white rice (depending on your preference)— prepare the rice ahead of time since it can take a while to cook depending on your method.
For the Dressing:
1 tbsp sesame oil

2 tbsp soy sauce (low sodium or regular)

1 tbsp rice vinegar

2 tsp black sesame seeds
For the Wasabi Mayo:
1 teaspoon wasabi paste (can add more or less to taste)

⅓ cup mayonnaise
For the Poke Bowl:
1 lb. sushi-grade Ahi Tuna (from a reputable fish market or grocer)

cup diced cucumber

cup shredded carrot

6 red radishes very thinly sliced

cup shelled edamame (also called mukimame)

2 medium-to-large avocados peeled and cut into slices

¼ cut thinly sliced green onions

Sushi ginger (optional, for a garnish)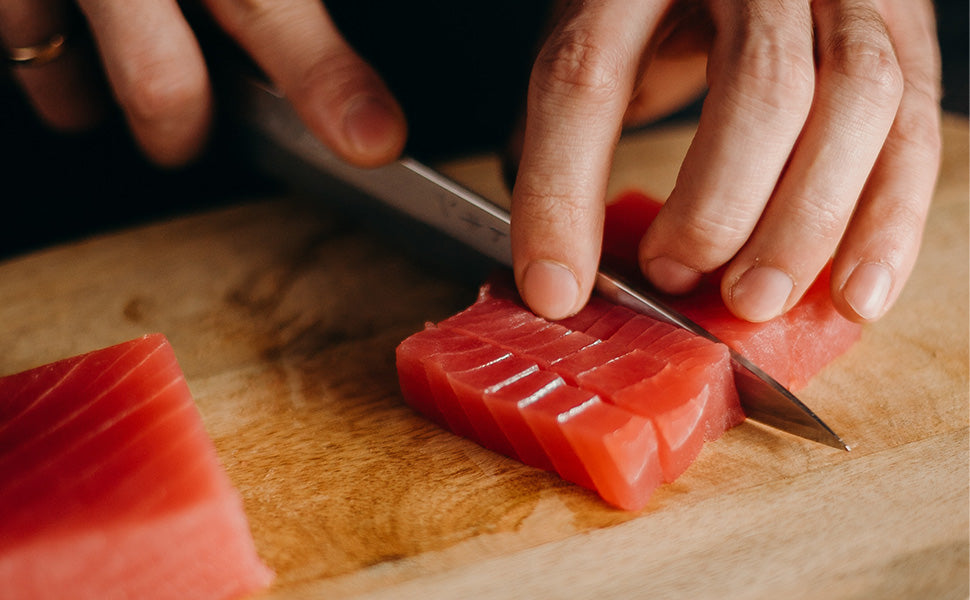 The Best Spicy Tuna Poke Bowl Recipe
Prep Time: 15 minutes (plus cooking time for the rice)
Yield: 4 Servings
Cook The Rice
Before you start making the other components of your poke bowl you need to make sure that you have the rice fully cooked and ready to use. You can use either brown rice, white rice, or sushi rice depending on your preference. Sushi rice will make for a stickier option that is closer to actual sushi. Follow the instructions on your package of rice and/or your rice cooker to achieve the best result.
NOTE: You typically want the rice to be cold for this recipe as the rest of the components will be chilled. We recommend cooking the rice ahead of time and chilling it in the refrigerator until you are ready to assemble the poke bowls. Occasionally, I will also use microwaveable frozen rice as a shortcut when I am pressed for time.
Make The Poke Bowls
Slice all of the vegetables as indicated in the ingredients list. Set the vegetables aside.

Using a sharp sushi or chef knife and a cutting board cut the tuna crosswise into ¼ inch pieces.

Place the tuna into a medium bowl and add the sesame oil, soy sauce, rice vinegar, and sesame seeds. Stir gently to combine and set aside.

Make the wasabi mayo by combining the wasabi paste and mayonnaise in a small bowl and stirring to combine. Set aside. 

NOTE: 

Fix the wasabi mayo to your spice level preference. You can add a bit more wasabi paste if you like it spicier and a bit less if you like it milder. You can also skip making the wasabi mayo if you prefer a non-spicy bowl.

Evenly divide the rice between the four serving bowls.

Evenly spoon the tuna over one section of the rice.

Add the prepared vegetables (except for the green onion and sushi ginger) to the bowls, keeping each different vegetable in its section around the tuna.

Drizzle the wasabi mayo over the top of the bowl according to spice preference.

Sprinkle the green onion over the top and add a small amount of sushi ginger (if desired).

Savor every bite of your poke bowl!
Top 3 Knives To Slice Tuna
To ensure that your Ahi Tuna is sliced into perfect cubes for your poke bowl and that the tuna doesn't rip or tear, you will need to make sure that you use a top-of-the-line sushi knife or Japanese chef's knife. Here are our top 3 knives recommendations for slicing the tuna in the poke bowl.
You can easily slice through fish with a single pass using this knife and do not have to apply pressure. Its high-carbon steel blade can cut the fish into the smallest cubes without tearing it. It is also perfect for cutting fish for sashimi and will expertly cut vegetables as well. Your hands will never be tired of cutting due to its ergonomic Pakkawood handle, which provides exceptional grip and stability for precision cuts.
A chef's knife with unsurpassed durability and an extremely hard blade for ease of cutting. This multi-purpose knife is perfect for slicing or dicing, and the design of the knife is such that the food will not stick to it and slides off easily.
It is perfect for cutting both sushi fish and vegetables and is the ideal option for an all-around kitchen knife that is versatile, sturdy, and strong. The specially sealed Pakkawood handle is sealed to protect the wood's pores, and its ergonomic design prevents fatigue during use.
A great starter and all-purpose chef knife that customers love, this German Steel knife is anti-rust and resistant to wearing and cracking. It is perfectly designed for chopping, mincing, slicing, and dicing and features a solid wooden handle with an ergonomic design. It is a strong knife with an affordable price tag and is ideal for everyday use.
Frequently Asked Questions About Tuna Poke Bowls
Can I Use Other Fish Instead of Tuna As My Main Ingredient?
Yes! You can play around with endless variations of this delicious bowl. Try it with salmon or octopus or even a white fish. You can even swap in chicken or make this bowl a vegetarian option by swapping out the animal protein completely for tofu.
Can I Make The Poke Bowl Ahead Of Time?
We recommend that this bowl is prepared shortly before it is consumed and not made ahead of time for maximum safety when dealing with raw fish. However, other than the tuna, you can prepare the rice and/or veggies the day before or in the morning and slice the fish fresh right before assembling.
How Do I Know That Raw Tuna Is Safe To Eat?
We recommend purchasing your tuna from a reputable fish market or grocery store with a reputable fish counter. Make sure that the tuna you are buying is labeled as "sushi-grade" and that it looks fresh and smells fresh. Fresh fish should not have a strong or fishy smell and should not feel slimy. It can generally be kept in the refrigerator (at a consistent temperature of 39) for 1 to 2 days after purchase.
Can I Make My Poke Bowl With Warm Rice Instead Of Cold?
Of course! Although the recipe above calls for chilled rice, you can assemble your poke bowl toppings over warm rice. You want to make sure that the rice is not steaming hot (i.e., right out of the pot or rice cooker) because it may slightly cook the fish and change the texture of the other ingredients when you place them on the top. Let the rice cool for about 10 minutes after cooking to ensure it is still warm but not too hot.