What to Look for When Buying Steak Knives
Do you want to buy a steak knife? Are you looking for some considerations before making a decision? 
While buying a steak knife, we focus on the budget and durability. Also, we go through the style, guarantee, and effectiveness of the product. Your budget will play a determining role since you will have to narrow down your choices based on it. Besides, you can check the functionality. Also, you will need a steak knife that you can use for a long time. 
Apart from all the above factors, you will have to check the reviews of customers. They can guide you the most to find a suitable steak knife. Do you think a lot of confusion is there? We will make it easier for you in the following. 
We will discuss the quality, types, and some other factors related to the steak knife. In the end, we will answer all your queries. Keep reading if you want to buy a steak knife and use it for a long time with improved performance and durability.
What Makes A Good Quality Steak Knife?
You will love to have a quality steak knife if you prefer a steak dinner often. Before making any decision, you will have to understand the purpose. You can ask yourself why you need a steak knife. Besides, here are a few things you can go through.
Look & Feel
Hold the knife to know how it feels. It will help you to understand the material, design, support, and durability. You will have to choose a handle that you can hold safely and comfortably. You can go with ergonomic handles to get a comfortable and firm grip. You can choose any design based on your preference.
Design
When it comes to the design, you need to focus on function and balance. If the handle looks bulky compared to the blade length, the style will not be so user-friendly. Also, you will have to check the balance and functionality of the knife.
Blade Length
Many prefer a blade length of four or five inches. You will need a handle of the same size. The combination will look inspiring and works well. However, your preference will have a determining role.
Blade Construction
You will have to choose between two types of construction. Yes, you can go with either forged or stamped blades. Stamped ones will be affordable. But the downside is that you will have to sharpen them regularly. The forged knives are solid and might not require frequent sharpening.
Handle
There is no specific rule to find the best handle. Comfort will be the first consideration. If the knife handle is not comfortable, you cannot hold it properly. Besides, you will have to check the functionality. Many handles feature a wider butt. It will offer a proper grip and prevent slipping. 
You will find a handguard or bolster in the opposite end next to the blade. Many prefer wooden handles since they are comfortable and easy to hold. However, you can also consider resin, laminate, or metal handles. In addition to the material, you will have to make sure that the design is suitable and user-friendly.
Ways to Differentiate between Forged & Stamped Knives
If you are a novice buyer, you might not notice the difference. In that condition, you will have to check a few things to avoid any confusion. A stamped knife will be flat. Also, there will be sharpened edges, and you will not see any bolster. Yes, the bolster is the difference between these two types. There might be a few exceptions. If you have any doubt, you can go through the product description. Also, you can visit the reviews of customers. Learn more about Forged vs Stamped Knives. 
Different Types Of Steak Knives
The Straight Edge or Plain Knife
Even if this type is plain, it is not ordinary. You can expect all the advanced features. These knives will have a simple edge, and you can recognize them from this unique feature. Besides, they will have a flat profile. The sharpening will be straightforward. If you buy a quality steak knife, you can maintain the sharp edge without much effort. A few strokes will serve the purpose.
You can use a plain steak knife as a utility knife. Yes, these sharp blades can cut meats fast as fruits and vegetables. You can also use them for dicing or peeling. In brief, plain steak knives are versatile and can enable you to cut all your foods in the kitchen.
The Serrated Edge Knife
Many prefer this option for steak. You will appreciate the design, functionality, and look. Also, the blades of serrated knives are easy to maintain. You might be thinking that the surface takes the credit. However, the reason is different. These knives have come with a distinct objective. The less area of their blades will touch the material, and they will retain the sharpness. 
Many things that include metal countertops, ceramic plates, or cutting boards can make the blade dull over time. These knives come with a unique design to prevent such conditions. While cutting anything, they will not touch the material. That will retain the sharpness for a long time.
We can say that serrated edge knives keep the edges longer by ensuring less blade contact with any abrasive material. However, they will need a bit of maintenance. But the sharpening will be easy and fast.
Hollow Edge Knife
You might not find much difference between a hollow edge and a serrated edge knife. However, there will be some unique features in each type. The difference is the hollowed-out edge. But, you will find the blade edge different in the serrated option. The distinct addition of the hollow type will create tiny bubbles between the meat and blade while cutting. 
The design ensures that there will be less friction between the food and blade during cutting. That will provide cleaner cuts. You will find many impressive designs in hollow edge knives. In addition to the design, you will appreciate the easy usage.
What To Look For When Buying Steak Knives
From the above, you might have an idea about what to look for while buying a steak knife. In the following, we will cover one by one to make it even easier for you.
Budget
If you have a flexible budget, you can consider quality products. You can go through some leading brands. If you do so, you can get quality materials and user-friendly design as well. It is better to go with high carbon stainless steel. Quality will retain the sharpness of the blade for a long compared to the standard stainless steel. Besides, knives with a tang are more durable than stamped ones.
Research
You should not limit your research to some specific brands. Instead, you can consider a few leading names in the industry. While going through designs, you will have to check the blade construction, material, and length. Also, check the comfort level, grip, color, and size of the handle.
Usability
When it comes to usability, you need to understand the purpose of buying. Make sure that the knife can ensure smooth cuts and retains the sharpness for a long. Also, you will have to check for any gap that might deposit foods during cutting. In addition to all these, go through the maintenance and cleaning requirements. 
Feedback
While buying any new product, you can check the reviews of customers. It is a must if you want quality and durable products. Customers share their experiences, and you cannot expect better help from anywhere else. You will have to go through both positive and negative reviews to know the strengths and weaknesses of the product. With a better understanding, you can make the right decision.
imarku Collection Of Steak Knives
You can consider any of the following steak knives for your use. Most users find them worth spending. You can check the features and benefits before making a decision.
You might appreciate its micro-serrated edge and non-slip ergonomic handle. The material of this set is high carbon stainless steel. Therefore, you can expect a durable result.
What We Like About the Set
High-quality material and easy usage

Perfect design to ensure smooth cuts

Maintain the edge sharpness for a long time

Rust-resistant, flexible, and durable

Excellent and affordable steak knife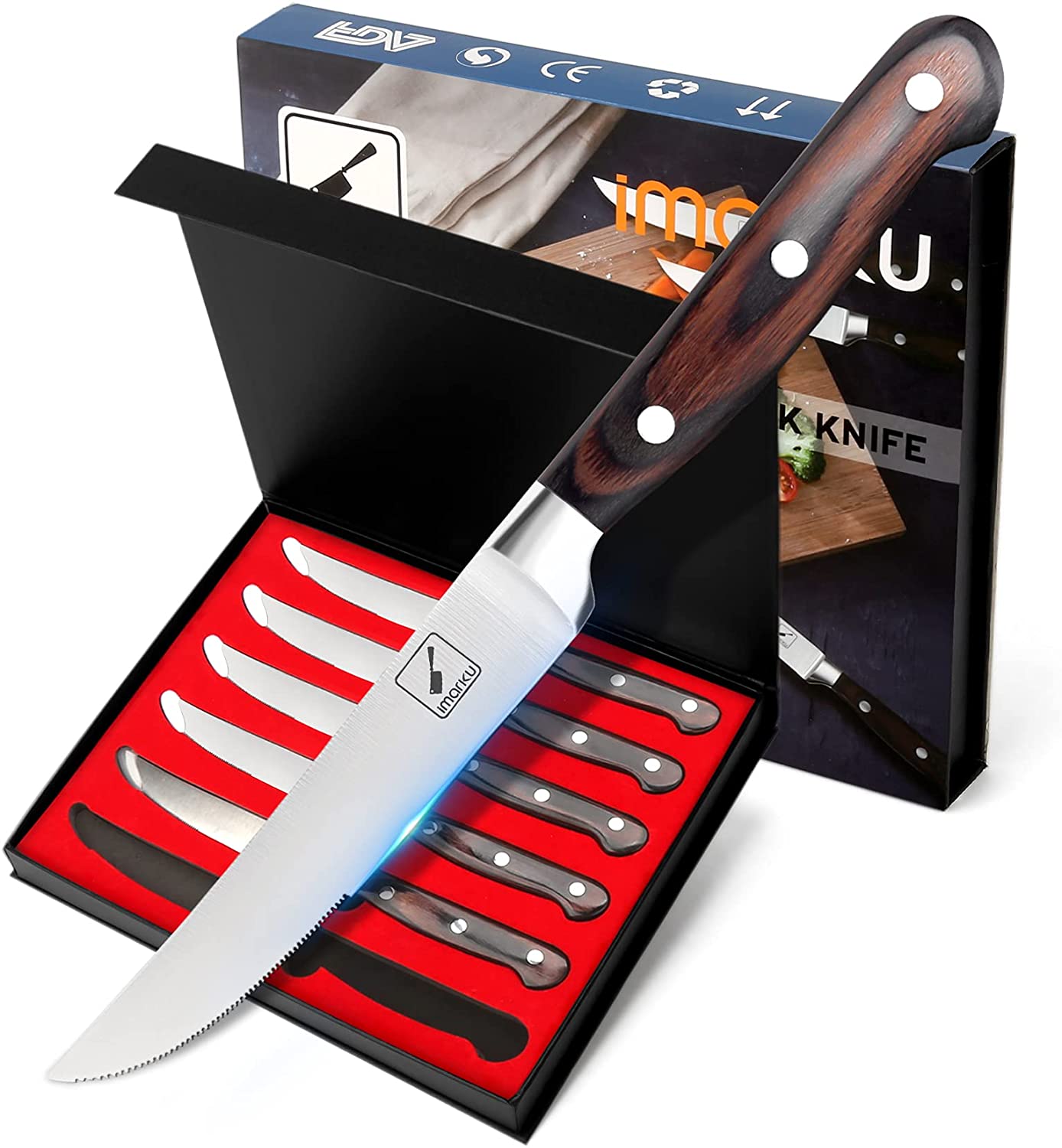 What We Like About the Set
imarku 4.5 Inch Steak Knife Set helps with a durable result and improved functionality. It features high carbon stainless steel material. The material makes the end product oxidation and corrosion-resistant.
Safe and quality material helps with enhanced durability
Micro-serrated edge to make fast and effortless cuts
Ergonomic pakka handle to ensure a comfortable grip
Full-tang design to provide desired stability and durability
If you have a restricted budget or you want only four pieces, you can consider going with this option. It comes with a guest box and an ergonomic handle. The material is stainless steel, and the blade has a serrated design.
If you want to care for a steak knife, you'd better get tips on sharpening serrated blade.
 What We Like About the Set
Quality material and high polish

Super durable and easy to use

The serrated design keeps the sharpness for a long

Ergonomic pakka handle boosts the comfort

Easy to access customer support
How To Set A Formal Table For a Steak Dinner
Now we have covered the best steak knives and buying considerations. Next, we will know how to set the table. First, keep the utensils out of your sight. After this, you can consider the following steps.
Place a dinner plate at the central location

Keep the fork on the left side of the plate and the knife on the right side

While placing the knife, make sure that its edge faces your plate

You can swap a dinner knife before your meal comes

Keep a spoon at the right side of the knife

You can place the napkin either on the dinner plate or left to the fork

You can also keep a knife and dessert spoon on the plate
Frequently Asked Questions About Steak Knives
Why Do I Need a Steak Knife?
You will need a steak knife to cut tender or cooked meat in addition to the steak. Many steak knives are versatile and can serve different purposes.
What Are the Considerations for Buying the Best One?
You will have to check the grip, stability, material, handle design, and blade construction to get a suitable knife for your use. The grip needs to be stable and comfortable to ensure durable use.
How Much Will I Need to Spend?
The price will vary based on the design and the brand. You can find both affordable and expensive options. When some will cost you a couple of dollars, others might require more than a hundred dollars.
Are Steak Knives Dishwasher Safe?
A few steak knives are dishwasher safer. However, many will require hand cleaning. The soap will damage the blade and handle. Hence, you can check the instructions.