The 3 Best Steak Knives of 2023
Owning a nice set of steak knives is an important tool in any chef's kitchen, professional or amateur. They are just as vital to a food connoisseur or people who love eating in general. So perhaps it is time you treat yourself or someone you love and own a set of the absolute best steak knives. It can be a little overwhelming for some when you're shopping for the right set.

The prices can easily exceed $400 for a set of four knives. Different blade choices include serrated or smooth, all-stainless, or even knives made from exotic wood materials. After testing a range of steak knives, we came up with three sets that could easily be defined as the best steak knives you will ever find.
This is yet another beautiful set of steak knives that you will absolutely love. The 4.5'' serrated knives set from iMarku can be used to literally cut anything. They'll slice your steak so smoothly you'll think it's softened butter. However, they are not just great for tough meats. You can also use them to slice tomatoes! This extremely versatile 6-piece set is worth considering. In order to get the most out of these steak knives, you need to follow the care instructions which strongly recommend hand washing, in order to maintain the look, performance, and longevity of the knives.
Features
● 4.5 inch serrated blade
The 6-piece set of steak knives is not like other large serrated steak knives. They're micro serrated steak knives that allow you to cut through steak quickly and easily. Cut meats will be more visually appealing as they will be cut and not torn, which sometimes happens when using lower quality blades.
● Material
One feature that you'll really love is the material used to make these beautiful steak knives. The blades are made of durable German stainless steel, premium high-carbon stainless steel, and a Rockwell hardness HRC 56±2. These features ensure the knife is exceptionally strong, durable, has high stain resistance, and is also rust-free.
● Ergonomic handle
The iMarku steak knives have a full tang construction in order to offer greater balance and durability. The steak knives have Pakkawood handles that look luxurious and have an ergonomic structure which provides more comfort when during use.
● Performance and beauty
The design and ease of use are the very first things you will notice about these steak knives. They are beautifully made by hand with a fine grinding V edge. Any experienced craftsmen will truly appreciate the experience when using this finely made knife set.
● Perfect gift choice
The packaging is absolutely beautiful, and makes it easy for you to give it to people you love. The package includes an elegant gift box with 6 steak knives. It too will feel like the perfect gift for housewarming parties and almost all other gatherings and celebrations.
This is one of the best steak knives you can invest in. It is crafted with German engineering technology and a toughened stainless steel blade. How long the knife stays sharp depends on the frequency of usage. Some people use their knives to cut a wide variety of different items, while others use them exclusively for dining purposes.
No matter what the use, the iMarku steak knife set of 6 is amazing. They're extremely comfortable and won't cause you any discomfort when you are using them. Maintenance is relatively simple, but it is best to hand wash and dry them. The edges are particularly sharp and serrated, evidenced by how smoothly they slice through meat without struggling or destroying it. These knives are very attractive, come with a plastic guard at the tip for safety, and are boxed and packaged beautifully.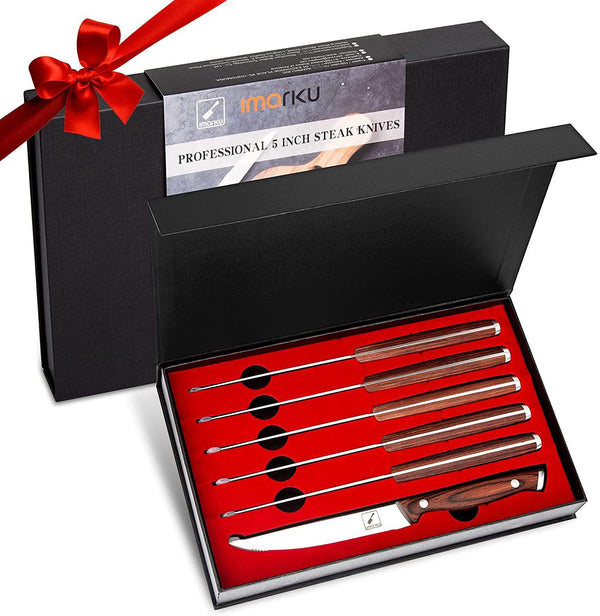 Features
● Serrated knife-edge design
These steak knives have been manufactured with a unique serrated design. This enhancement makes cutting fairly easy. The knives have better performance than straight edge steak knives when they slice bread, steak, and other types of food.
● German Carbon Stainless Steel steak knife
This 6-piece set of steak knives is made from safe material German carbon stainless steel, with HRC55 +/- 2, exceptional corrosion resistance, oxidation resistance. 
● Perfect gift choice
If you've been looking for the perfect gift to give to someone, this set of 6-Piece Steak knives is one of the best choices you could make. The steak knives use an exquisite gift box as part of the outer packaging. It is a perfect gift for a dinner party, weddings, Christmas, Mother's Day, Father's Day and any other meaningful or celebratory event.
The last set of steak knives is a 12-piece 5 inches steak knife set. It's a very beautiful set that will go perfectly with your set of prep knives, especially for a big family dinner or as a gift for friends. They are of the highest quality, have perfectly sharpened blades.They also have inlaid handles that match up amazingly well when compared to other luxurious and professional sets of knives.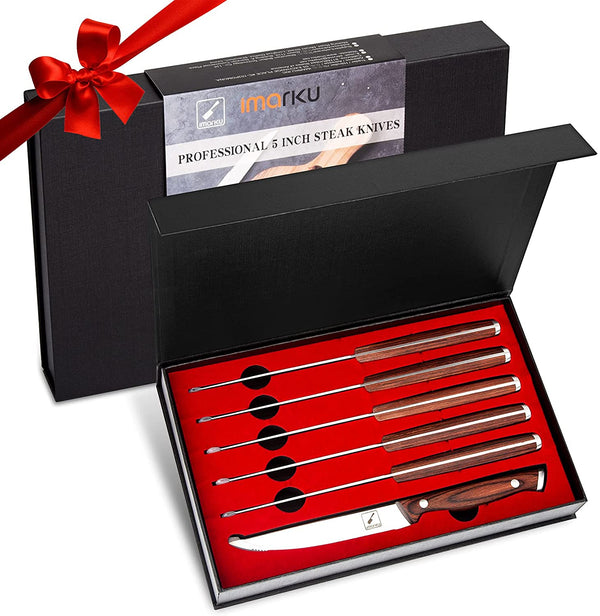 Features
● Premium materials - durable full-Tang
One-piece full-tang blade and the double-riveted handle make sure it has superior solidity, stability, and longevity, easy to cut through steak without any bending of the blade.
● Wonderful design with precision serrated

The steak knife set has a micro-serrated edge, never needs to sharpen, is smooth cutting, and is durable, which makes it ultra sharp to cut steaks, lamb chops, chicken, pork, pizzas, fruits. It is a good idea to have it with your friends and family.  
● Ergonomic Pakkawood Handle
The handle is made of superior quality PAKKA wood, it is balanced-ergonomic-classical, to make your hands and fingers feel tenderer and comfortable.