Japanese Knife Sets - Everything You Need to Know
A knife is a must in any kitchen. However, you will have to pay careful attention while buying knives. Otherwise, you might experience a lot of inconveniences while cutting fruits, vegetables, flesh, and other things.
If you are looking for quality products, you should not look beyond Japanese knife sets. These knives have earned a good reputation for their quality, precision, and sharpness. Also, they have been around for a long time.
Additionally, Japanese knives are versatile and reliable. One set can serve different purposes. Once you have Japanese knife sets with you, you will never be afraid of any cutting jobs.
Do you want to know more about Japanese knives? If yes, you can go through the following. We will cover the history, buying considerations, and types. Apart from that, we will review the most reliable knives.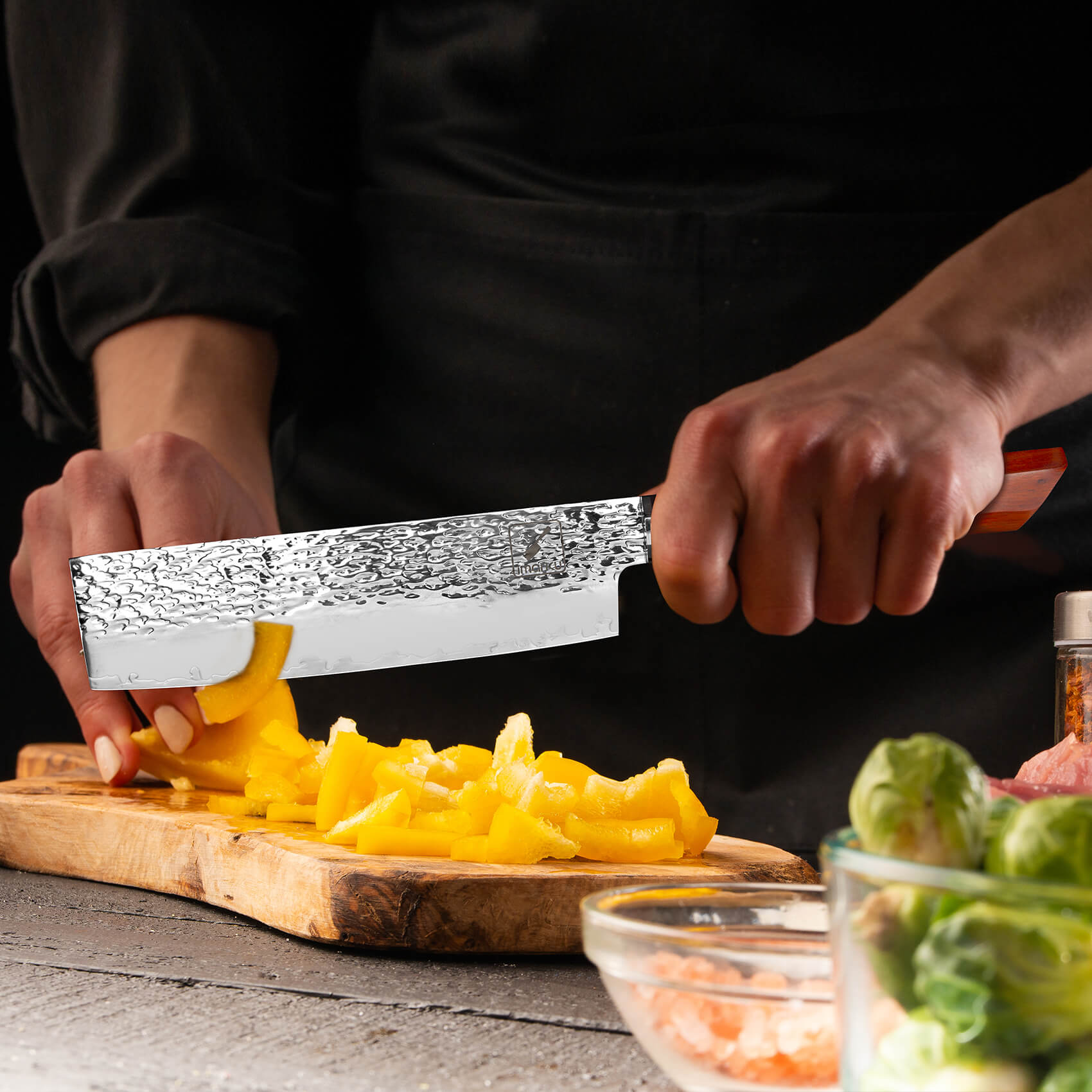 What Is a Japanese Knife?
There are 2 versions of kitchen knives - western and Japanese styles.
Japanese knives will have the reflection of Japanese swords. However, there will be some developments and additions. You can expect enhanced strength, superior quality, and extreme durability. Some other features are lightweight handles and razor-sharp edges.
When it comes to the material, Japanese knives use hard carbon steel. Also, they use other steel during manufacturing. They have thin, light, and razor-sharp edges. The unique features make them the best choice for chopping, dicing, or slicing. 
Another benefit is that these knives are easy to sharpen and retain the edge for a long. The maintenance requirements will be minimal as well.
Also, the handles of Japanese knives are comfortable and can offer a firm grip. You can get balanced and precise cuts regardless of the cutting material.
History of Japanese Knife
Japanese knives have a rich history, like Japanese swords. They have been around since the Heian period. During this time, they took a holy aura in the aristocratic classes. But Japanese knives took time to impress people.
The 16th century made them famous in different parts of the world. During this period, the Portuguese traders started to sail to Japan. They brought tobacco and guns with them. 
Japanese people showed more interest in tobacco, and they developed quality and sharp knives to cut fresh leaves. Gradually, those knives started receiving appreciation for other usages. The current Japanese knives are the advanced form of traditional ones.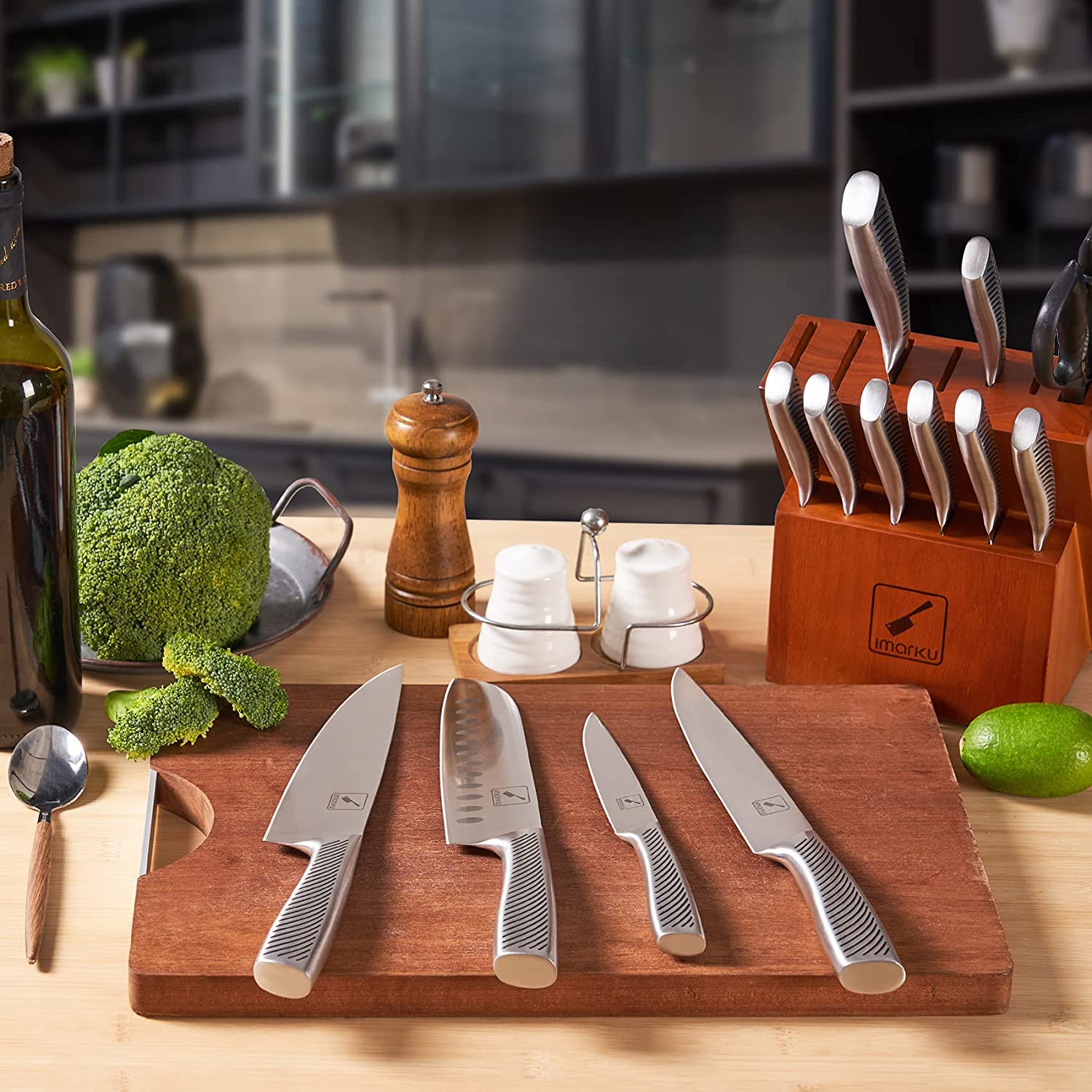 How to Choose a Japanese Knife
Without quality and well-made knives, you will not have a positive experience. But a single factor cannot decide the quality and reliability. You will have to focus on a few things to find a versatile and reliable knife for your use. Here are a few considerations you can go through to find the best japanese knives. 
Material
Japanese knives use steel material. But you will have to check the type of steel. Most knives feature hard carbon steel. However, you will have to remember one thing while choosing steel. With greater hardness, you can get sharp edges and better bevel angles. Hence, you will have to focus more on hardness.
If you want, you can go with stainless steel. It is easy to maintain and rust-resistant. Also, it will retain the sharpness for a long. But it will require professional sharpening. The hard-carbon steel will ensure blade quality and the desired durability. Also, this option is easy to sharpen.
Some Japanese knives use Damascus steel. You can get beautiful designs and diverse functions from this type of steel. Moreover, these knives are quality-made and durable. You will have a sharp edge to perform most tasks effortlessly.
Handle
In addition to the blade, you will have to consider the handle. Without a safe grip, you cannot achieve smooth, precise, and clean cuts. Make sure that the handle is neither heavy nor lightweight.
The design should ensure a proper fit for your hand. Even if you have the best blade, you cannot expect the desired performance with poor handles. Also, it might be dangerous when the grip is not proper. You can consider wood handles to get better support while doing complex cutting tasks.
Purpose
While buying any knife, you will have to understand your purpose. Why do you need a knife? You can consider a curved edge to slice and chop veggies. It will help with a rocking motion. Instead, you will need a straight-edged blade to cut fish and meat. A serrated utility knife can be the best to cut hard fruits and bread.
In addition to the blade design, you will have to focus on the length of the blade. Long blades can be perfect for large chunks of meat or fish, and shorter ones can cut vegetables well.
Bevel
Many of us are not aware of bevel. However, it can impact your cutting experience. You can check the surface of the knife that becomes the edge. You will notice a slight angle that is a Bevel.
Knives can have one or two Bevels. Japanese knives are available in both these styles. However, single-beveled options offer more precision. But it is better to with a double level for your home kitchen. The single options are the best for professional chefs.
Difference between Japanese and Western Knives
There are a few differences between these two types of knives. The noticeable difference is the blade edges. 
In western knives, you have sharpness on both sides of your blades. When Japanese knives are the best for cutting and chopping jobs, western knives are suitable for complex tasks. You can use them to cut bones and joints. Also, Japanese knives have thinner blades compared to western ones.
Western knives have wider blade angles. Most of them have 17.5 degrees angles. Also, you cannot get a high level of precision from western knives. In reverse, Japanese knives are versatile and a bit lighter. In most of them, you will not find bolsters. Besides, the tangs will vary based on the maker. But western knives will feature bolsters and tangs.
Apart from that, Japanese knives use hard steel. The western options feature soft steel and retain the edge for a long time. Also, the weight will not be the same. Japanese knives are lightweight compared to their competitors.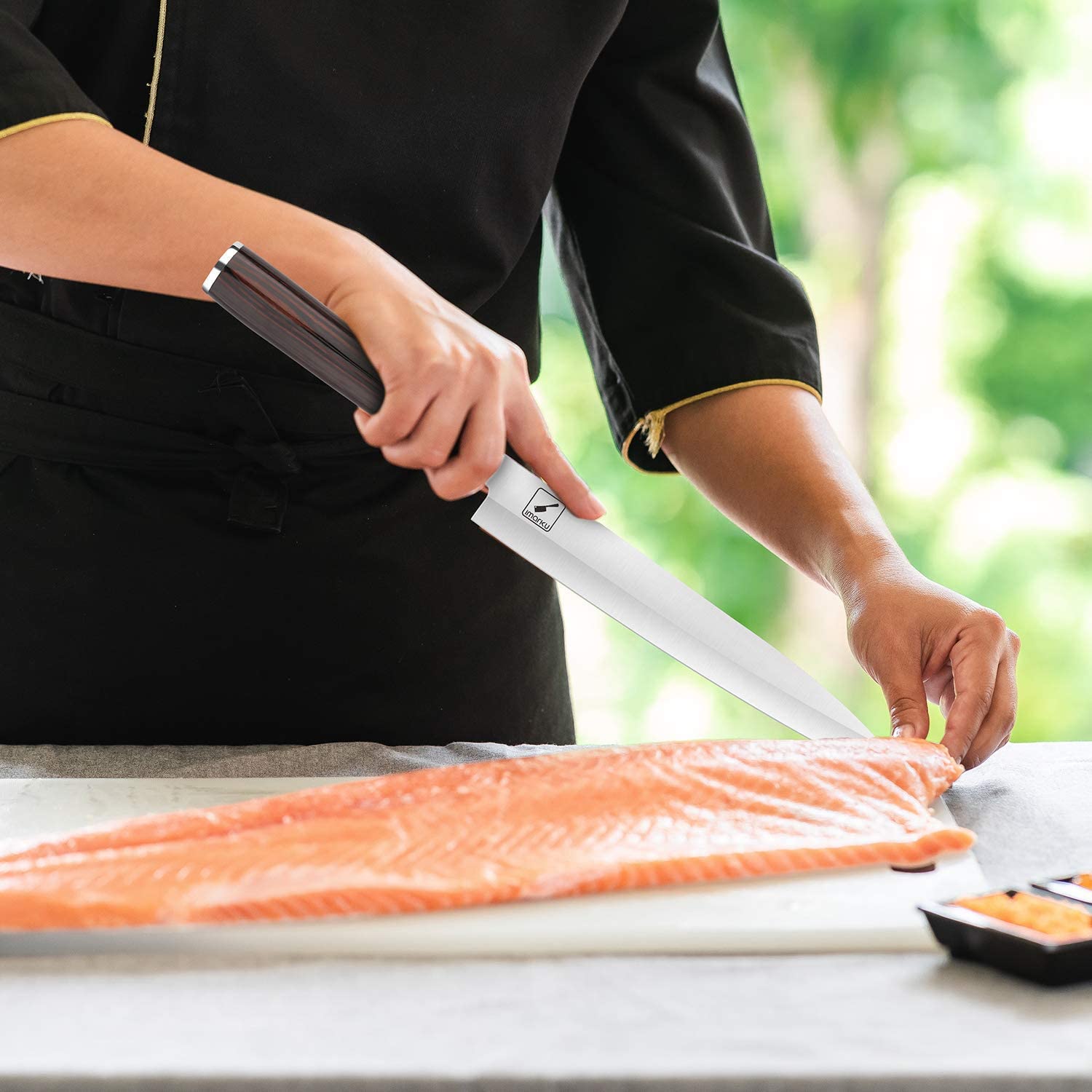 Different Types of Japanese Knives
As mentioned earlier, Japanese knives are versatile, durable, and reliable. Even if they have many similar features, you can expect differences. There will be different designs and styles. You will find many task-specific designs. Here are some popular types for your help.
A Nakiri knife can be the best for your home kitchen. It offers remarkable precision and effortless cutting. Also, you will appreciate the classic style and the symmetrical edge. You can use this type for chopping, dicing, and slicing your vegetables. It features a large rectangular blade.
Most knives offer a rocking motion, but this option provides an up-and-down motion. Hence, you can expect the best support to cut all your vegetables. Also, it features a straight-edged blade that can make cutting easy and fast. Some benefits are excellent blade retention, superior durability, and minimal sharpening time. You can consider one with an ergonomic handle to get extra comfort while mincing and cutting. If you love to eat greens every day, this type is worth considering.
Santoku Knife can meet the different cutting needs of your kitchen. Yes, it is a multi-purpose and versatile Japanese knife. You can use it to cut meat and vegetables. 
These knives are lighter and narrower than other available options. Also, the length is shorter and more convenient to use. Another feature is the straighter edge. With straight edges, this type can ensure precise and accurate cuts. Also, the lightweight design will put less pressure on your wrist. Hence, you can use it for a long time.
Kiritsuke knife has all the best qualities to stand out in the crowd. Yes, it combines expertise, experience, and status to become a must-have item in your kitchen. You can use this type for thinly slicing vegetables, fish, and fruits. It features a push-and-pull technique. Also, you will find this type a bit tricky to use. However, professional chefs prefer this type. You can use your Kiritsuke knife to cut herbs, vegetables, and meats. If you want to use this type in your home kitchen, you will need a lot of practice. Initially, you might find it uncomfortable and hard to use.
Yanagiba knives can be the best for slicing sashimi or sushi. They have ultra-sharp blades to offer the best cutting experience. They feature narrow blades to get paper-thin slices of meat and fish. Also, this type has a single Bevel and can be ideal for professional chefs. You will get a definable bevel line from the handle to the spine in each Yanagiba knife. The unique design of this knife helps with two benefits.
You can expect optimal performance with easy food release. However, you cannot get the best slicing result for hard food. But you can have a different experience while slicing a delicious and juicy slab of fish.
These are the types of Japanese knives. You can choose the one based on your purpose and preference. As all will have some unique features, you will have to understand your intent to find the most suitable one.
Now, you know the types of Japanese knives. Next, we will cover a few reliable sets. You can check the features and usage to avoid any confusion.
Best Japanese Knife Sets to Buy
You will have many options in Japanese knives. When some have small blades, others feature large ones. Besides, some might be the best for vegetables, and a few can cut meats effortlessly. Apart from that, some are easy to maintain and sharpen. However, you can expect many advanced features in the following sets.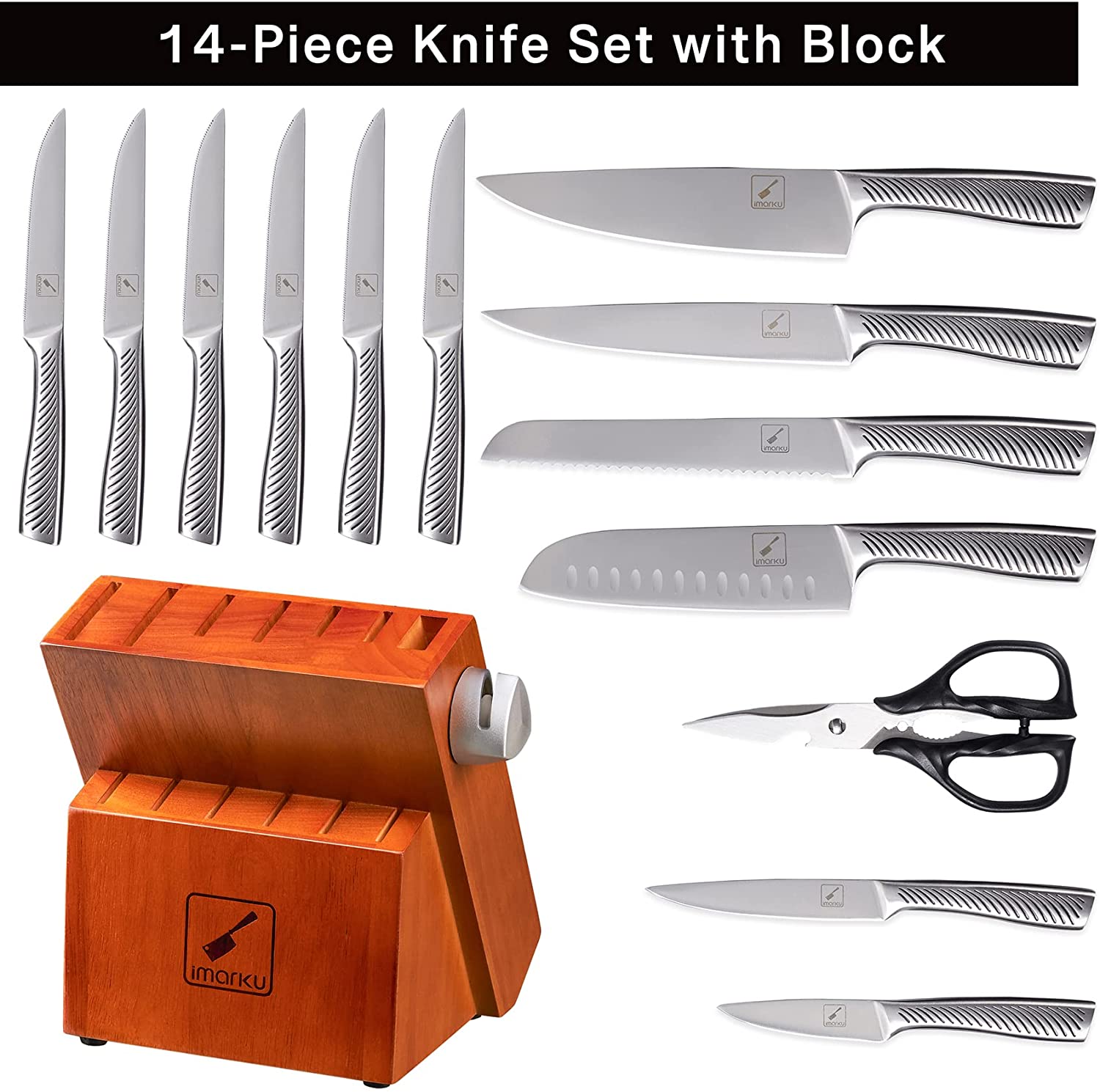 Imarku 14-Piece Japanese Knife Set has everything to become your best companion in your kitchen. All of them will serve a specific purpose. Besides, they have ergonomic handles to ensure a proper and firm grip. The set uses high-quality stainless steel to offer a durable result. Also, you can sharpen it to the eighteen-degree angle. The block of this knife is solid wood, and it has a ventilation system at the bottom. 
In addition to maximum durability, the material is rust, stain, and corrosion-resistant. You will appreciate its exceptional edge retention as well. The blades of these knives go through heat treatment to offer enhanced strength and improved functionality.
When it comes to the handle, the set will have a full tang ergonomic handle to offer a flexible and comfortable grip. Besides, the handle features electrophoresis technology that offers anti-rust, corrosion, and slip benefits. The set will include a chef knife, value knife, steak knife, slicing knife, bread knife, santoku knife, utility knife, and paring knife. In brief, you will have all your required knives in one set.
Pros
High-quality steel and ultra-sharp blades

Durable and lightweight

Firm grip and anti-slip design

Easy to maintain and sharpen
Cons
You will not have wood handles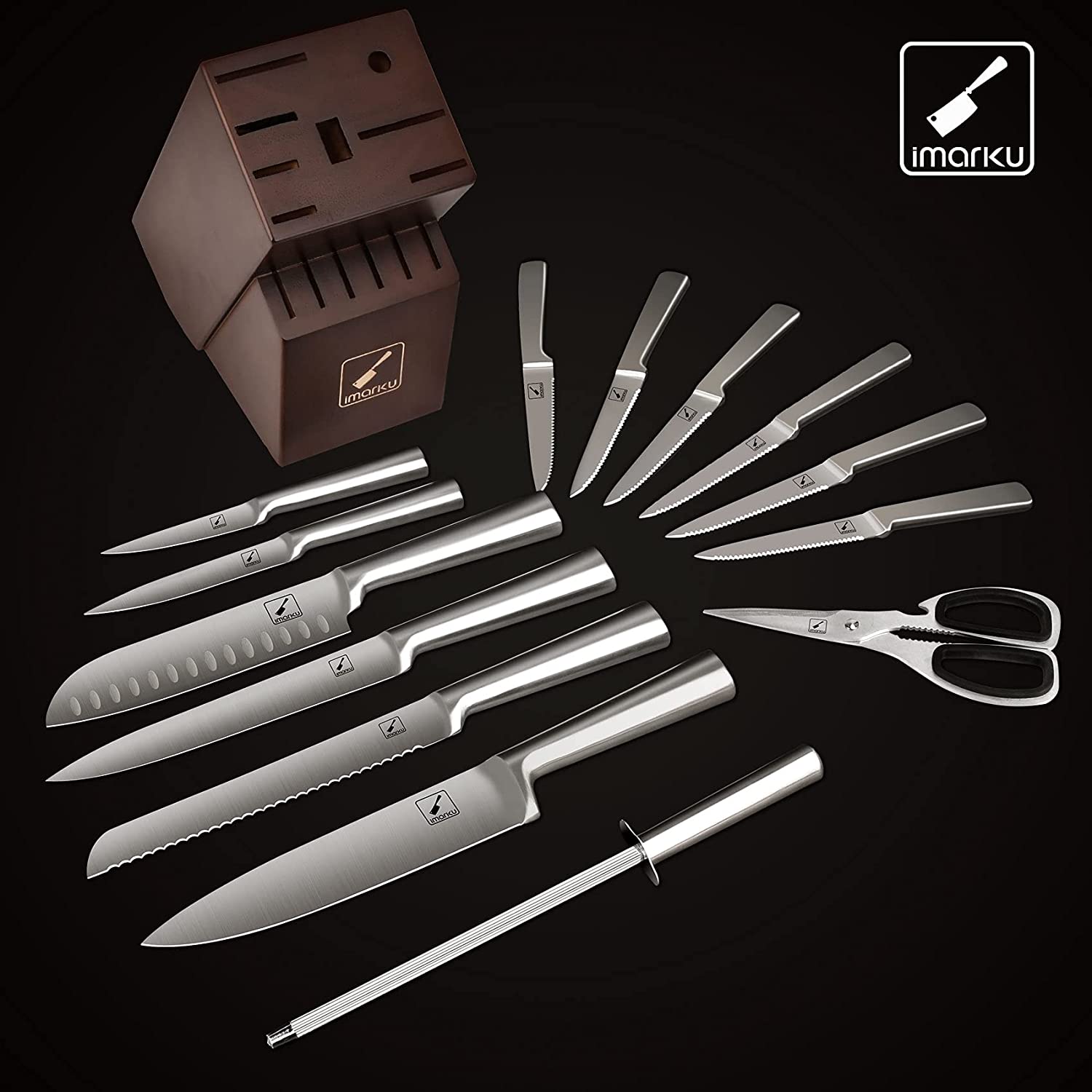 Imarku 15-Piece Japanese Knife Set can be perfect for slicing, chopping, and cutting vegetables. The set comes with a solid wood block to ensure easy storage. It have different knives; you will have options for all your kitchen needs. Besides, the set features a built-in knife sharpener.
Hence, you can sharpen the blades whenever you want without any inconvenience. The material is German stainless steel, and the knives will have full tang blades. The quality will offer a durable result and enable your knife to retain sharpness for a long.
Also, the maintenance requirements are minimal. You will not have to spend your time and money on upkeep. You can use these knives consistently with little maintenance. The block material is quality wood, and it will not shrink with water and light exposure. You can wash and wipe your block and knives and dry them up to ensure a durable result. You can use it in your home kitchen. 
Pros
Different types of knives to perform specific tasks

High-quality steel and long-lasting sharpness

Quality wood and anti-corrosion block

Built-in sharpener
Cons
The set might not be the best for complex tasks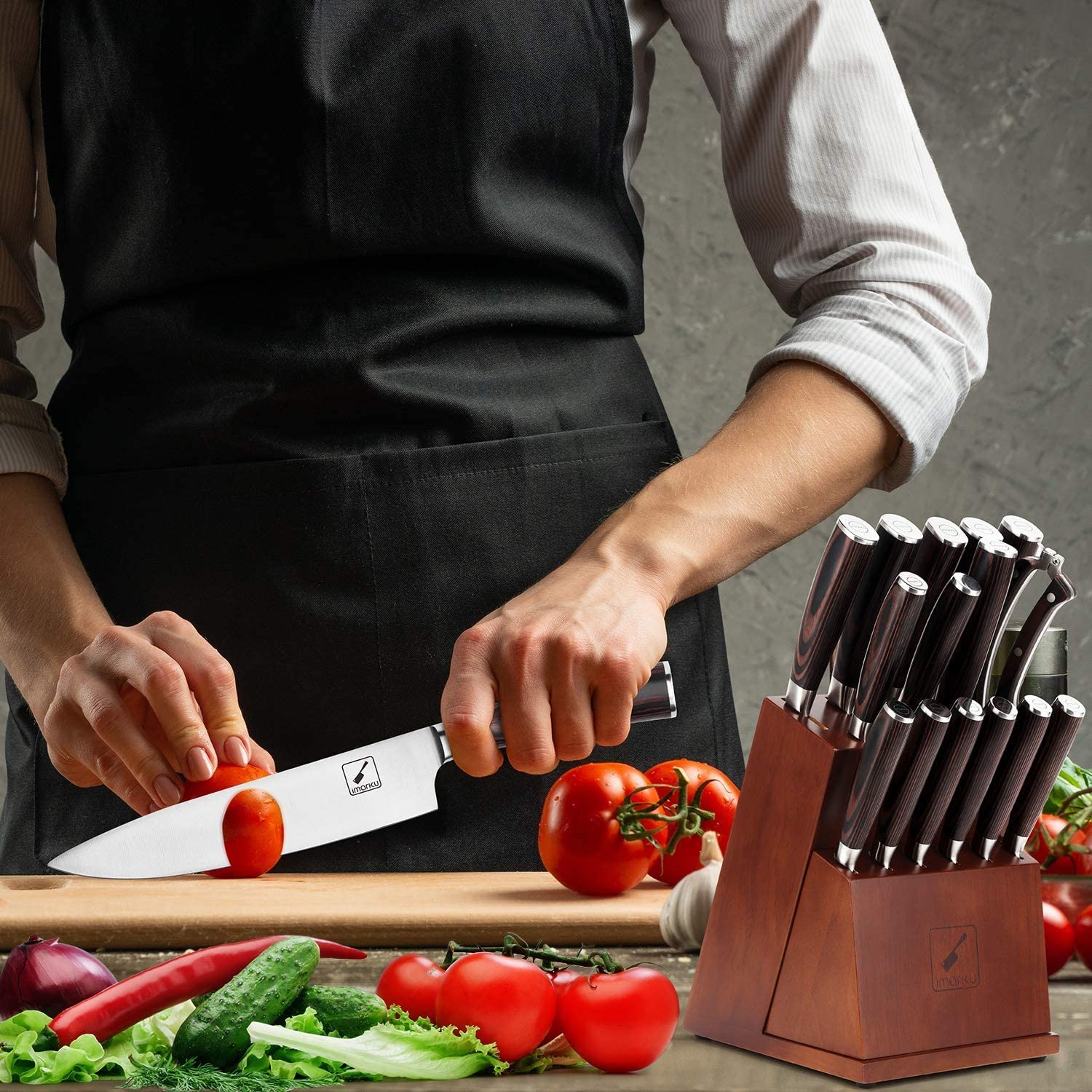 Imarku 16-Piece Japanese Knife Set has used German stainless steel. The steel is ultra-sharp, and it has gone through heat treatment to offer the desired hardness and stability. You can expect improved performance and impressive design. Yes, the style can complement other decors of your kitchen.
As it will have 16 different knives, you will never have to look beyond your set. Besides, the blades are hand-ground to offer excellent edge retention, easy sharpening, and precise cutting.
Also, the handles are worth mentioning. They feature an ergonomic design, firm grip, and pleasing appearance. The set combines everything to become your kitchen companion.
Also, the hammered surface of the blade will help with smooth cutting. The non-stick characteristics, ultra-thin slicing, and reduced suction are the benefits. The removable walnut woodblock will last long as well.
Pros
Removable walnut block

Sharp blades and sturdy handles

Improved performance and stylish design

Durable sharpness and versatile
Cons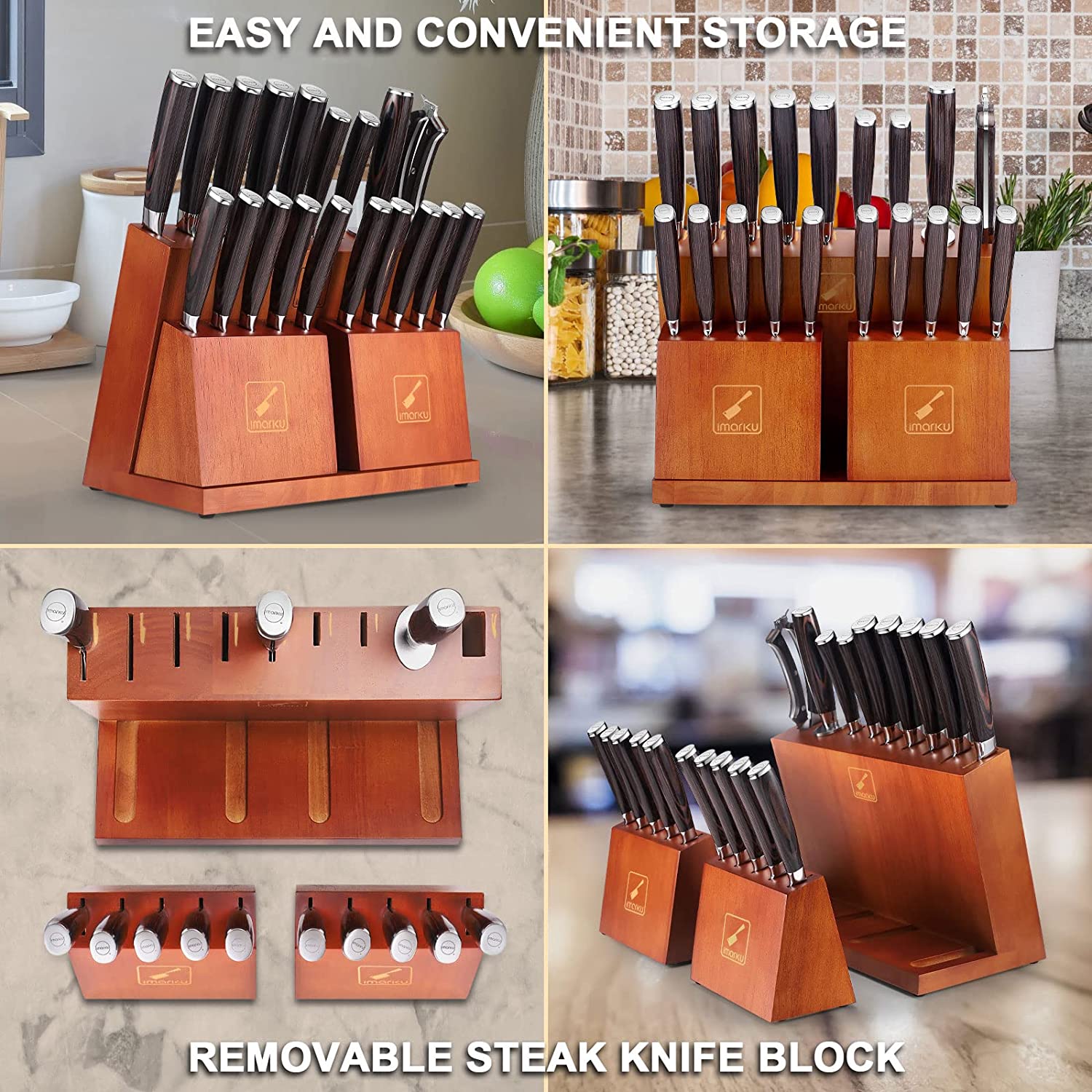 Imarku 20-Piece Japanese Knife Set has the best of both worlds. As it will have twenty pieces, you can confidently prepare whatever you want without bothering about cutting, slicing, or chopping, especially for a big family. The set will have different types of knives for your specific kitchen needs. However, all of them are well made and durable.
You can expect the required stability, improved functionality, and safe grip. The set combines all the best qualities to become a suitable choice for professional and home cooking.
The material is quality German stainless steel as well. Therefore, you can get corrosion and rust-resistant benefits. Also, the blades have gone through heat treatment and precise tempering to offer unparalleled quality. The hand-polished edges offer ultra-thin sectioning without much effort. As it has two removable blocks, you can keep them in any of your convenient places.
Pros
Superior performance and high-quality craftsmanship

Razor-sharp blades to make cutting effortless

Two removable blocks for easy usage

Military-grade handles for the desired durability
Cons
It might not be suitable if you just need a few pieces
Wrapping It Up
High-quality and well-made knives can make kitchen jobs easier. If you find cutting worrisome, you will not prefer to spend more time in your kitchen. Therefore, you can use a Japanese knife set for specific cutting, slicing, or chopping needs.