How to Cut a Watermelon
Eating a cold watermelon is one of the greatest summer joys - it's naturally hydrating and refreshing. Maybe you've picked a melon and carried it to your kitchen, ready to create a big fruit salad. But how do you cut it? In this post, we'll discuss how to cut a watermelon.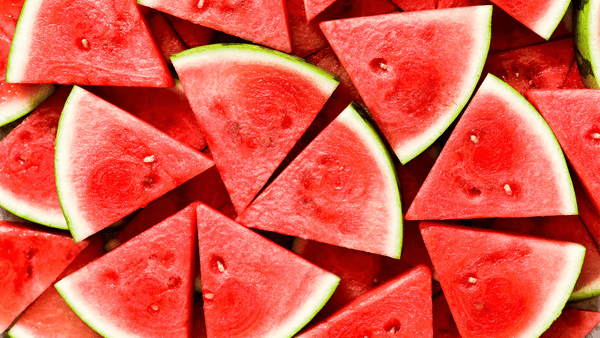 Picking the Perfect Watermelon
There's nothing more frustrating than bringing home a tasteless melon. But how do you pick the perfect watermelon from the store? This is a skill you can acquire gradually. A few visual indicators are all you need to make sure you leave the grocery store with the sweetest melon every time.
Check the Ripeness
You don't want to bring home a melon that lacks ripeness. An overripe fruit has a mealy and unpleasant dry texture. One of the tale-tell signs is the coloring of your melon. A general rule of thumb is to pick fruit with consistent stripes. If the melon is too shiny, it's likely underripe.
Find the Field Spot
Inspect the fruit and locate the field spot – it's one of the indicators of the quality of the melon. This mark shows where the fruit sat on the ground as it ripened. The color should be near orange, an indication the fruit is full of flavor. If the color is creamy, you can choose another one.
Give the Fruit a Gentle Tap and Listen to the Sound it Makes
If the sound is deep, then the fruit could have more water. If the sound is denser or higher pitched, it's an indication the rind is too thick. On the same note, the rind should not scratch easily.
Inspect the Stem
A mature and ripe fruit should have a dry or yellow-brown stem. A green stem indicates the fruit lacks sweetness and flavor.
See if There are Any Spots
If the melon has vein-like webbing lines or dry weathering spots, that indicates sweetness. But again, you may want to inspect all sides before you commit to a specific fruit.
Choose the Heaviest of its Size
A heavy fruit is juicy. You can pick a few ones and test the heaviness. The Denser it is for its size, the sweeter the fruit.
Select a Rounder Shape
An evenly-shaped melon is sweeter and more flavorful. You may want to inspect the surface for any irregular bumps.
Buy When in Season
While you may want to eat the fruit year-round, you should target the peak season. This will allow you to pick the best of the best.
Finally, keep an eye on holes or bumps. That could be a sign of bug issues.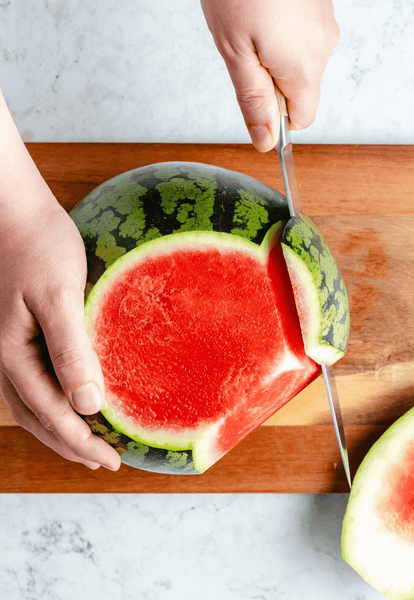 How to Cut a Watermelon Step-by-Step
Slicing a melon is an extremely satisfying experience – some say it's therapeutic. And you don't need special knife skills to pull that one-off. Whether you want to end up with triangles, wedges, or slices, you should find the right cutting technique. In a nutshell, there are two ways to cut a melon (rindless or with the rind). A melon without rind is best for fruit bowls and salads. You can also incorporate them into recipes. Those with rind are best served on a plate.
I believe the easiest way to cut melons is to make sticks or slice them into cubes.
What you need
A sharp knife
A cutting board
A watermelon
Step 1: Wash, rinse, and dry the fruit
Wash the outer surface of the melon thoroughly with cold tap water. You can also give it a gentle scrub with a clean produce brush. Then rinse and dry the fruit. This helps to remove any germs outside before you start cutting.
Step 2: Cut the melon in half crosswise
Use a sharp chef's knife to cut the melon in half lengthwise. You'll end up with two circular circles.
Step 3: Cut off the stem
The stem of the melon doesn't pull out easily. You need to cut each end of the two halves.
Step 4: Put the cut-side down on the cutting board
This makes the melon stable and easy to cut.
Step 5: Hold the knife at an angle
Carefully slice the skin off about one-half inches in depth. Make sure you hold the knife at an angle as you remove the rind.
Step 6: Continue to peel the melon
This time, focus on the white fresh. Take off about 1 to 2-inch pieces following the inner white rind. Make sure you cut deep enough until you see the freshness.
Step 7: Cut the melon into sticks
Slice the melon circles into quarters and then cut again into four manageable quarters. Then, cut the melon into sticks. If you wanted melon sticks, you're done.
Step 8: Slice the melon sticks into cubes
Use the sharp knife to cross the melon every one inch. Depending on your needs, you can cut it into small squares or large triangles. The cubes are perfect for a fruit bowl salad. Of course, they are fun to eat and less messy. You'll love them!
Step 9: Repeat with the other melon pieces
Take the second half (as mentioned in step 2) and make cubes of the same size.
Step 10: Chill the cubes in a refrigerator
Now that you have cubed melons, place them in a refrigerator – you can freeze up to six months. Alternatively, you can place the cubes in an airtight container. Enjoy!
Best Knives for Cutting Watermelon
iMarku 8-ich knife is visually impressive. It will immediately strike up a conversation with anyone who sees it in your arsenal. At first glance, you'll love the hammered blade appearance and Pakkawood handle.
In terms of construction, this knife features high-carbon stainless steel to increase the hardness up to 62. Furthermore, the mirrored design and dimple pattern makes it easy to release food when slicing. Whether you're a professional chef or you want to take your culinary skills to the next level, iMarku hammered knife guarantees the perfect cutting experience.
Another feature you'll appreciate is the extra-sharp blade. The outstanding design elements and blade razor-sharp blade minimizes slicing resistance. When it comes to comfort, this knife will exceed your expectations. The Pakkawood handle is designed to improve comfort – you don't even feel like you're holding a knife. This is what makes it perfect for cutting fruits and vegetables.
Pros
It's extremely sharp
Durable blade
The dimple design ensures the food is not stuck on the blade
Cons
The bevel is a bit shorter but helps with precision when cutting

This knife features a tampered blade design to help you achieve extra-thin slicing with less effort. It features a carving blade design to prevent foods from sticking to the surface. What's more, this blade resists corrosion, discoloration, and rust. The hand-polished edge ensures the cutting job is done with precision. And because it's a multi-function knife, it's suitable for cutting large fruits (like melons) and vegetables.
The Pakkawood handle is well-balanced to minimize wrist tension and maintain a secure grip. Even after prolonged use, your wrist and arms will not fatigue.
In order to enhance your cooking experience, the iMarku 12-inch carving knife comes with a generous lifetime guarantee.
Pros
Its resistance to rust and corrosion
The handle distributes weight evenly
Anti-sticking design
Extra-sharp
It holds the edge quite well
Cons
The knife may be too long for some people

If you're looking for a workplace kitchen knife, the 3.5-inch peeling kitchen knife is for you. It's incredibly light and can suit a variety of kitchen tasks. Being a multi-purpose knife, you can use it to peel vegetables and fruits.
To ensure the precision of tasks, this knife features a high-carbon stainless steel blade. It undergoes a high-temperature forging process to achieve a 58 Rockwell hardness scale. To minimize finger fatigue, the knife comes with a Pakkawood handle. This material originates from Africa and is known for strength and stability.
Pros
It's well balanced
Easy to clean
It's user-friendly
It's precisely tampered and hardened
Cons
It's not the best to use in some tough foods

Health Benefits of a Watermelon
While melons are the perfect fruit to quench the summer heat, they also have a rich nutritional profile.
It helps you stay hydrated
A small shortage of water in your body can make you feel sluggish. Since 92% of the melon is water, you can be sure you're getting naturally sweet hydration.
Promotes a healthier heart
Watermelons are rich in lycopene, which is known to lower the risk of a heart attack. Furthermore, it's loaded with citrulline, an amino acid that can regulate blood pressure.
Promotes healthy joints
Melons are rich in beta-cryptoxanthin, which protects the joints from inflammation. It also makes you less likely to get rheumatoid arthritis.
Soothes your skin
Melons are loaded with vitamins A, B6, and C to promote healthy skin. When you take this fruit frequently, your skin stays soft and supple.
Boosts your workout
Melons are rich in antioxidants, amino acids, and high water content. Furthermore, they are high in potassium to help you cut down on crumps when working out.
Won't spike your blood sugar levels
If you're trying to keep your blood sugar levels low, a melon can help. It has a glycemic index of 80. This is the same as taking a bowl of cornflakes.
Watermelon is one of the most refreshing summer fruit. The first tip to cutting a melon is getting a good one. Be sure to follow the above steps to learn how to get the perfect sticks or cubes.