How to Cut a Mango
The best way to cut a mango is to start working around the flat, large seed running down the middle. And, it has the same size as the fruit itself. Cut off through the cheeks and trim your way around the remaining flesh from the seed.
Besides, choose mangoes that flow smoothly when you press the area surrounding the seed. While the task seems challenging in the beginning, it becomes easy after some time. You don't even need to learn different skills.
Only a few tips in the kitchen will make that work. Read on to find more about how to cut a mango and the best cutlery for this job.
What are the different types of mango?
There is no denying that mango is the most delicious fruit that comes from Mother Nature. Sometimes tangy, sometimes sweet, mangoes are a memorable treat every time you eat them. However, mango not only surprises you with its taste and aroma but also with its history.
With more than a thousand variants available worldwide, many people wonder about the best varieties worldwide. Moreover, throughout the year, you can likely find a few varieties. Each of them has a unique texture and flavor.
Here are some of the best varieties of mangoes that are popular worldwide.
Ataulfo –

 This kind of mango has golden yellow skin. They are better known for their elegant, buttery texture when they are ripe. Mexico is the producer and leading exporter of Ataulfo mangoes in the world. Also, Ataulfo mangoes have a small seed. As such, it has more flesh compared to the other variants of mango.
Francis –

 Another great variant of mango that tastes superb. Even a small bite from the fruit can change your mood in an instance. With a strong, sweet flavor alongside some amount of fibers, Francis resembles a medium-sized kidney shape. Fruity and sweet, the ripening season for Francis starts from May and ends in July.
Haden –

 It is another widely produced variant of mango in the US. Besides, it is considered best among a few varieties of mangoes worldwide. Haden comes in hinted yellow and dominant red hues. It has a sour, sweet taste and a firm texture because of its fine fibers.
Keitt –

 Although popular in Asian culture, Keitt mangoes are fruity and sweet. It has high citrus notes and juicy, firm flesh with a small number of fibers. However, the skin remains green even after the fruit turns ripe.
Kent –

 Originated during the 1940s in Florida, Kent mangoes are the best when it comes to drying and juicing. It has tender, juicy flesh along with limited fibers. Kent mangoes have a sweet flavor with a few sour notes.
Tommy Atkins –

 Hailing from Florida, the Tommy Atkins is one of the widely grown varieties of mangoes in the US. It has high fibers and firm flesh throughout its surface. Besides, the fruit has medium to large with an oblong or oval shape.
Alphonso –

 Dubbed as the king of mangoes, the Alphonso mangoes have unparalleled texture and taste. That's why they are the most sought-after variants of mangoes in the world. Moreover, the juicy pulp gives you a taste, unlike other varieties of mango.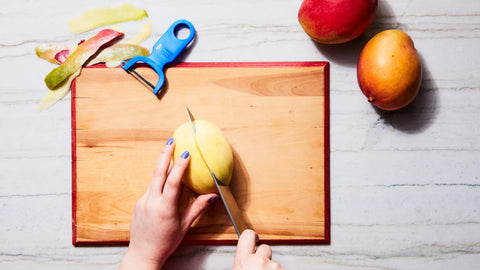 What is the best method to cut a mango?
There is no shortage of methods when it comes to cutting a mango. And, it is good to play with certain methods sometimes. However, here is a straightforward way to slice this delicious and juicy fruit.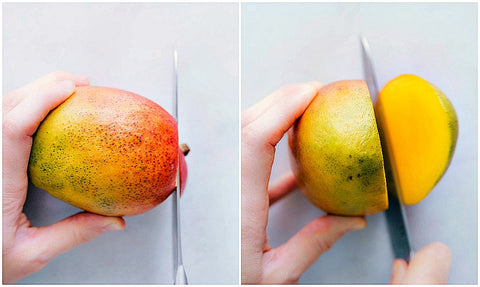 1.Start by slicing off the sides
As you know, mango seed is an oblong pit in the mid-portion of the fruit. Hence, the first step is to use your chef or paring knife. And, use it to cut pieces from the sides. It means you have to cut the portion of mango leaving the seed.
Make the mango stand by using one hand and taking a sharp knife in the other hand. Next, make a vertical cut and continue doing the same on another side as well. Now, you have three pieces of mango: the middle piece and half mango X 2 pieces.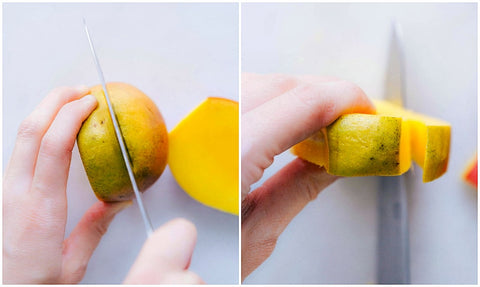 2.Slice the flesh before peeling
Now that you have cut the portions, you need to slice the flesh in style. And, to accomplish the task, you need either a chef or a paring knife. Next, slice crosswise and lengthwise while making every move with care.
As a result, you will have cubed and diced mango pieces. Besides, you can score or slice the mango according to the recipe you want. However, make sure that you avoid cutting through its skin while making the cuts.
3.Taking out the flesh
Take a spoon and scoop out the mango flesh in an instant. Now, add the sweet fruit to make mango salad, smoothie, salsas, or even a sauce for your fish or chicken. After you have extracted the flesh in the best way possible, you can throw away the skin and pit.
To make this simple step a success, you can use either a chef knife or a paring knife along with a spoon. Also, make sure that you equip yourself with the best and most trusted knife to get the best results.
Recommended knives for cutting mango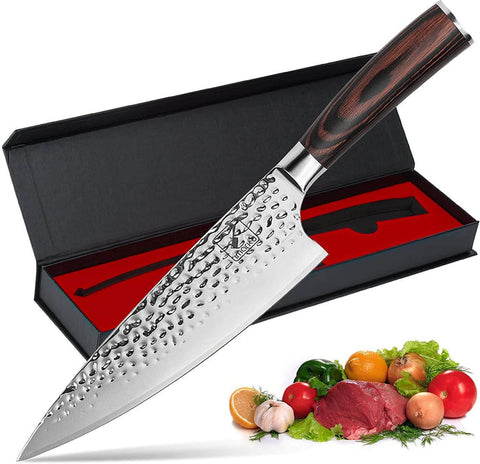 Apart from the impressive design that attracts everyone, the Imarku 8-inch chef knife with a hammered design is made from a high-quality carbon stainless steel blade. As such, it increases effectiveness when cutting food items, especially when it comes to juicy fruits like mangoes. The razor-sharp blades provide you with precision.
That way, you experience something different and great when using the knife. Also, they are durable and corrosion-resistant. The blade is sharpened by using advanced technologies. That way, it can cut smoothly through ingredients regardless of hard or soft texture. Besides, the ergonomic design makes it easy for you to work with the knife for a long time.
Pros –
The tall blade height makes it easier for you to chop or prepare food. Moreover, it makes it easy for the sliced mango pieces to cut off from their skin

Ergonomic design for maximum comfort

High-quality stainless steel that delivers remarkable edge retention and improves overall performance
Cons –
The hammered design might not satisfy personal style preference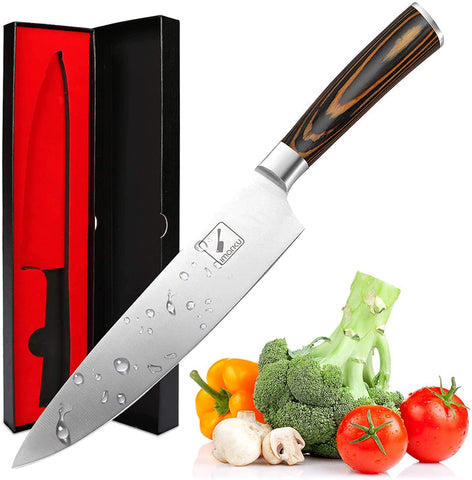 Are you looking for something different that will make your chef knife stand out from the rest? If so, you can try the Imarku 8-inch chef knife with an orange handle. The best part is that you can locate the knife from a distance because of the unique handle design. Apart from the intuitive design, this chef knife is great for dicing, mincing, chopping, and slicing.
The high-quality stainless steel and the ultra-sharp edge of this chef knife make it different from lots of other knives that you find around. In short, you don't have to worry about when it is about sharpness and sturdiness.
Pros –
Ergonomic handle minimizes finger numbness, fatigue, or aches that result from carrying the knife for a long time

The stainless steel contains 0.6 to 0.75 carbon, making it sturdy

Anti-tarnish and corrosion-resistant blade
Cons –
Many people prefer to use knives made of Japanese steel rather than German steel

Rockwell hardness scale of 56 to 58 is not that hard compared to its pricey competitors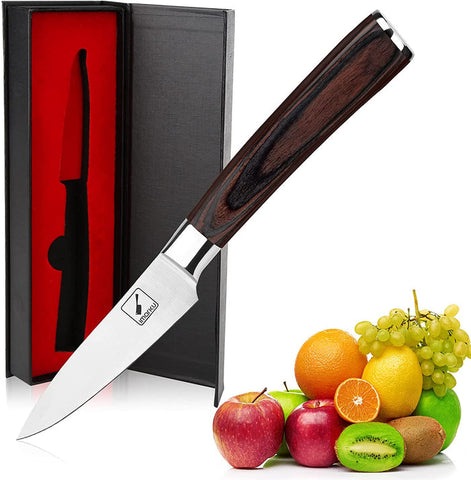 Paring knives are known for their precision abilities, and the Imarku 3.5-inch paring knife is not an exception. While it looks narrow and small, it has a ruthlessly sharp blade. As such, it is great for mincing, peeling, slicing, and so on.
The small size and ergonomic fit make it easy for you to operate the knife and bring efficiency when cutting ingredients. Moreover, the high-quality stainless steel blade improves robustness, and the razor-shape blade provides you with a great cutting angle.
Pros –
High-quality and incredible robustness makes this paring knife a unique one

With 56+ Rockwell Hardness rate, it provides you with effortless precision cut and long-lasting sharpness

Multi-purpose paring knife
Cons –
A 3.5-inch blade paring knife might be a smaller option for some people who are looking for a similar kind

Because it is extremely sharp, be careful when operating the knife around kids
How to store freshly cut mango

Mother Nature has blessed humans with mangoes so that they can make mouth-watering recipes from this juicy fruit. But what happens when you cut more mangoes than you need actually? In that situation, you need to store them safely so that you can use them for another recipe another time.
1.Store mangoes in the fridge
After you have cut the mangoes into slices, you can put them inside an airtight container. Next, place the container inside the refrigerator. You can store the mango slices for almost five days in the refrigerator before using them.
2.Store mangoes in the freezer
If you intend to use mango slices over a specific amount of time, you have to put the cubed mango in the freezer. Besides, you have to put the mango inside a resalable parchment plastic bag before saving it in the freezer. Frozen mango slices are perfect for making smoothies, and they can stay up to three months as well.