What Makes A Good Bread Knife?
Even though you can slice bread with any knife, it is still crucial to consider some specific qualities before selecting a bread knife. Once you follow the right factors, you will end up with an easy-to-operate, powerful, and efficient knife. But what factors should you consider while choosing a bread knife? What features make the best bread slicer knife? Let's find out.
What Factors to Look For in Your Bread Knife?
You will need to consider multiple factors to select the right Japanese bread knife. Some of the major factors are listed below:
Serrated Bread Knife
This is one of the primary things to consider while getting your knife. Typically, a serrated knife comes with a scalloped edge, making it easier to slice food items that are hard on the outside and soft on the inside, just like your regular bread.
A serrated knife works the same way as a saw. The knife features a blade with sharp teeth that can effectively pierce into the surface of any food. The slices and cuts are incredibly smooth. You can push the knife and instantly pull it back as needed.
We specifically recommend a serrated bread knife for slicing bread because these devices work exceptionally well on somewhat squishy items like bread. Thanks to the superior sharpness of the blades, they can effectively pierce into the surface of the bread, leaving you with clean and thin cuts. Note that unlike other types of knives, the tip of a serrated knife has advanced functionalities (namely, gullets) to limit friction and maintain proper smoothness and ergonomics.
Without the gullet, no serrated knife could effectively slice through bread without tearing the bread in the first place. Since the gullets involve less friction, they also leave you with fast cuts without any drags.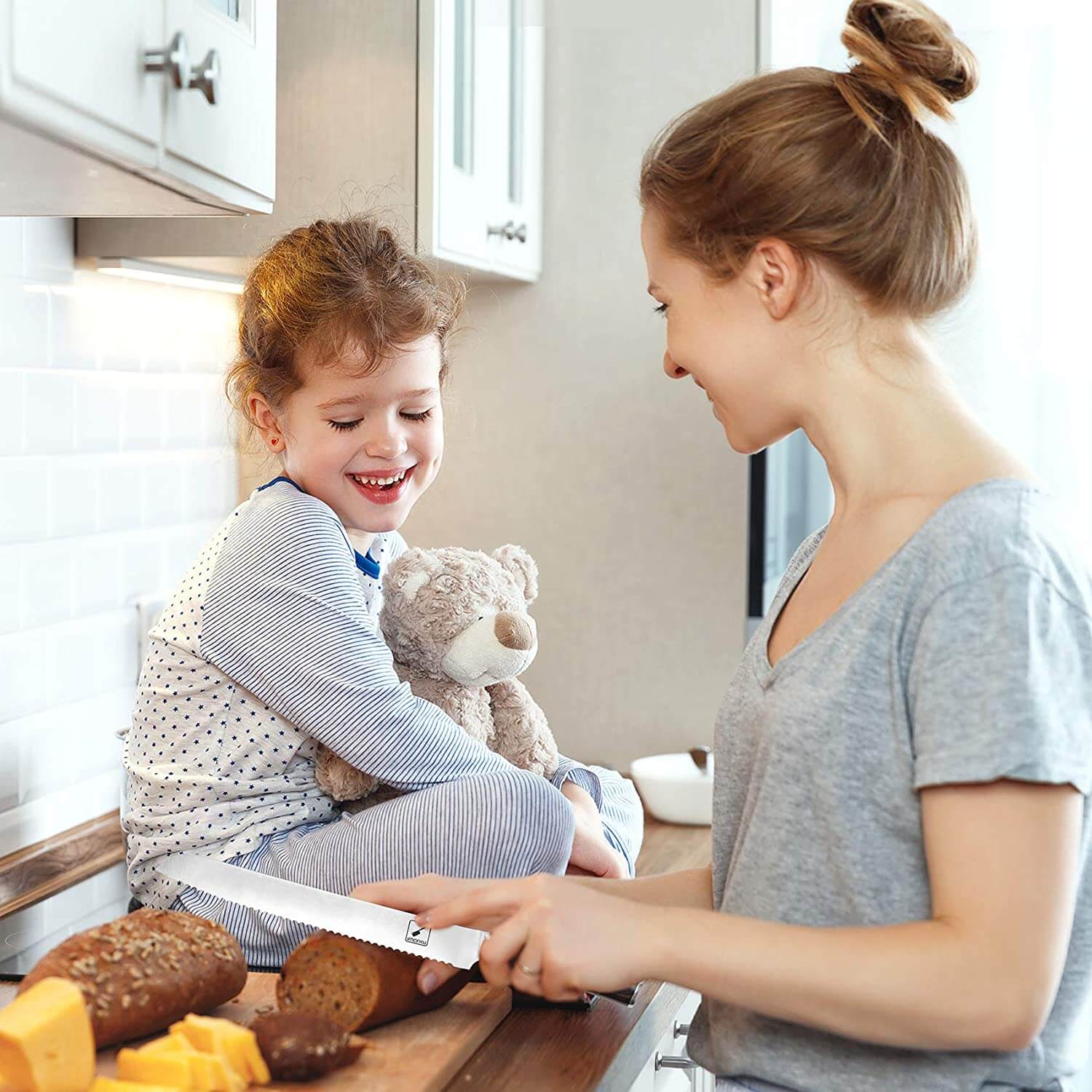 The Right Kind of Serration
Even when you choose a serrated bread knife, it is crucial to understand the different types of serrations and only go with the ones that work well on your bread. Typically, we suggest you focus on the tooth line. That is because the real teeth in your knife play a significant role in its final sharpness.
You will notice that not every type of knife doesn't have the same serration. In some knives, you will find gentle edges with scalloping and rounded patterns. Others will appear bolder with points resembling hooks or pins.
We typically recommend a sharp and bold tooth line because it ensures that the user doesn't experience as much pressure. These knives also slice through hard crust efficiently. With that said, they also leave you with large amounts of crumbs. This 10" serrated bread knife has a bold and sharp tooth line. The blades of this knife are of exceptional quality, and it ensures that you are left with clean cuts of bread, meat, and vegetables every time you use it.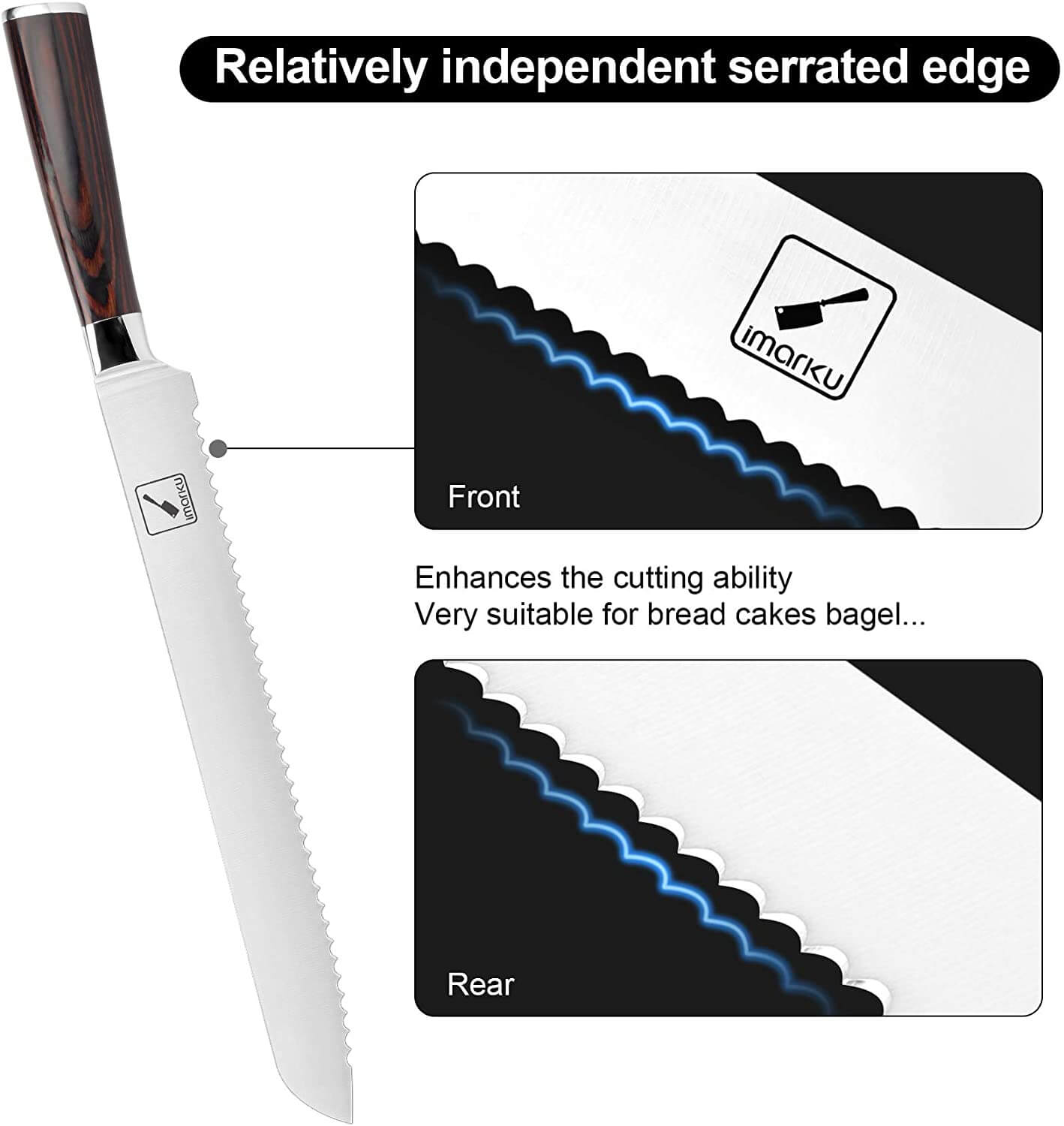 You would also want to check how many teeth are lined up in your knife. In some knives, the teeth are placed close to the line, while others don't have a similar structure and have more spacing. While exploring different types of bread knives, make sure they have a high TPI, ensuring that your cuts are smooth and effortless.
Finally, check the gullet size because it also plays a big role in deciding how seamless the knife will operate. Because bigger gullets leave you with thin and smooth cuts, try to choose a bread knife with a big and well-spaced gullet. This 10" German Stainless Steel Knife has a reasonably well-shaped gullet. This knife also boasts an excellent handle and a superior quality blade, both of which collectively improve your cutting and slicing experience.
Length
Another major factor to consider while selecting a bread knife is the length of the said knife. An ideal knife is long and thus enables simple sawing motions. For best results, we recommend choosing knives that are seven inches or more in length. The best and the ideal length of these devices would be around nine inches.
Blade Sharpness
It goes without mention that the right bread knife will be extremely sharp. These blades typically have defined serrations that further simplify slicing. Note that cutting bread and almost all soft food items require you to follow a back-and-forth motion. A curved blade perfectly supports this function. These blades offer maximum knuckle clearance every time you perform a stroke. It also ensures that you support pull motions instead of the push ones, thereby safeguarding your finger and leaving you with beautiful, thin slices.
With a curved blade, you can also monitor your cutting motions, enjoy superior control, and experience significantly fewer issues with slicing.
Comfortable Handle
This is yet another vital feature to look out for. Unless you hold the knife appropriately, you won't manage to get those perfect slices. That's why it is even more important to check the efficiency of the handle and see if it is sturdy enough. Even though it might be tempting, do not settle for smooth handles. Instead, look for a handle that is ribbed enough to give you the right grip. Overall, you should select a product that blends functionality and ergonomics.
Bottom Line 
Whether you need a bread knife to slice a couple of loaves, or you need it needs to perform a range of cutting operations like slicing cucumbers and carving slices of meat, it is crucial to check if your knife has the right features before finalizing it.
A functional and efficient bread knife will feature a sharp edge along with properly defined serrated sections. The right product will also come with plenty of room for clearing knuckles. Note that this further adds to the comfort and improves the knife's performance, leaving you with cleaner and thinner slices.
So, all you need to do is consider our guidelines before choosing the appropriate bread knife for your kitchen. Once you follow these recommendations, you will end up with a simple, ergonomic, and affordable bread knife.