What Is A Gyuto Knife?
You might not have heard the word "Gyuto" often, and even if you have, you probably don't know what it means or its origin. It's a Japanese word that translates to "cow sword." Originally this type of knife was meant to slice meat, particularly beef.
However, over the years, these knives have evolved and become known as a very popular multipurpose cutlery. They are highly desired due to their reputation for quality and extremely sharp edges. They are must-have items for chefs of all levels of experience.

A Gyuto knife is more like a sword that you use in your kitchen. They can serve many purposes, including chopping, slaying, and slicing, among others. It's very similar to a Western Chef's knife, but it's much sleeker with a stainless steel Japanese blade.
Key Features of A Gyuto Knife
The following are the main features that differentiate a Gyuto knife and a Western Chef knife:
●
The blade's build
The Gyuto knife has a different type of blade compared to a Western Chef knife. The balance point is much further up on the edge of the blade. That design helps with providing a chef more precision and agility.
The blade is also a bit lighter and thinner, but not very long. That makes the knife very good for dicing and chopping vegetables into very tiny pieces. It also has a single bevel, just like most Japanese knives. This means the angle of the edge is formed only on one side to maintain sharpness.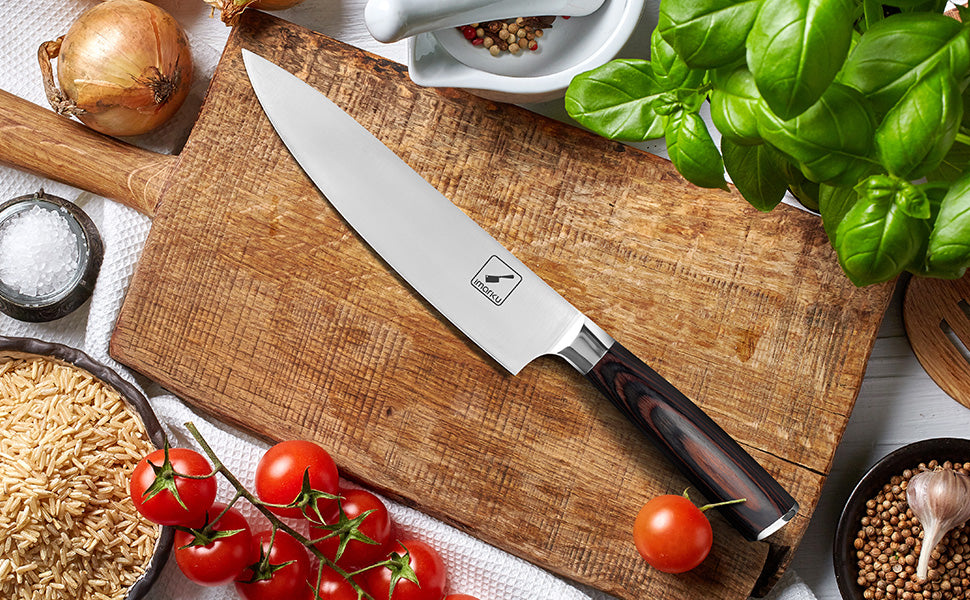 ●
The blade's steel
The type of stainless steel used is what mainly differentiates it from a Western Chef knife. The Japanese knife is made out of high carbon Japan steel, while a Western Chef knife is softer.
The Japanese knife is different because it creates a sharp edge that has many benefits, including edge retention, precise cutting, and longevity due to its ability to withstand the test of time much better than many other types of steel.
How to Sharpen A Blade
Maintenance of your knife is essential. A Gyuto knife usually maintains a sharp edge. However, at some point, you might need some knife maintenance. You need to have a properly functioning whetstone and know how to sharpen a knife properly. Take the following steps when sharpening the blade:
1. Start by placing the whetstone on a flat surface, find an angle that's optimal depending on the style of the knife, and maintain the same angle.
2. Use your preferred hand to hold the handle and apply pressure on the knife's spine using your thumb.
3. Using your other hand, use four fingers to apply pressure on the cutting edge.
4. Start from the heel of the blade, working your way to the tip.
5. Slide the blade forward along the whetstone away from you. When you reach the edge of the stone, lift the blade and start again.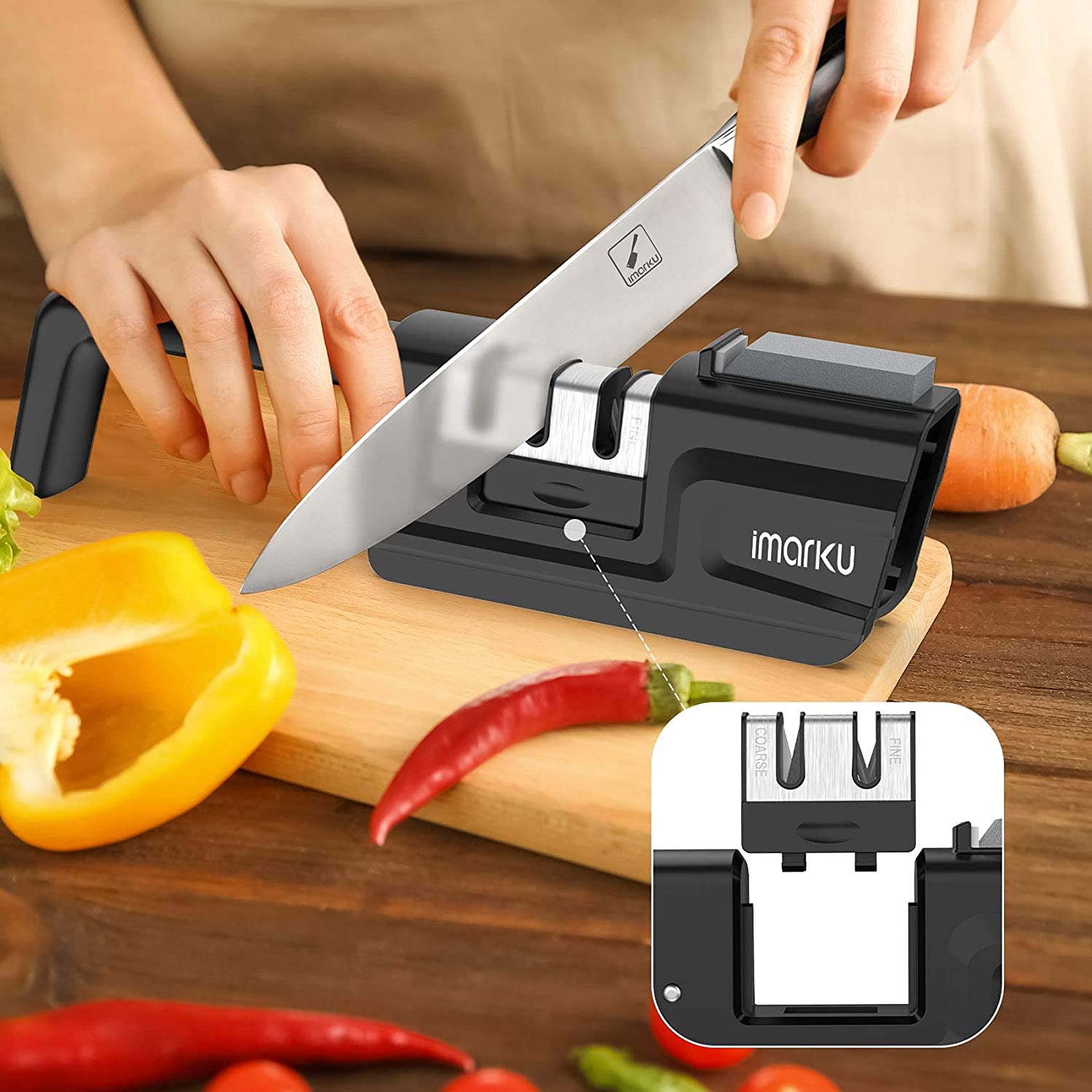 Three top Gyuto knives you need
After understanding what a Gyuto knife is, you can choose from three of the best Gyuto knives.
The 8" iMarku knife is essential and can be used in the preparation of any meal. It can be used for different purposes, including slicing, chopping, dicing, and mincing. It has Triple Riveted handles and is easy enough to use by professional chefs and home cooks. The knife has the following features:
● Multi-functional knife
It's designed to be a multipurpose knife used for professional applications. You can use it for chopping, slicing, dicing, and cutting meat off bones.
● High-carbon stainless steel blade
The knife is manufactured using high-quality stainless steel. The steel has 0.6-0.75 carbon to increase sturdiness, making it harder than most other knives.
● Ergonomic pakka handle
This reduces fatigue, finger numbness, or any aches that could come up after holding the knife for a long while.
● Corrosion and anti-tarnish blade
16-18% chrome is included in the metal composition. This helps with giving a glossy finish that won't fade.
The 10" chef's knife is meant for chopping, slicing, and dicing different types of fruits, vegetables, and even other things. It has a curved belly that enables it to create a fine mince when rocked through vegetables and fresh spices. It has the following features.
● Easy and fast to clean
The knife has a smooth blade with mirror polishing for easy cleaning and retention of sharpness.
● Ultimate sharp blade edge
It has an extremely sharp edge that makes easy work of cutting meats, vegetables, fish, fruits, and sushi.
● Ergonomic pakka handle
Just like the 8" knife, it also has a pakka handle that reduces the chances of feeling fatigued, getting aches, and finger numbness. The material is from Africa and it's known for its comfort and stability.
● Slim polishing blade
The stainless steel blade is German and has a thickness of 2.3mm and 57±2 Rockwell Hardness Scale (HRC).
This is yet another great option when it comes to Gyuto knives. It has some fantastic features as well. They include:
● Comfort and perfect balance design
The knife has a black wood handle that's ergonomically designed. The handle helps with providing a firm and comfortable grip, which minimizes tension on your wrist.
● Multi-function kitchen knife
The hardness of the knife reaches 54±2 (HRC); hence the cutting is much more challenging. You can use it for different purposes, cutting all types of fruits, vegetables, and meat. The edge is also refined for precise cutting.
● Professional chef knife
It's created with German HC stainless steel. The material is high quality and can be used for a long time without rusting or breaking.
● Premium after-sales service
You get a 100% satisfaction or refund policy. All types of problems related to the knife are resolved within 24 hours.