The Best Way to Cut and Cook Spaghetti Squash
Spaghetti has been one of people's favorite meals. As the years went by, people tried to find pasta alternatives with lower carbs than the original one. However, this alternative that we found is the unusual version of it - the vegetable spag. This article will introduce you to how to cut spaghetti squash and prepare your noodle-like veggies recipe, including all you can do to enjoy your healthy spag version.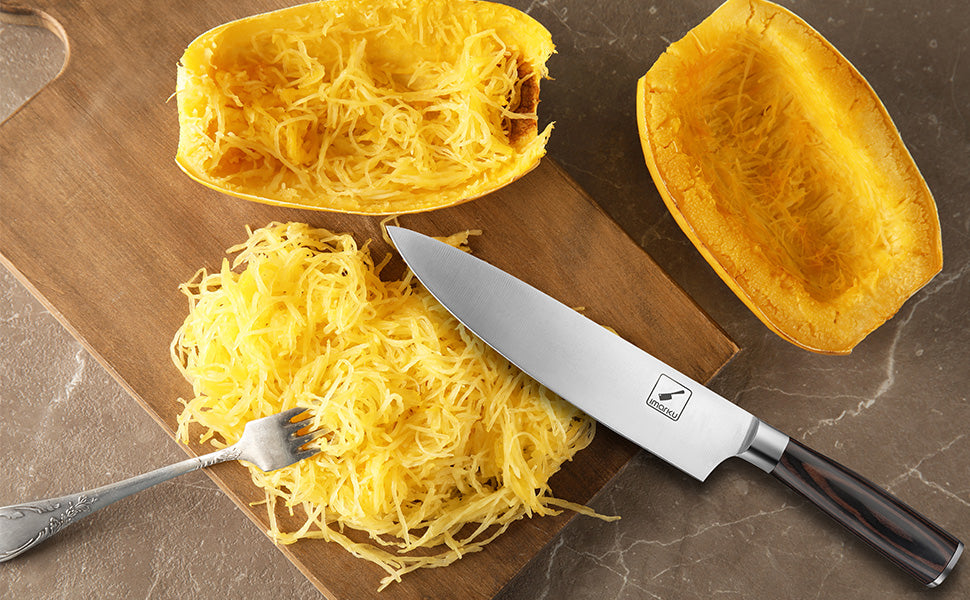 What Is Spaghetti Squash?
Spaghetti squash is a variety of plants in North and Central America. This is also known as vegetable spaghetti, vegetable marrow, or noodle squash. It's not like the Halloween type of pumpkin but a small, watermelon-shaped variety that range from golden to yellow to orange in color, oval rind, and a mild, nutlike flavor. It varies in shape, size, and color, usually in ivory, yellow and orange, and orange, containing the highest amount of carotene.
It's best to eat in its yellowiest form as this is the ripest you can get. It also offers an explosion of flavors, but It's always better with a sauce in it, just like how you do it with your favorite pasta. The center contains large seeds, and the flesh is solid as any other pumpkin when raw.
It's called that way because of the change it undergoes when cooked. Upon cooking, the meat of the fruits falls away from the flesh in threads or ribbon-like shapes hence the name it was given. Some cooks say that the larger the strand, the more flavorful. This fall/winter plant grows pretty quickly and is available all year-round.
Tools You Will Need
It's challenging to chop and cook some because of its unfamiliarity, so never miss preparing the following tools in making this food.
Sharp Knife

Large spoon and bowl for the seeds

Fork

Baking sheet

Parchment Paper or foil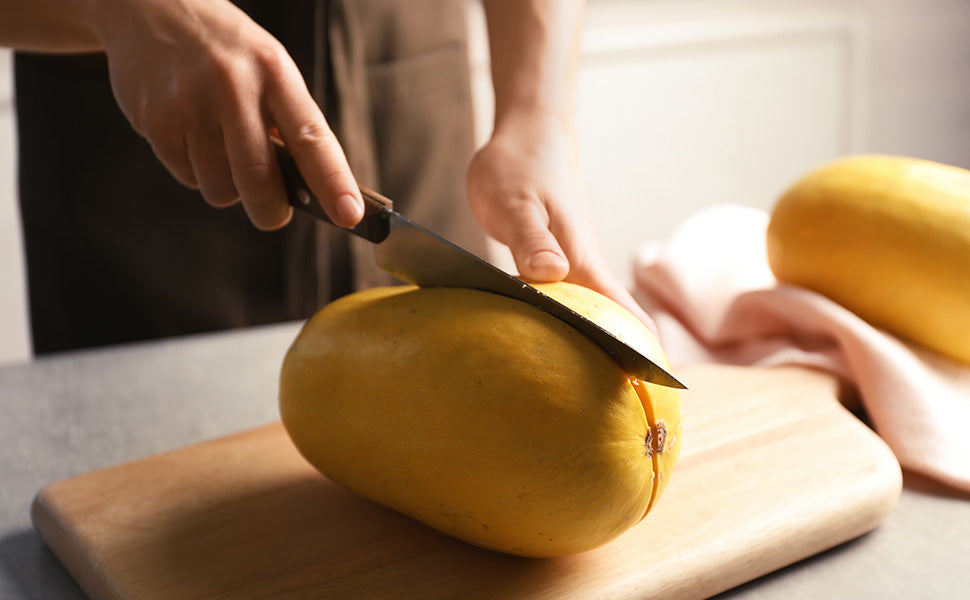 How to Cut a Spaghetti Squash
How do you turn solid flesh similarly into a noodle strand? Cutting this will also depend on how long or short the threads are. But don't fret. Follow this step-by-step guide for how to cook spaghetti squash and cook your noodle veggie like a pro.
Prepare your vegetables by washing them. It's a must in preparing any vegetable!

Rest your veggie horizontally on your chopping board. Hold it firmly with your non-dominant hands.

Get a sharp paring cutter. It's better if it's small to avoid the risk of cutting yourself in the process if your slice suddenly slips.

Using your dominant hand, poke a few small slits unto its skin where you want to plan to slice it to serve as your guide when cutting it. Remember to keep your hands away from the danger's way.

To achieve the long thread of noodles, chop it middle widthwise. Pierce the blade's tip and then swing it down until it connects the first slice around its area. Using your hands, snap the vegetable open.

Tip: Middle widthwise slice aids in reducing moisture and light output when cooked.

Scoop out the seeds using a large spoon. You can also slice around the seeds with a knife for a more thorough and cleaner surface, especially on stringy areas.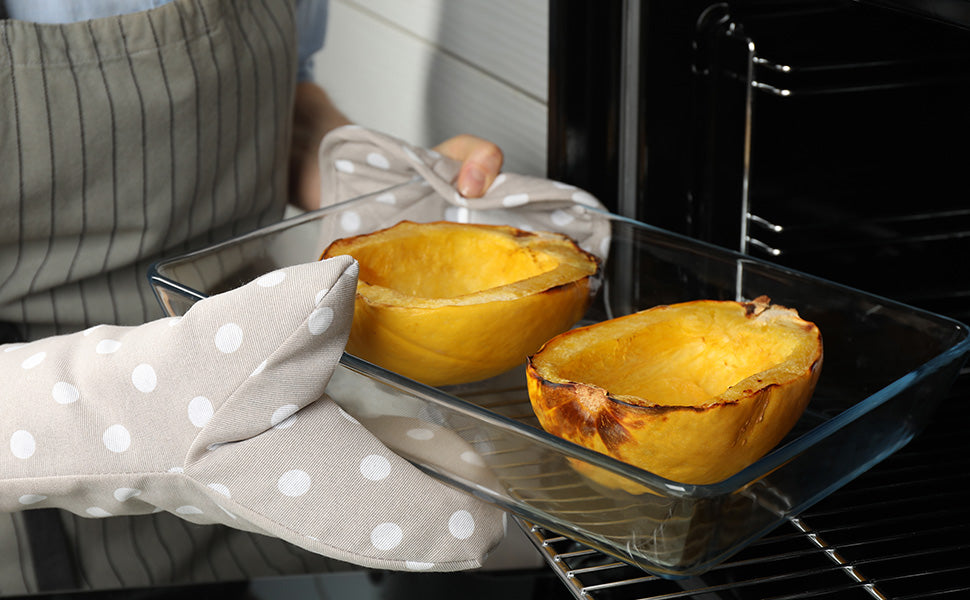 Five Ways to Cook Vegetable Spaghetti
There are a few different ways you can cook your produce.
Microwaving
Since your pumpkin is all prepared and sliced, put it in a microwave-safe pan.

Fill your pan with about one inch of water.

Put your veggie inside the microwave for 10 to 12 min. on high. Cook it according to your taste or until you can press in its skin pretty quickly (but don't touch it with your bare hands, or you'll burn yourself).

Remove it from the microwave and then let it cool for a fair 15 minutes.

Scrape or shred out the flesh or inner part with your fork to achieve your noodle-like taste.
Instant Pot
Place your cut and cleaned vegetables on a steamer basket at the bottom of your Instant Pot. Then, add a cup of water.

Place the halves onto the top and make sure to secure the lid. Check if the vent is sealed. On high pressure, set your pressure cooker for 7 minutes. Use the quick release if finished.

Remove it out and let it cool for about 15 minutes.

Scrape the inner part with a fork, and then you're done!
Baked or Roasted
Baking or roasting your veggie is categorized into three ways. It can be cooked whole, widthwise, or lengthwise. 
Whole
Preheat your oven to 375F.

Place your washed ingredient on a rimmed baking sheet. Then, bake for an hour and 20 minutes. Flip as you cook it through to balance it on all sides. You'll know when it's already cooked if it feels tender when you poke it with a knife or fork.

Remove it out and wait for it to cool before opening it. You can use a dish towel or oven mitt as you hold it.

Scoop the seeds out, then use a fork to separate them.
For Widthwise Slice
Set your preheated oven to 400F.

Place your halves or widthwise rings on a rimmed baking sheet.

Coat all pieces with a bit of olive oil, salt, and pepper. It's better if you apply the spices with your hands.

Bake the rings for about 30 minutes.

After removing it from the oven, let it cool for a good 15 minutes.

Peel the skin away, and then use a fork for the noodle.
For Lengthwise Slice
Set your preheated oven to 400F.

Place your halves or widthwise rings on a rimmed baking sheet.

Coat all pieces with a bit of olive oil, salt, and pepper. It's better if you apply the spices with your hands.

Flip the veggie halves over so the cut side is on the baking sheet.

Bake for about 45 minutes. Try to press your food to see if it's done. You'll see if it's cooked if you can press on it quickly.

After removing it from the oven, let it cool for a good 15 minutes.

Peel the skin away, and then use a fork for the noodle.
Recipe: Spaghetti Squash Recipe with Feta and Kale
Ingredients:
1 Spag Pumpkin (seeded, cooked, and separated into )

1 tablespoon Olive Oil

2 cloves of minced garlic

2 cups of thinly sliced Kale Leaves

1/2 teaspoon Red Chili Flakes

2 teaspoons Apple Cider Vinegar

1 teaspoon Honey (or Maple Syrup)

Salt and freshly ground Black Pepper

1/2 cup goat's-milk feta cheese (crumbled)
Cooking Instructions:
Cook your veggie beforehand. This does not mean that the ingredient must be totally cooked but just enough to separate it.

In a heated pan, put olive oil, then saute garlic, kale, and seasonings. Add your noodles after. Mix well.

Add apple cider vinegar, then honey or maple syrup (either of these two), salt, and then pepper to taste.

Place in a beautiful serving plate and garnish it with fresh feta and sprinkle with a little bit of ground pepper. Bon appétit!
Top Knife Picks and Cutting Board
Knives are a lifesaver when food preparation, no matter what size it is. Choosing the right blade makes any slices polished and cut nicely. While you are at it, let us review the following top knives and chopping blocks for your spag squash.
1. imarku 8' chef knife is a multi-functional tool that cuts, dices, slices, chops, and also cuts meat off bones. It comes with an HRC (Rockwell Hardness Scale) of 56-58, making it among the rigid knives in its class. Its ultra-sharp edge makes it easier for you to cut a hard solid pumpkin into halves or rings, plus its ergonomic pakka handle helps in minimizing fatigue and finger numbness.
2. imarku Paring Knife is ideal for chopping, slicing, dicing, and mincing vegetables and fruit. It increases cooking efficiency because of its small size. Its Pakkawood handle provides comfort, strength, and stability when used. Its sharp razor edges give you a precise and effortless chopping experience, just like a pro.
3. imarku 2 Sided Wooden Cutting Board is a multi-functional non-slip wood serving board that can be used as a chopping, carving board, cheese board, and heavy-duty butcher block. It can aid in precise cutting as this board is equipped with a ruler to cut a balanced size of food.
What Makes a Good Spag Squash?
The best variant to choose is golden yellow to dark yellow. This is the ripest and most flavorful kind. Upon choosing your ingredients, you should also notice the firmness of its flesh, free of soft spots, and don't have any cracks on its skin.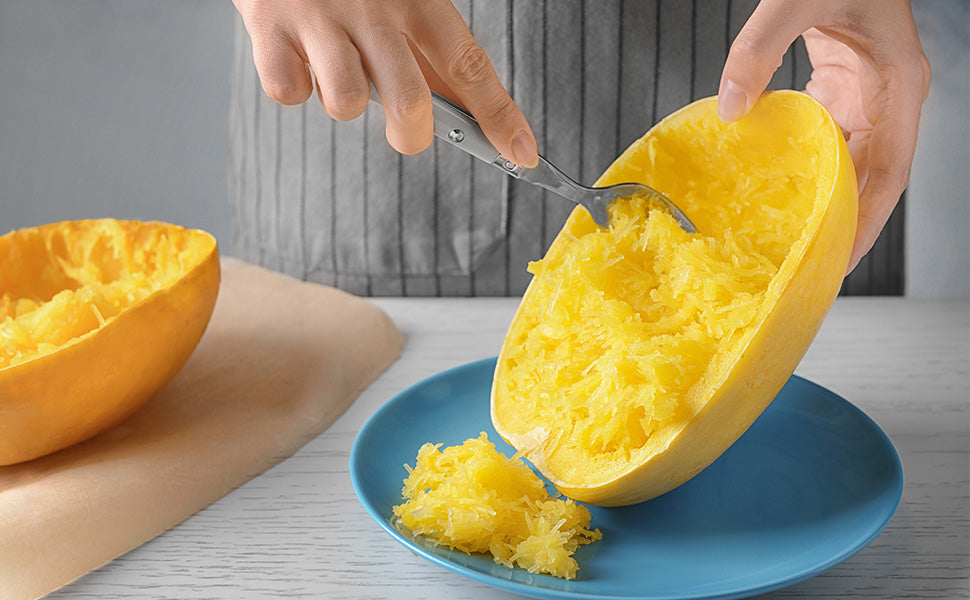 Conclusion
Veggie Spag might not be the most enticing food for vegan dislikers. However, if you are in for a healthier and additional flavor to play in your mouth, this could be the best option for you. You can make this in different methods like roasting, baking, microwaving, and Instant Pot steaming to bring out the best in each recipe. It's also ideal for cutting it widthwise for longer threads and enhancing taste.