Should I Buy A High Quality Kitchen Knife?
A knife is the soul of the culinary space: it's that one instrument you take up without being conscious, and it's that one thing that you can't do without. Whether you have to mince shallots before dinner or slice a quarter of melon or apples for dessert, your kitchen without high-end kitchen knives is practically unimaginable.
In a utopian world, you may be living close to a major gourmet culinary supply store with walls stacked with loads of kitchen knives that could be used as and when you wanted. No matter whether you want to chop onions, mince garlic or debone a fish, you will have kitchen blades ready at your disposal. Unfortunately, things don't happen that way, and you have to narrow down your choices to a few staple kitchen knives that can handle most of your cutting, dicing, and slicing jobs.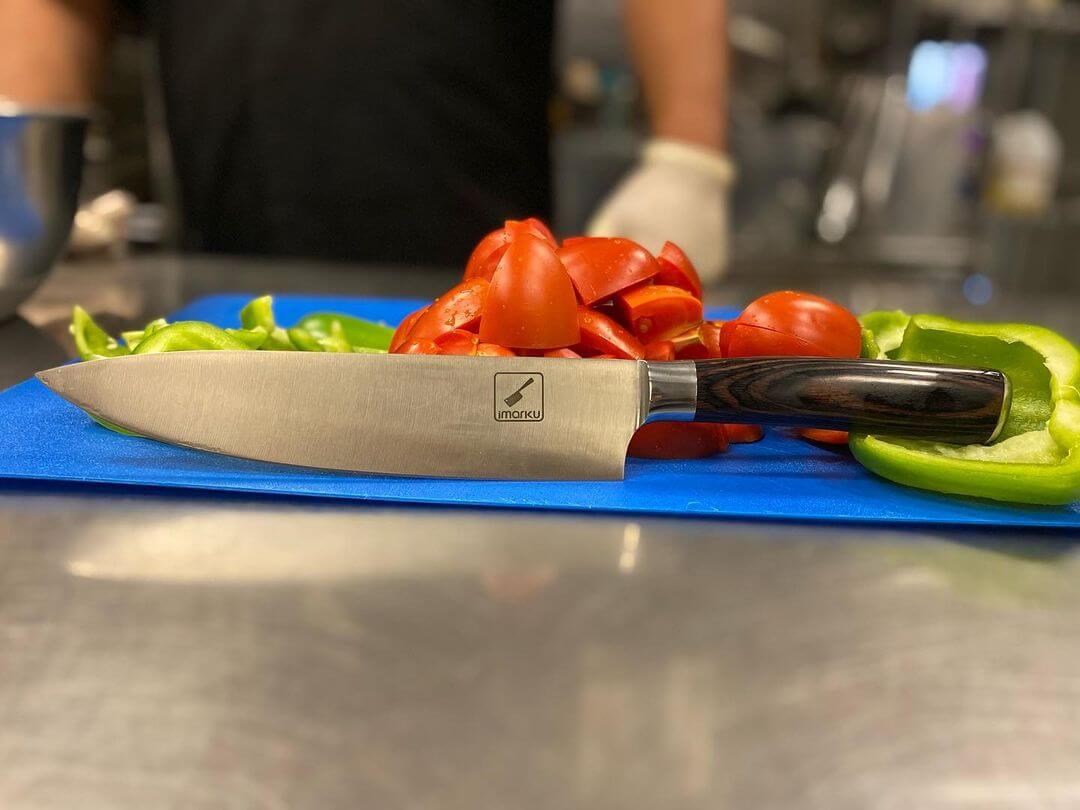 The Benefits Of Owning A Quality Kitchen Knife
The top-quality chef knives serve to be the workhorse in the kitchen: from slicing to smashing to breaking the bones; you name it, and your chef knife will get it done in minutes. The versatility of these kitchen blades makes it the most frequently used tool in the culinary zone. No matter which knife you choose, keeping it sharp is extremely important, and it's worth splurging money if the knives can maintain their sharpness. Let's see the advantages of owning top-notch chef blades. 
Comfort and Stability
Top-class knives are highly comfortable, and they won't numb your knuckles or fingers from cutting. This is especially true in the case of bigger chef knives, which run the risk of tiring your hands and becoming unbalanced when used for long hours.
Good knives come with unmatched craftsmanship and the handles are designed and constructed from premium wood or metals. The kitchen blade feels like an extension of your hand and it's very comfortable to use. It will be light and well-balanced and won't cause developing the 'hotspots' in the fingers and palm from holding for long periods. 
High-quality materials
When it comes to the materials for the knife blades, you will mostly see two variants: stainless steel and high-carbon steel. Knives containing high-carbon steel are pricier than the stainless steel variant, although high-quality stainless steel knives also exist. But the advantage of high-carbon knives is that they tend to be sleek and light. 
High-carbon stainless steel has better sharpness retention abilities. They are also preferred by professionals and chefs for their precision while functioning. But like every other sharp object, high-carbon steel will also require sharpening at some point or the other. And sharpening these knives can be slightly tricky and can only be executed through water stone for maintaining the precision of the blade. Moreover, you need to wash and thoroughly dry your high-end kitchen knives after using them to keep them from rust and corrosion. 
On the flip side, stainless steel knives can also offer an equal level of functionality and are designed to endure a lot of wear and tear from regular usage. You won't have to invest much effort in keeping up their sharpness. 
Versatility and Control
The ergonomics of high-end kitchen knives make them effortless to grip and hold without fatigue. No matter the make and model you opt for, these kitchen blades are designed to be razor-sharp. And you don't have to be a professional to realize that sharp knives don't require brute force for getting the job done. This quality is mostly required when you chop delicate ingredients like herbs that appear fresh when the chopping is done right. Besides, a sharp knife is more versatile and makes the preparation task enjoyable and less of a chore. 
Another important benefit of these knives is that they proffer better control over the task you are performing. As a result, you gain the authority of predicting the movement of the knives, which in turn, rules out the risk of injury. 
Appearance is bound to attract
The high-end kitchen knives are designed keeping the needs of professionals in mind, and their designs are typically attractive. Whether you go for Japanese or German chef knives, they are quite stylish and come with hordes of additional features than regular ordinary knives. This implies even if you are a home chef who's too passionate about cooking, having a chef knife will enhance your culinary experience to a great extent.
And the best part, your knife is going to remain functional for many years, and whenever your friends or family see you preparing meals and serving, they can't help but pass an appreciation for the prized possession of your kitchen.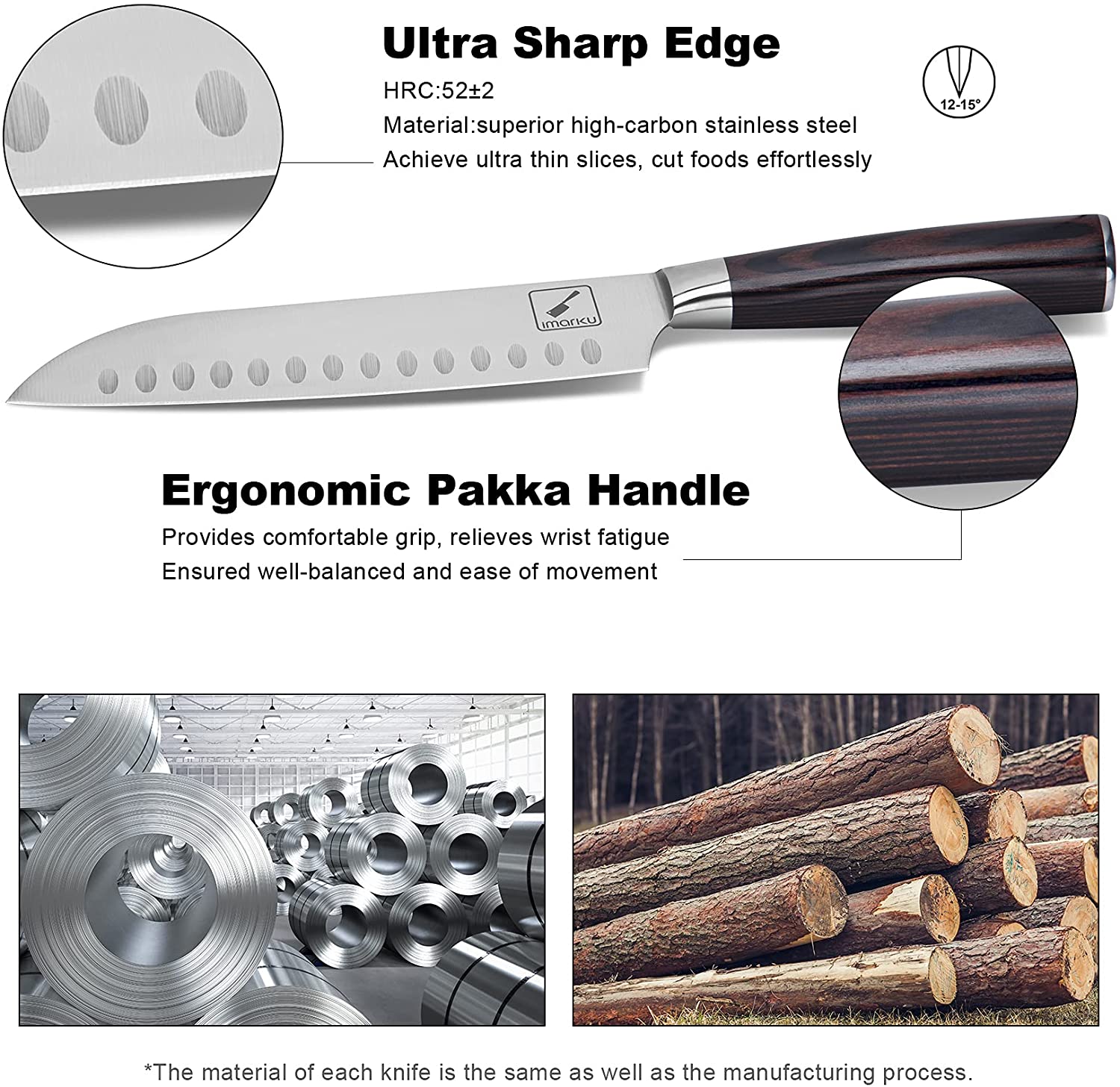 What To Look For When Shopping For A Kitchen Knife? 
The first thing to factor in a while selecting the top quality chef knives is your personal preference and of course, budget. It's also important to make it clear in the first place that there's no such thing called the best knife. You just have to ensure that the pieces you choose cater to your culinary needs, retain their sharpness, and maintain stability in the long run. But it's also worth mentioning that even though it's easier to say it at one go, it's not that easy to land on the high-class kitchen blades. So, here goes a few aspects of watching out for when shopping for premium chef knives. 
Size
If you are of petite built, you must go for knives with shorter lengths, preferably between 6 and 10 inches. The most popular choice is 8 inches. This length will ensure good cutting volume and it's not that long to make you feel uncomfortable for smaller hands. The general rule of thumb is that the shorter the length of the knife, the better agility it will offer. 
Weight
Different people have different choices, and it applies to the weight of the top quality chef knives you are selecting. With a heavy knife, you can maneuver it well with gravity and cut through the food effortlessly.
On the flip side, if you prefer lighter knives, you will control them better, but the chopping power will be compromised. What you have to find is to strike a balance between the two extremes. If your preference is towards a kitchen blade that leans away, you must consider the weight before buying. 
Balance
The knives' handles take in more weight than the knives' blades. But you must check that the knife is not weighted towards the handle's back or toward the blade. When your knife comes with this handicap, it will compel you to make up for the instability while using it. Over time, this will be highly uncomfortable since you will have you put in greater efforts than you would have to do with a good knife. 
Four Kitchen Knife Types You Should Own
Before you jump on to purchase all the kitchen blades that attract your attention, let's check out some of the essential pieces that you just have to get started in the kitchen. If you are wondering whether you should invest in high-quality kitchen blades, here are some recommendations.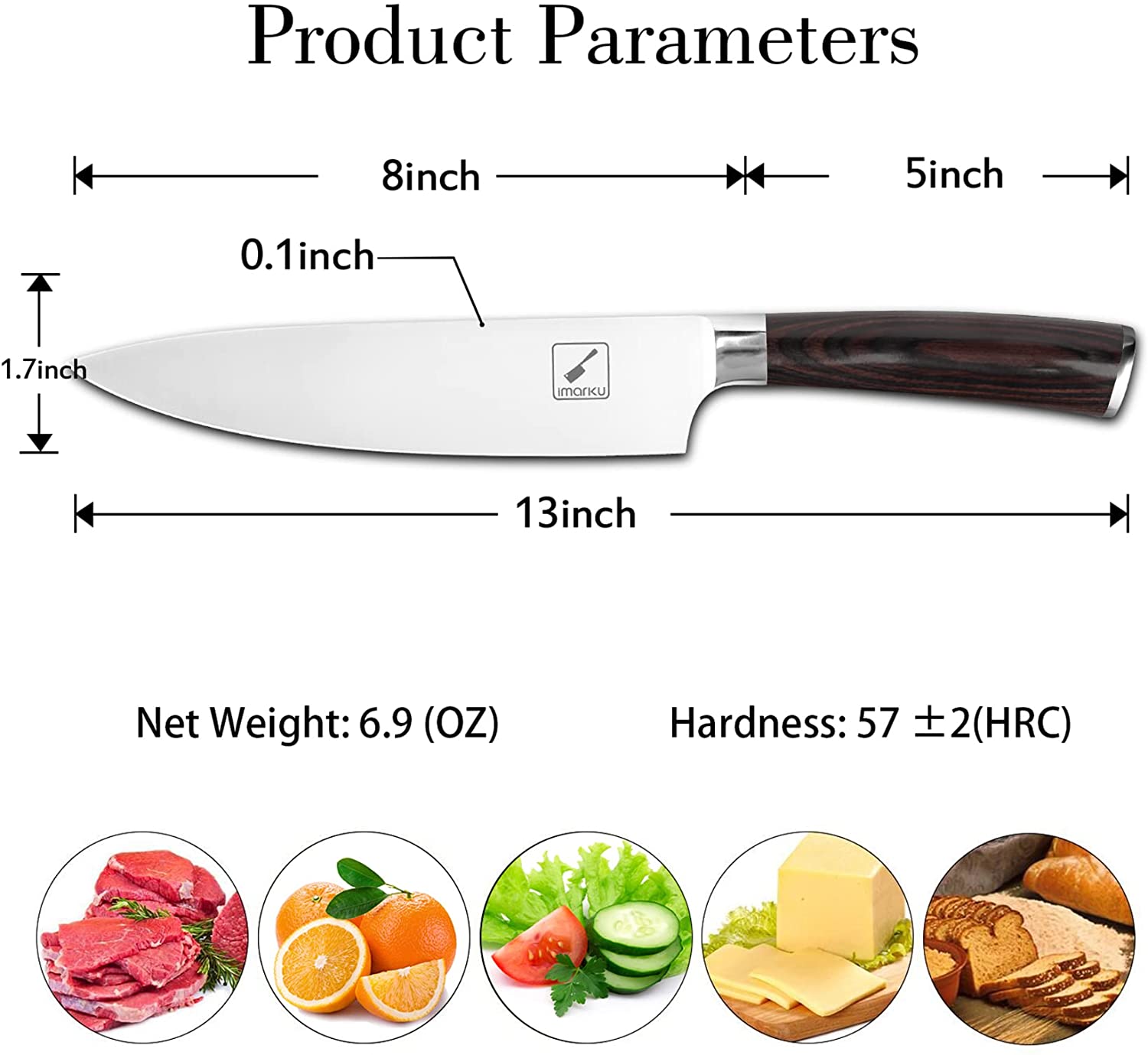 1. Chef's Knife
The first type of kitchen chef knife that you can get is the iMarku Chef's Knife 8 inch Series. This set of top-rated chef knives is reasonably priced and offers many features that make it the top choice for professionals and home chefs alike. Since it's attributed to bringing along efficiency in your kitchen space, this is the primary set that you must invest in. The level of accuracy you will have with this knife is difficult to match with ordinary knives.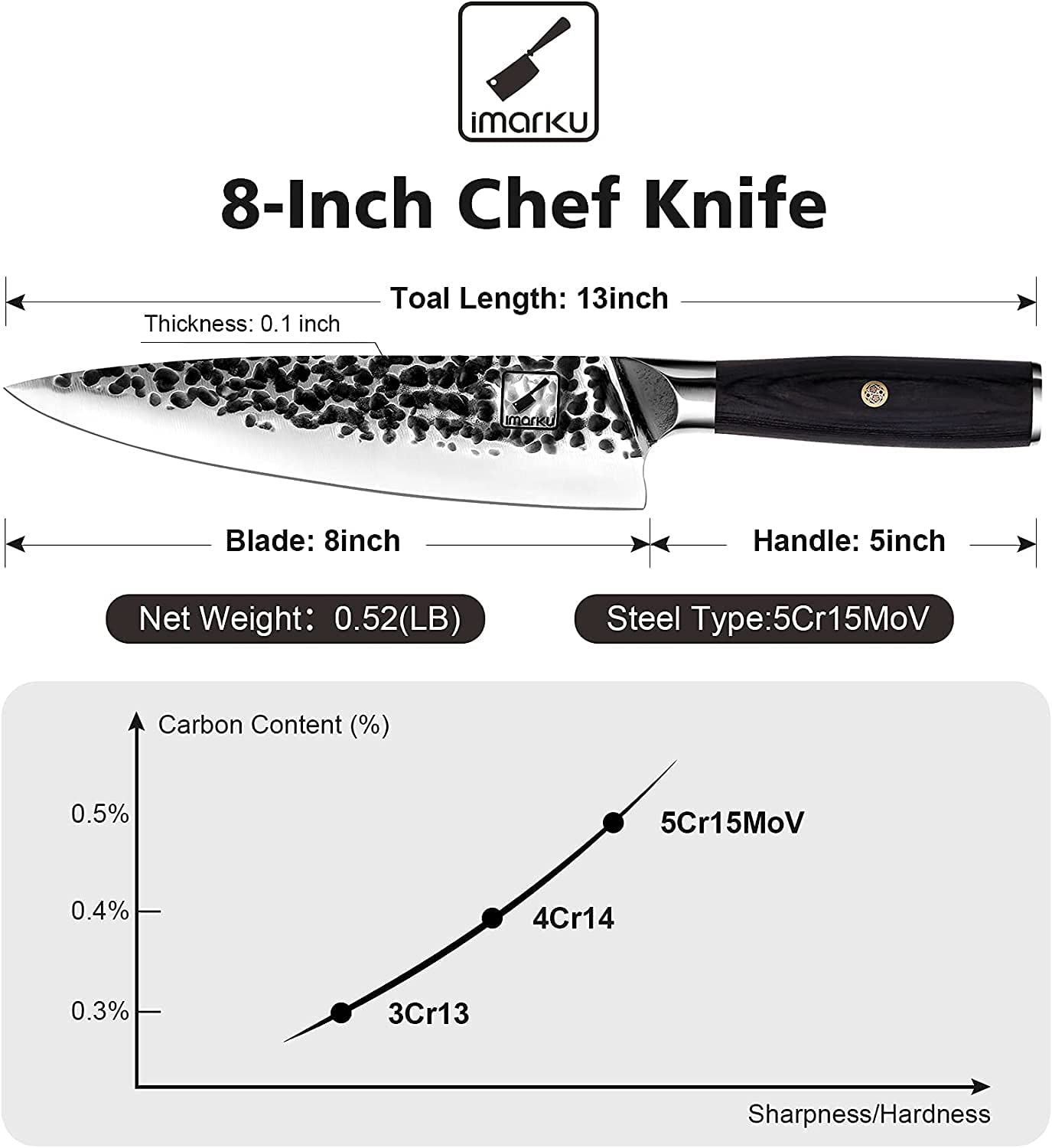 Contrary to most single-use kitchen blades, the iMarku Hammered Chef's Knife series gives better versatility so that you can perform all kinds of cutting actions. The series is almost free of maintenance and made from high-carbon stainless steel that adds to the durability and sturdiness. All you need to do is swash it in clear water and wipe it down with do cloth. The blade is resistant to rust and corrosion, and you won't have to stress about rust spots on the kitchen blade even when you store it for months. 
Another significant aspect about these knives is that they come with a standardized handle constructed to ergonomic shape to keep your palms and fingers from aching for extended use. Moreover, they proffer a knuckle clearance that's large enough for protecting the fingers. 
It is made from premium materials that can withstand damage and corrosion. Also, the handle is constructed from hardwood that will last for many years without showing signs of depreciation.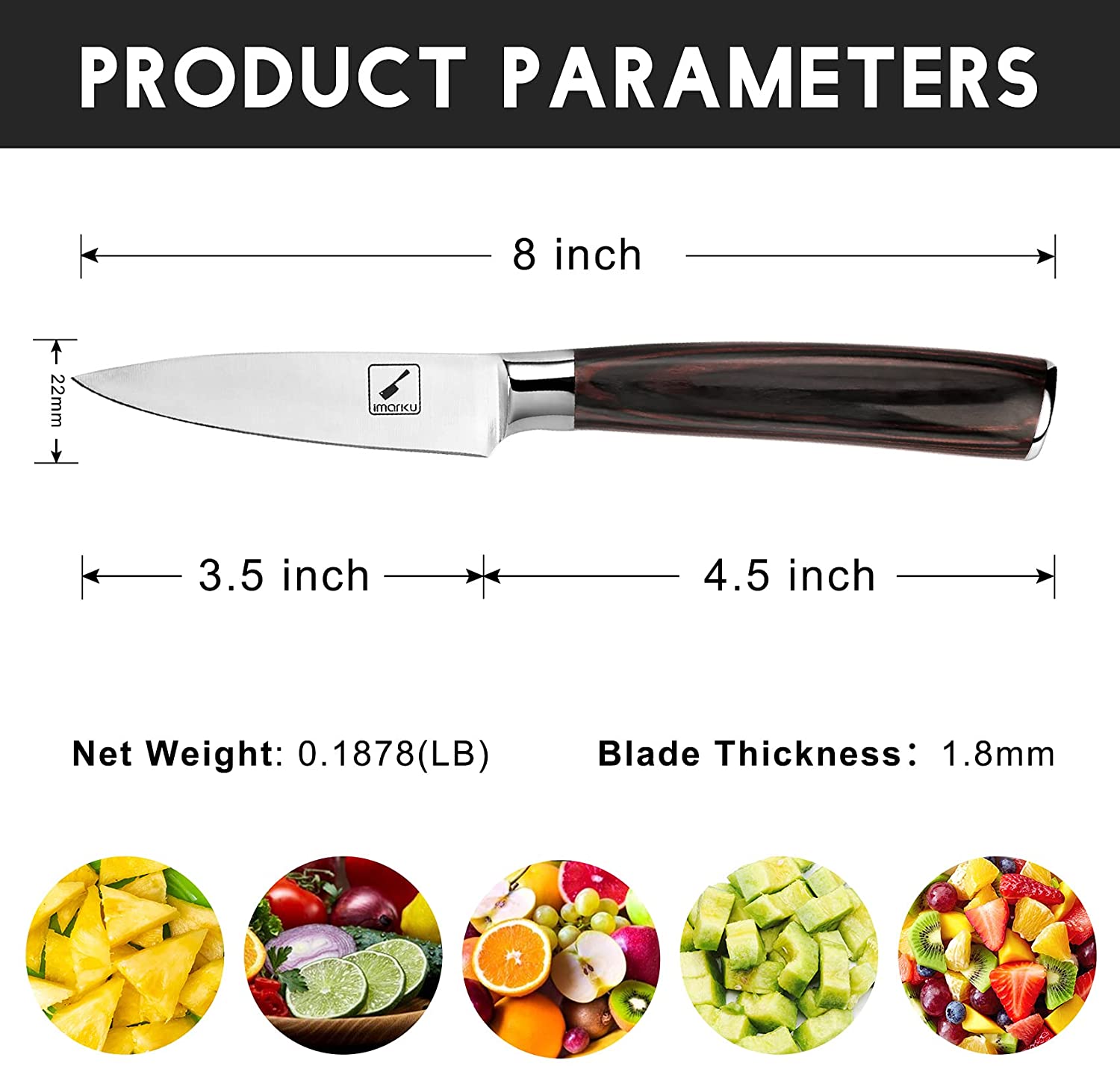 2. Paring Knife
This kitchen blade takes over from where the chef's knife leaves. Since these knives have blades over 3.5 inches long, they are amazing tools when you want to work with any food that calls for great attention to detail. Like all other premium knives, the iMarku Paring Knife 3.5" is an excellent knife delivering light-duty functions with ease. It's a multipurpose knife that you can invest in as the small size makes it very easy to operate and boost your cooking efficiency. 
One of the most incredible factors about this knife is that the steel has been endowed with 0.6 to 0.75 grams of carbon for increasing its performance. As a result, the blade is twice as hard as other blades belonging to the same category. The material used for the handle, Pakkawood, originates from Africa and is known for its strength, comfort, and stability.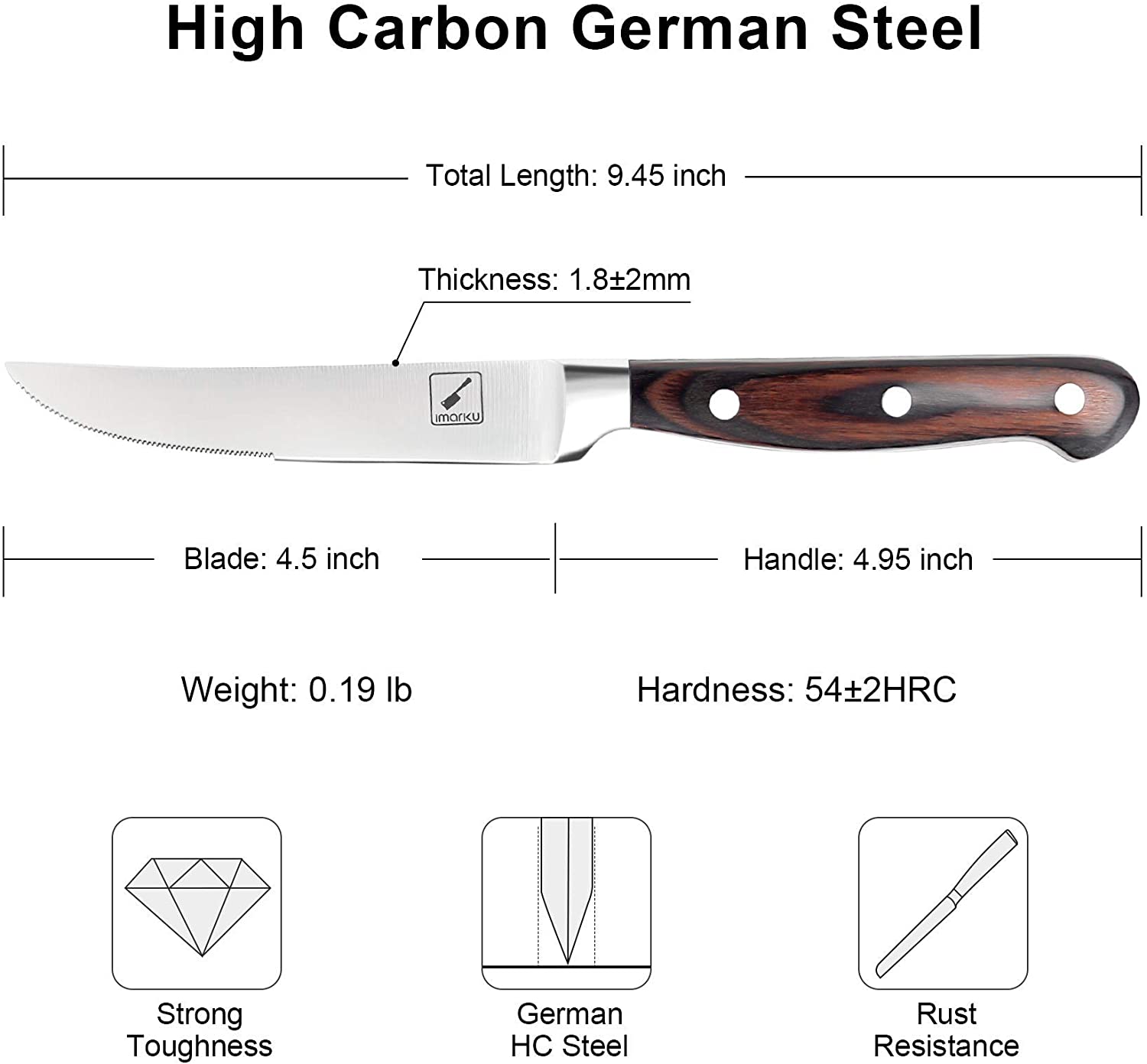 3. Steak Knives
Next comes in the list of staple kitchen knives is the iMarku Steak Knives Set 4.5" with blades that come with micro-serrations for smooth cutting through all meat from pizza slices to lamp chops to steak. For those looking for a brilliant table knife ensemble, this could be a great option. It can also function as a sleek dinner table assembly that can host a party with friends and family. The major features of these steak knives include a single-piece full tang design coupled with a double-riveted handle that adds to the overall strength of the knife. 
Also, German steel needs no introduction, and the stainless steel used in these butcher knives offers superior solidity and longevity so that you can cut through the steak without any bends in the handle. Also, the handle is made of pakkawood that offers a comfortable grip and is thick and durable. It serves to make the instrument more tender and extremely comfortable for fingers and hands.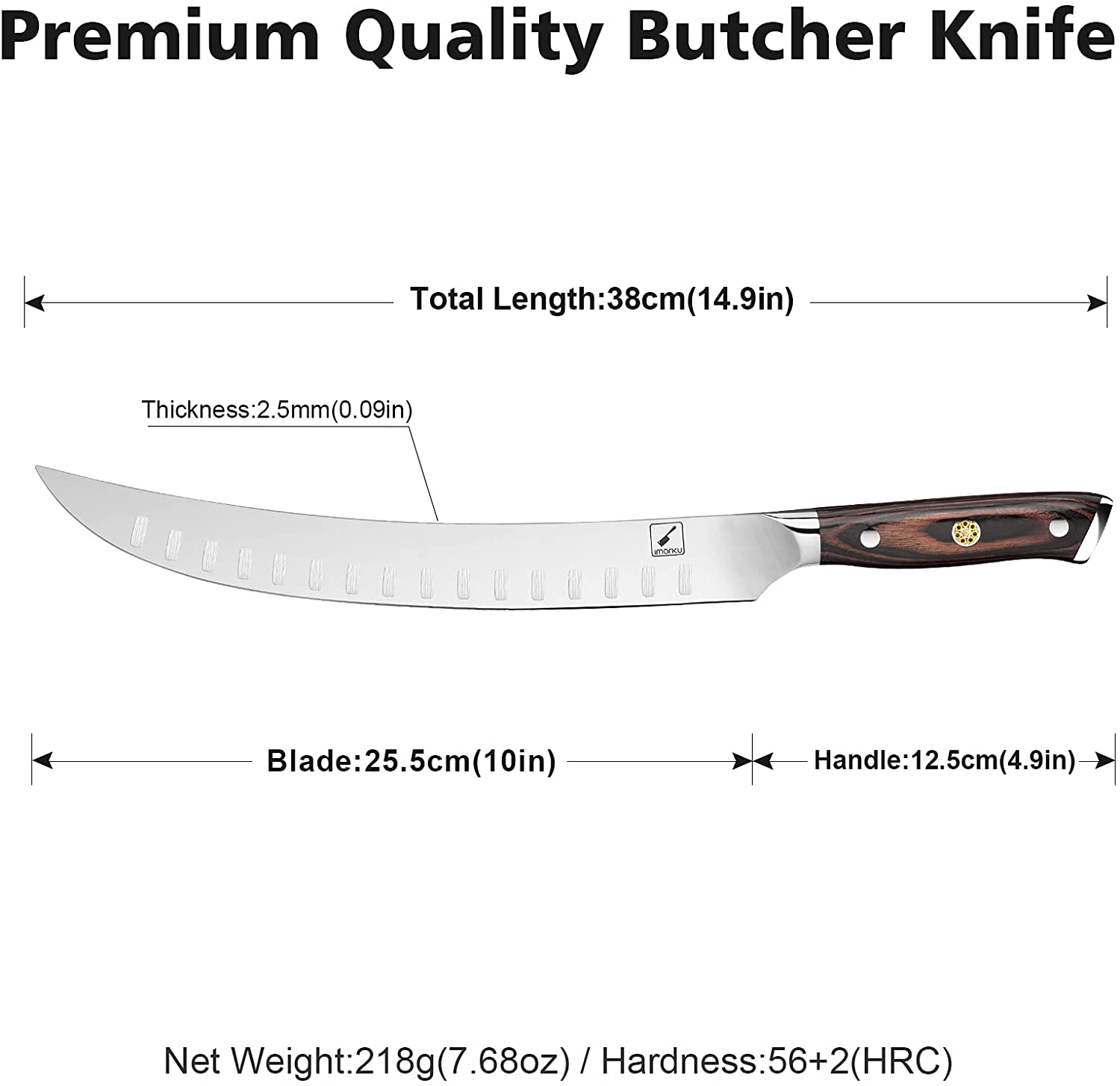 4. Butcher Knife
The last recommendation that we have for you in the high-end kitchen knives is the iMarku Butcher Knives 10". These are also milled out of premium grade high carbon steel and are forged so that they are highly tensile. The knives are also polished to bring along a greater degree of sharpness in the knives. These kitchen blades offer better versatility than ordinary knives. You can use them for all kinds of cutting and slicing tasks. 
The reasons why you should consider having it in your collection of cooking tools are sharpness, durability, and handle quality. The precision and craftsmanship given to the knives while devising them have rendered them flawless and effective. You can work it through the toughest meat with this iMarku Butcher Knives 10". And the best part is that it remains sharp and accurate even after years of using it. 
The Bottom Line
Now that you are equipped with the understanding of a top-quality chef knife, its pros and cons of different styles and compositions, you can also have a better idea behind the reason why there's a great variety in pricing. Sometimes, we fail to realize the impact these knives can have on our culinary experience. But once you know how much you are ready to shell out, good quality steel and fine craftsmanship should be amongst your top priorities. And the remaining factors, including balance and comfort, will boil down to your needs and personal preferences.