Ruthlessly Sharp Knife For Butchers
If you love meat, you're probably aware of the benefit of having a high-quality butcher's knife. A sharp knife will save you time and trouble in your kitchen. But with so many brands to choose from, adding a knife to your collection is no easy feat. After all, you should focus on quality and value for money.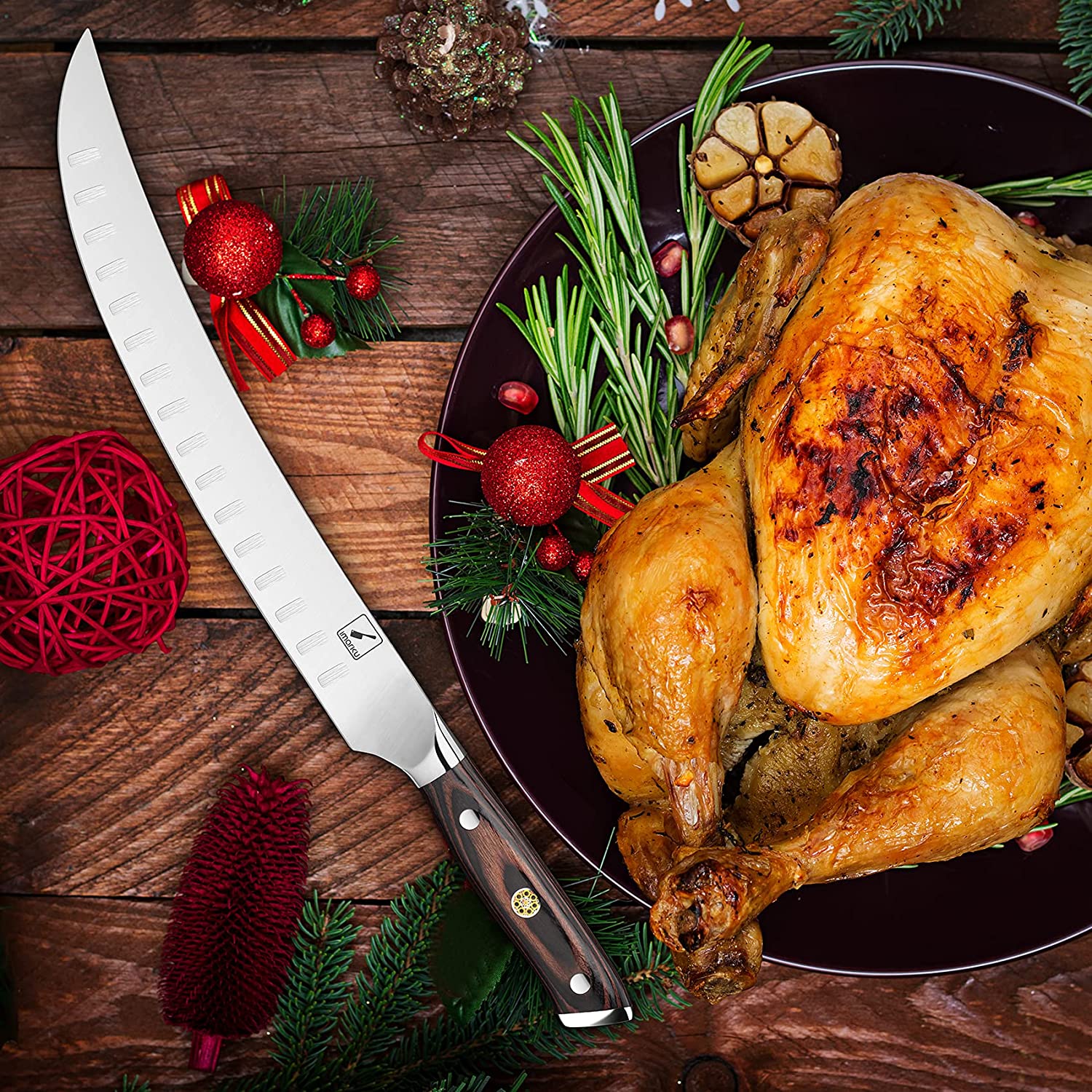 What is a butcher knife?
A butcher knife is designed to cut large pieces of meat. It features a long blade to give smooth slices while the curve ensures you get around bones. In addition, such knives are ultra-sharp and come with a tapered design for flexibility. 
The blade is made of high-carbon stainless steel, so you can use it without the fear of chipping and breaking. This is what you need to cut large chunks of meat. 
What to look for in a butcher knife
Before you purchase the best butcher's knife, there are a few characteristics to look for. 
Size
There are many butcher knives out there – from 6 to 14 inches. If you like to cook smaller pieces of meat like poultry, you should opt for a smaller knife. Thanks to its lightweight design, it's good at getting around the bones. Most home chefs use butcher knives that range from 8 to 10 inches. 
Bigger meat pieces like beef or venison require a long knife. It's mostly used for skinning and making bigger cuts through the meat. The larger sizes are mostly used by professional chefs. Of course, you can make a butcher's knife part of your outdoor and camping events. 
Balance
When shopping for a butcher's knife, you should test the grip. Some have their blades running through the handle (full tang). The benefit of this is that they have a good balance compared to their lightweight counterparts. One part that serves as reinforcement to the blade is the bolster. It works as a safeguard and stops the blade from slipping. A well-balanced knife is considered efficient to carry out your butchering tasks. 
However, checking the balance is a tricky part when buying knives online. But you can rely on the information the manufacturer gives.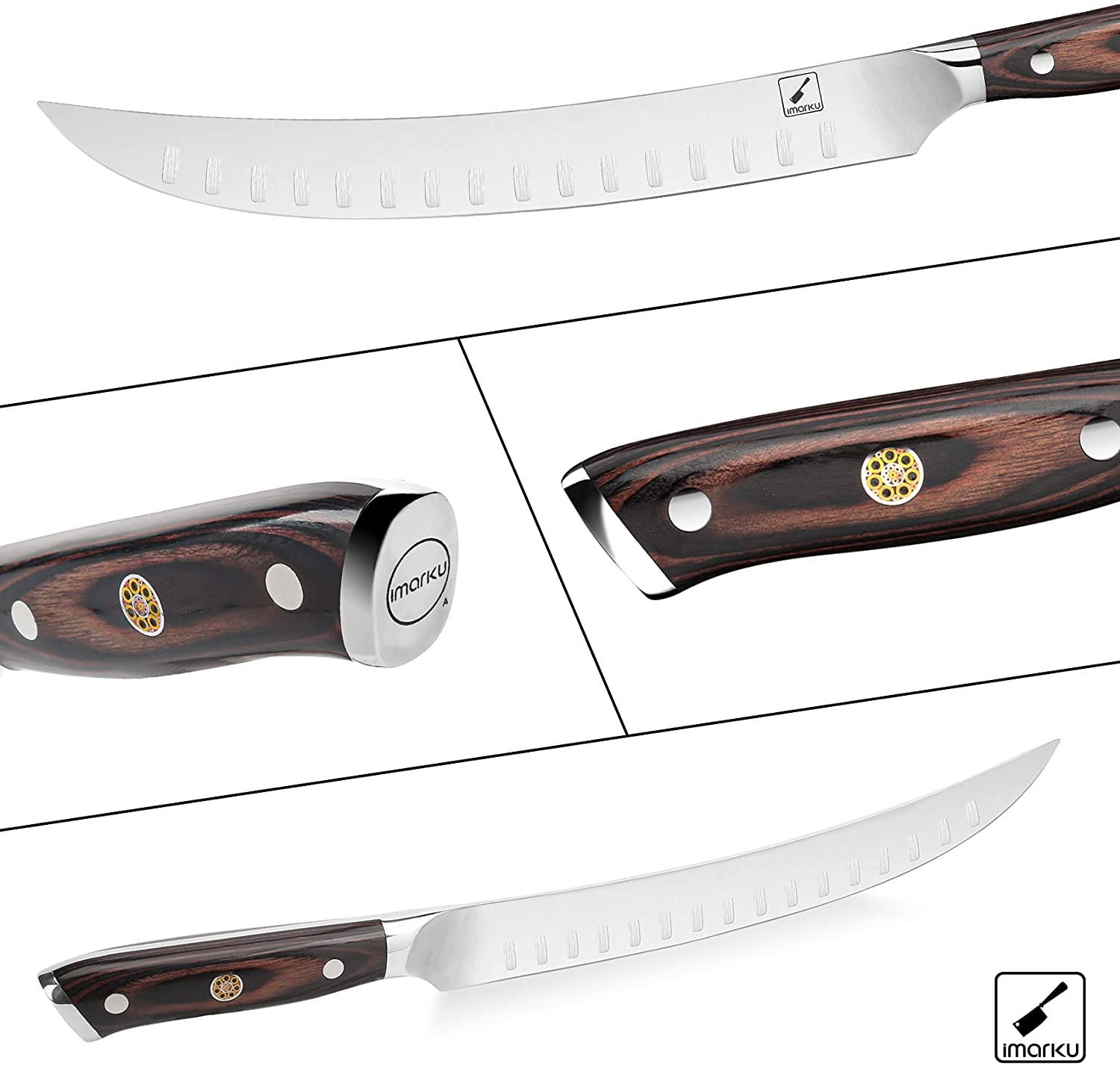 Blade
Unlike other kitchen knives, a butcher's knife features a thick blade to allow the user to cut through the meat without chipping. Generally, blades are made of high carbon steel, stainless steel, or high carbon stainless steel. 
A stainless steel blade contains chromium and very little amount of carbon. That's why the edges go blunt fast. A high carbon steel blade includes more carbon to resist rust and doesn't require frequent sharpening. 
If you want a blade that can withstand corrosion, you should choose a carbon stainless steel blade. It allows you to cut through tough pieces of meat with less effort. Also, it gives good edge retention and holds the sharpness for a long time. Don't forget to invest in a quality sharpener. 
Another common question when choosing a blade is selecting stamped or forged steel. Stamped steel is cut from a sheet of steel, while forged blades are made from stainless steel heated to a high temperature. The latter is heavier and sturdier. 
Still, you should consider whether to go for straight or serrated edges. No matter what you choose, a quality stainless steel blade should be corrosion-resistant.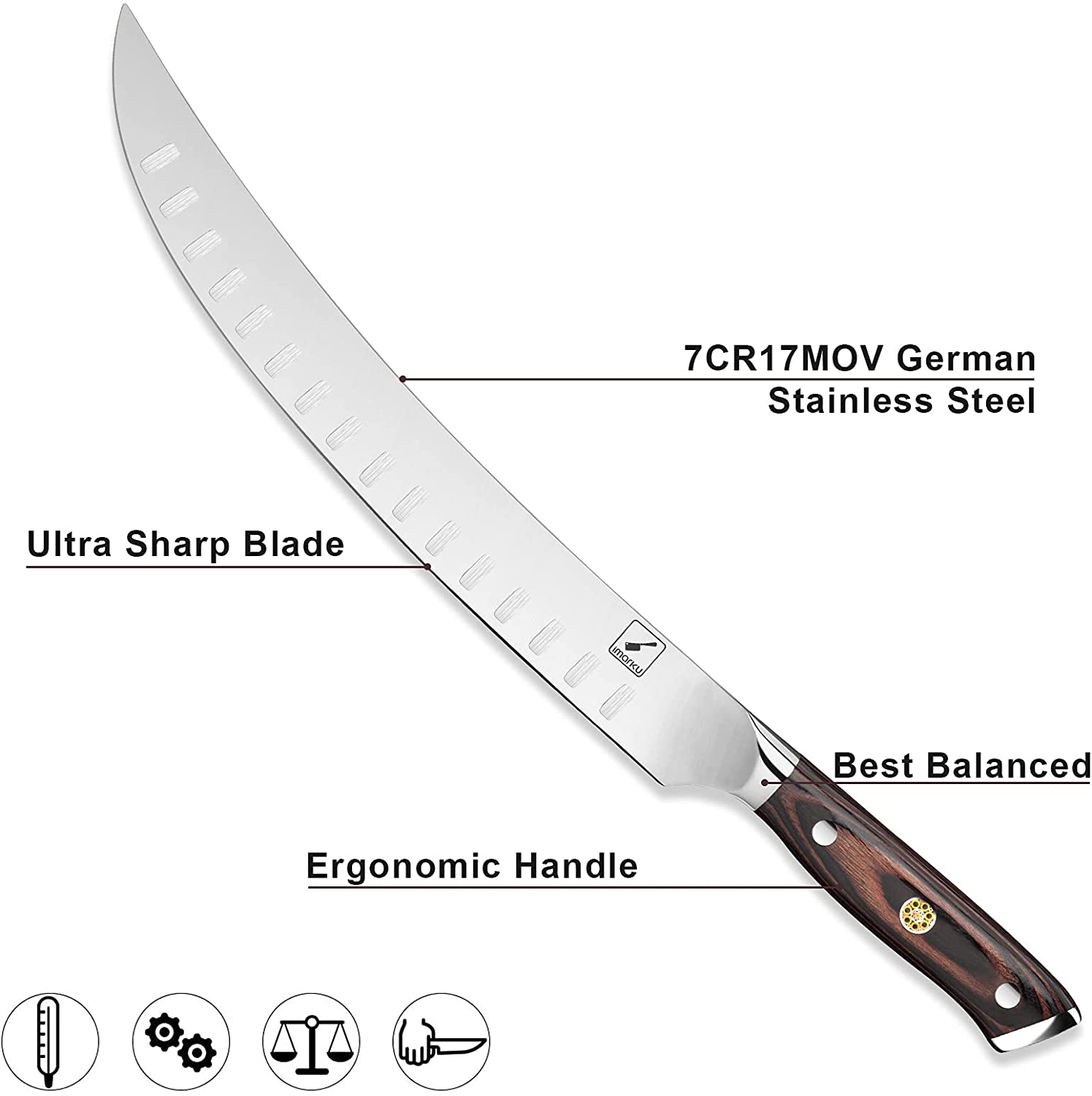 Ergonomic handle
There are many types of handles to choose from – plastic, wooden, or steel. Since butchering can sometimes get slippery, you should invest in a knife with a slip-resistant handle. While wooden handles give a traditional feel, they require more maintenance as they get rough over time. To avoid this, you can use mineral oil to preserve them. Also, a wooden handle should not be left soaking in water to prevent warping. 
Some knives will have various finger grooves for better handling. If you haven't used a butcher knife before, you should try the handle to get how it feels. You can focus on those with a seamless design as they have a lower chance of breaking. 
Some brands use POM materials – a variant of plastic that is harder and stronger. This is an excellent option as it protects the knife from solvents like heat and salt. 
A reputable brand will use Pakkawood handles. They are water-resistant and more stable. You can also find color-stained handles that are clear-coated. 
Smart buyers will keep the above details in mind to ensure they make a worthwhile investment. 
Butcher Knife You Should Own 
Imagine having the ability to take a chunk of meat and chop it into meal-size cuts you see in supermarkets. The best butcher knife features a long blade and feels comfortable on the hand. It comes with textured handles and is easy to clean. Whether you want a knife for home or commercial use, you can find a brand that can help you break down a large carcass into small portions. 
Cimitar knife is used by professional chefs looking for precision. It features cutting-edge technology and outstanding craftsmanship. Plus, it's a powerful tool for sectioning, cutting, and portioning meat. This is what you need to cut through meat - no matter how tough it is. 
Features 
Incredibly razor-sharp
Cimitar comes with sharp stainless steel that makes cutting large cuts a breeze. It's used by industry professionals for butchering and is the perfect addition to your home. 
This is a sharp knife made of high-carbon steel with an edge of 16-18 degrees per side. In addition, the curved blade creates leverage to cut through tendons and large pieces of brisket. While you won't cut through beef bones, the tip will dissect through a larger beast. It's what you need to sail through culinary challenges. 
Ergonomic handle
The handle is made of Pakkawood and gives maximum comfort. It's triple-riveted with a grip to ensure maneuverability, perfect for busy kitchens. The handle looks robust and won't become weak. Plus, it's easy to clean and maintain. 
Since the handle is perfectly balanced, you can work for long periods. The thickness and size minimize cramping over prolonged use.
Unrivaled performance
This knife is precision forged for ultimate performance. The durable steel is perfect for curving beef, fish, poultry, and other meats. 
The 10" steel is enough to sail through flesh without over-extending your reach. Due to the solid construction, you can be sure to get through every last inch of the carcass. 
Tip design
This model has a curved blade edge to finish cuts in a single-action fashion. And because it skillfully cuts through the meat, you can work faster. The sharp tip comes in handy when cutting, trimming fat, and breaking through cartilage. 
Protect your investment
The premium quality polymer ensures your sharp knife is fully protected while at home or on the go. 
Gift packaging
Every knife is fully packaged, so it can be the perfect gift for a friend or someone you love. You'll also enjoy the unboxing experience. 
Pros
It gives an incredible performance at an unbeatable price point.

It comes with a comfortable grip.

The superior construction means that the knife will stand the test of time.

The tapered blade guarantees minimal slicing resistance.

Since the edge is flat, you get the perfect balance between sharpness and durability.

The full tang gives maximum robustness.
Cons
The visual design may not be the best for some people
Frequently Asked Questions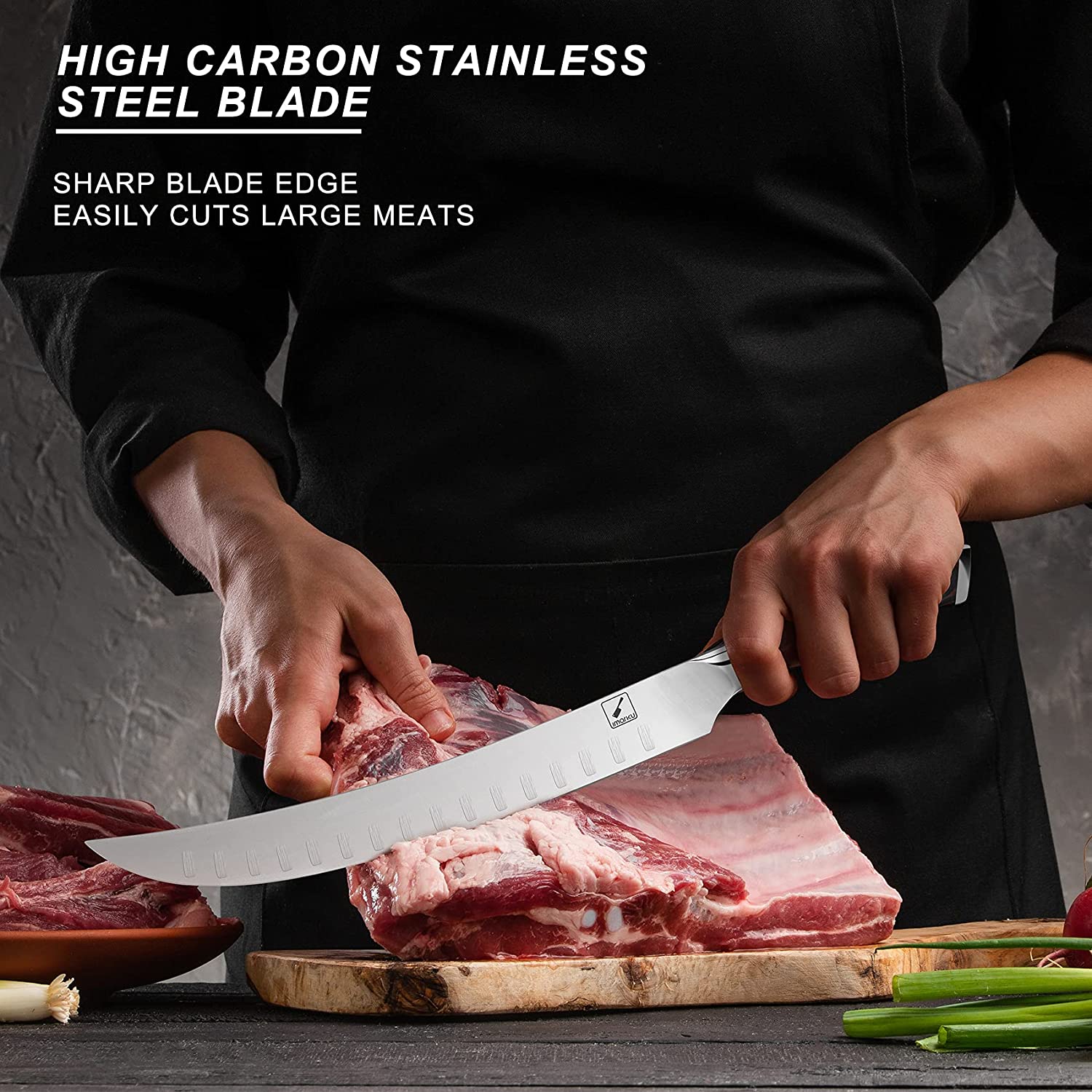 What are butchers knives used for?
A butcher's knife is perfectly crafted to slice through flesh, cartilage, and tough skin. Because it's super sharp and rock-solid, you have what it takes to break down those primal cuts. The best way to use the knife is to hold the pinch grip and then curl your pointer finger around it. The blade's tip will get between the skin and meat, while the curved part will separate it more. 
What is a butcher's knife made of?
A quality knife is made of stainless steel to help you cut through tough pieces of meat. It comes with a Pakkawood handle for long life and durability. This makes it impervious to cold, heat, and moisture. Also, it holds many edges very well and slices through meat with ease. 
How do I sharpen my butcher knife?
First, you should invest in a quality knife sharpener. To sharpen, you should position the knife towards the kitchen counter such that the sharpener is perpendicular to it. Then, swipe the blade in an arc motion as if you're pulling the knife back. Repeat the process on the other side of the knife. 
You can also use a stone, although it requires a bit of practice. Experts recommend adding some water or oil to ensure the blade doesn't get too hot. For the best results, you should use ceramic stones or diamond-edged stones. 
How do I take care of my butcher knife?
If you want your knife to serve you for many years, you should wash any traces of dirt and wipe them thoroughly. In addition, you should avoid putting the knife in a dishwasher as this would damage the blade. 
Wrap up
Imagine trying to cut a steak with the regular kitchen knife – it's less than ideal. If you want to dig into a steak, having a sharp knife will make all the difference. The Butcher's Breaking Cimitar Knife 10" will help you maintain the perfect texture and thickness of the meat. It's a welcome addition to any chef's arsenal. With proper storage and maintenance, your knife will last for many years.