Why Paring Knives Are Important in the Kitchen
Big is not always better for the kitchen area, especially knives. You always need the smallest knife - a paring knife. The paring kitchen knife is common when looking for the best cutlery to add functionality and versatility to your kitchen cutting needs.
Apart from peeling, paring knives are important when deveining shrimp, slicing cheese, mincing small ingredients, and deseeding various products. Also, most individuals prefer them in the kitchen because they can do precise detail work and enhance your cutting needs in small spaces where your large knives won't reach.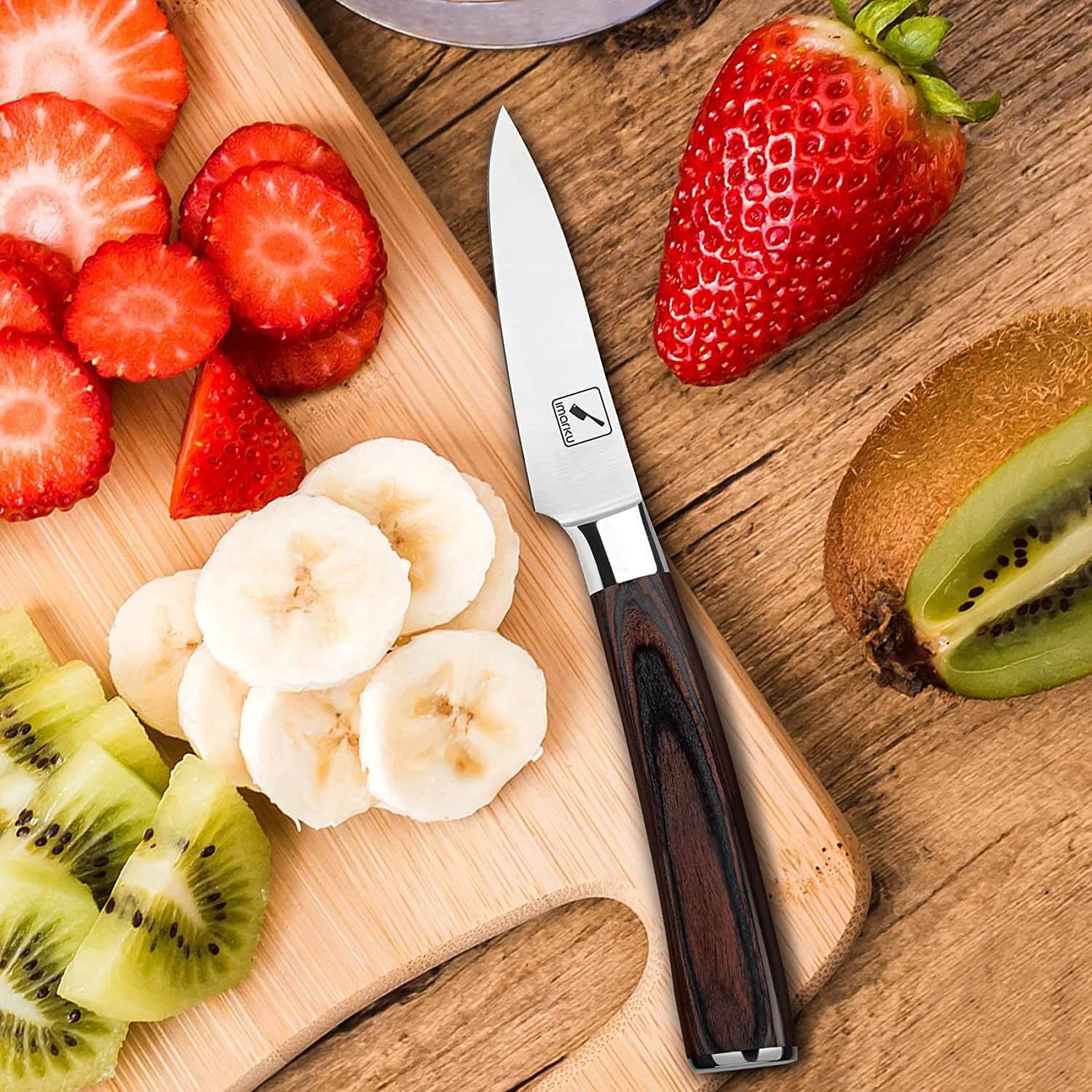 What is a Paring Knife?
It's a short-sized knife, with a blade measuring averagely between 2.5 to 4 inches, while the whole knife measures below 10 inches. The small size feature makes the knife fit in your hands comfortably to allow you to work on detailed kitchen tasks. 
While you can use a peeler to remove the skins of various foods or fruits like pears, or apples, the paring knife will offer the best alternative for ripe grapes, peach, or tomatoes. The knife allows you to handle these kitchen tasks with high precision. In addition, you can also use the knife to mince shallots, devein shrimps, slice sausages or cheese, segment citrus, and scrape out seeds. It's a knife that offers the appropriate option in tasks that other knives like the chef knife won't deliver better results.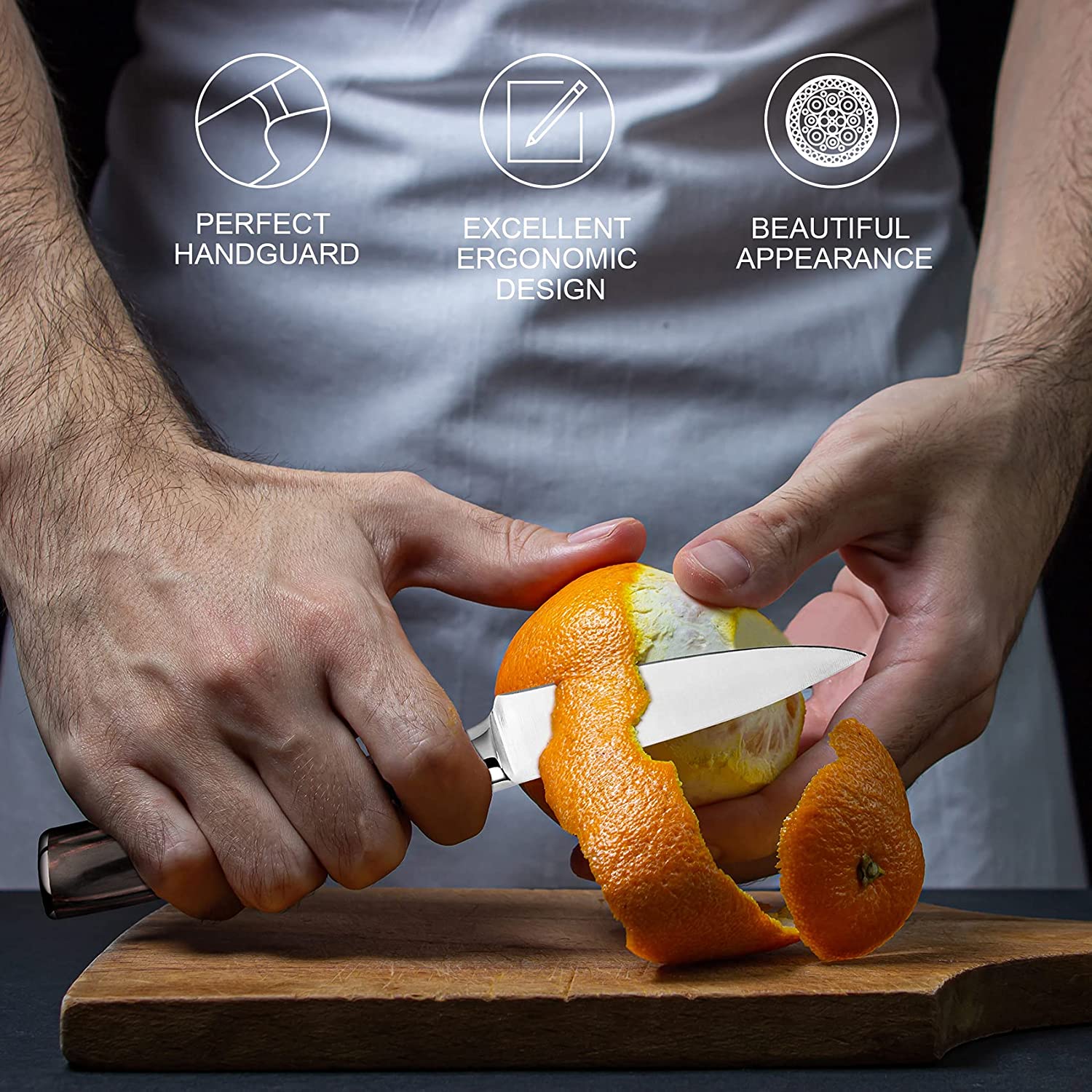 3 Paring Knife Blade Styles
Despite their short size, paring knives come in various blade styles to enhance different needs or tasks. These styles have distinct shapes or features and corresponding functions. The most common blade styles include:
1. Classic
Most individuals refer to the common paring knife blade style as the spear point paring knife. The blade comes with a slightly curved edge and a pointed tip on its blade, resembling most chef's knives. These paring knives provide an all-around working mechanism due to the features. The knife's sharp blade makes it easy to cut your ingredients or food quickly, while the blade's pointed tip is vital for testing if you've finished cooking. We've got various manufacturers producing different paring knives, where you can choose the right one suiting your kitchen needs.
2. Sheep's Foot
Experts refer to it as the second most popular and effective paring knife style. The sheep's foot blades have a flat bottom, with a slightly flat blade with gentle sloping features towards the knife's tip. The Sheepsfoot blade's appearance and shape resemble a typical Santoku knife. While using the knife, its flatness and the entire sharpness enhance the contact with your cutting board.
These designs and features are essential when repeatedly slicing or mincing food or ingredients. In addition, the blade's small size makes it better than the chef's knife. The smaller size reduces the need for a back-and-forth rocking motion common when using the chef's blade. We've got numerous brands offering sheep's foot paring knives like J.A. Henckels, Kuhn Rikon, and Wusthof.
3. Bird's Beak
Most individuals and experts refer to this style as the tourne or trimming knife. It's one of the popular paring knives styles with a sickle-like and concave silhouette. These features allow them to accomplish different kitchen tasks while using it for food preparation. Despite not being common as the other styles, the bird's break offers a unique and high-quality paring knife used for different kitchen needs.
The knife comes with a sharp curve that perfectly fits curved ingredients, such as melons, grapefruit, or potatoes. Additionally, the exaggerated tip of this blade plays an integral role in carving out avocados or hulling strawberries. Thus, the features and shape make the bird's beak blade suitable for a wide range of kitchen needs. The Victorinox Swiss Army and Shun are popular brands that produce bird's beak paring blades.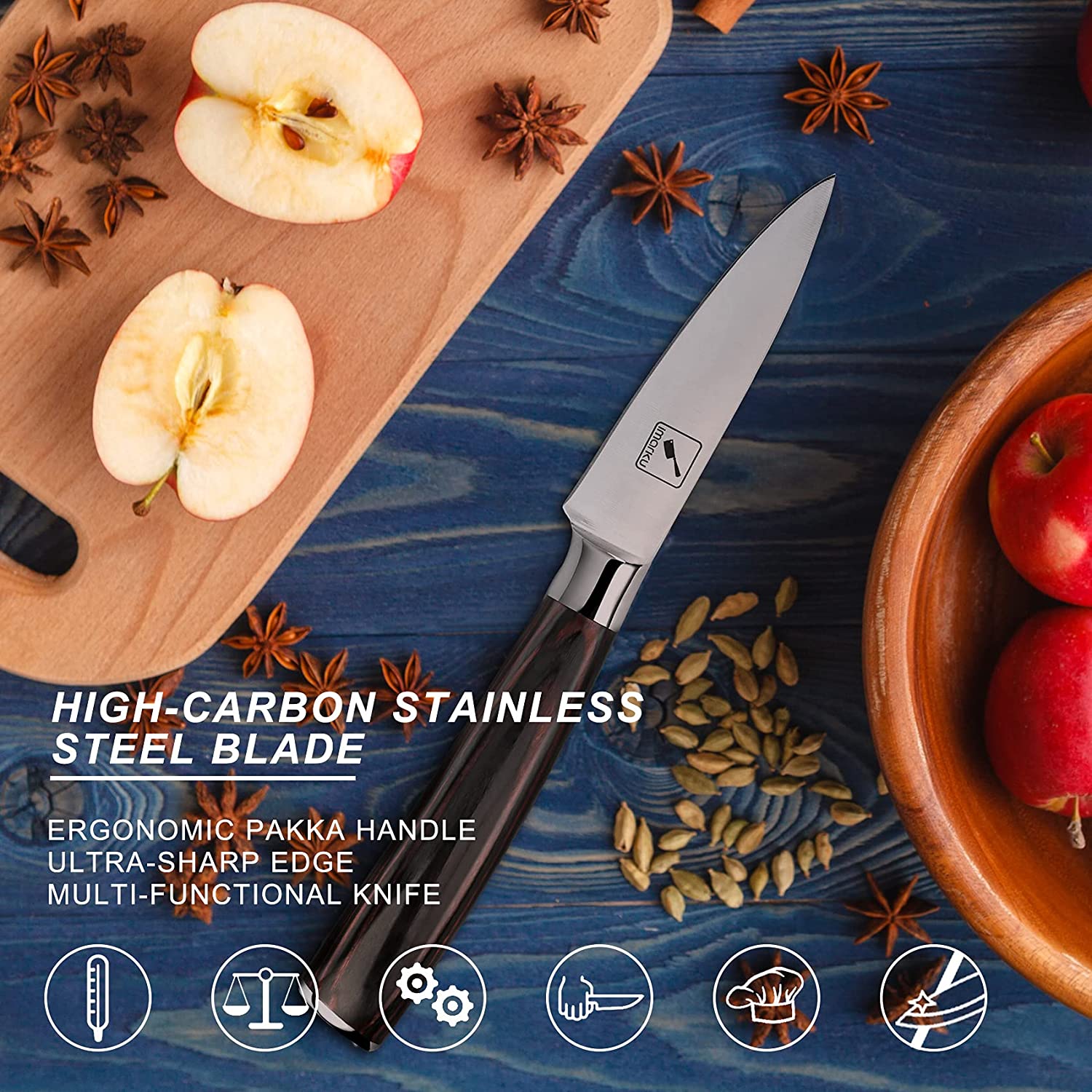 Basic Paring knife Features
These knives come with various sophisticated features that help them achieve different tasks. For instance, manufacturers make most of these knives from ceramic, high-carbon steel, and stainless steel. Due to their utility features and function, the sturdy stainless steel blades offer the best alternatives to ceramic ones. Despite having durability, ceramic paring knives tend to be irreparably brittle, even with slight damage or scratch.
Most experts recommend stainless steel knives for your different kitchen tasks. These paring knives offer the best durability and corrosion or rust-resistant properties. In addition, the manufacturers also add chromium while manufacturing them to enhance the stainless nature of the knife. Apart from the stainless nature, the product reduces the risk of discoloration, thus reducing the cutlery's maintenance cost.
Most manufacturers produce paring knives with a full tang. A full tang includes steel running from the knife's handle to the tip to enhance durability. 
Another essential feature of the knife you must consider is the knife's handle. Apart from being a necessary feature on most knives, the paring knife's handle is a huge consideration, as it covers half of the blade. Experts advise you to consider the appropriate handle when choosing your knife.
The best handle for your knife should have a balanced weight and ergonomic grip. These features are vital to enhancing the knife's functionality and comfort while executing various kitchen cutting tasks. Lastly, the cost or price tag is another essential factor to consider when getting your paring knife. Most of these knives come at an affordable price, approximately $25-45 per blade. These knives will serve you for several years with proper care and use.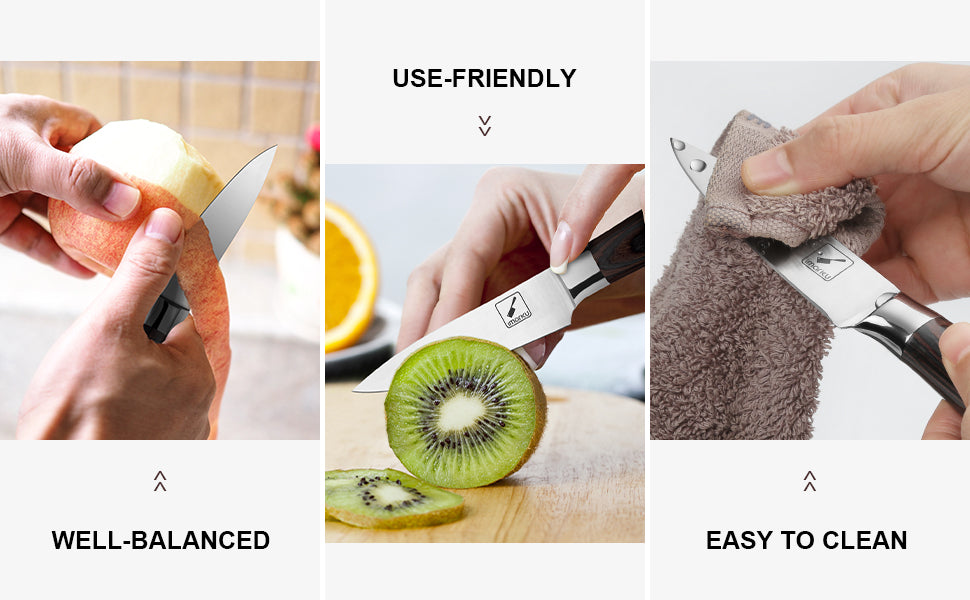 Using a Paring Knife
Due to their small size, the paring knives can fit in your hands, which plays a vital role in enhancing different kitchen cutting tasks or techniques. You can use different cutting methods or grips for your meal preparation needs. Additionally, it allows you to achieve a standard slicing on your cutting board. Most individuals use the knife to cut or slice different items on the board by directly taking the blades towards them, like peeling an apple.
We've got different ways to use the paring knife for your kitchen cutting needs. Below are the common ways of using paring knives.
1. How to use a paring knife to devein shrimp
Deveining shrimp is one of the kitchen tasks you can achieve using the paring knife. Below is the stepwise procedure when using a paring knife to devein shrimp:
● Hold the paring knife's handle in the dominant arm
● Have one peeled shrimp in the other hand, preferably the non-dominant hand
● Position the shrimp well, ensuring its spine faces outward
● Cut the shrimp shallowly along its spine to ensure you expose the shrimp's dark vein
● Use the blade's tip to lift the vein out gently and continue with the other preparations
2. How to use a paring knife to segment a citrus
You can also segment citrus using the paring knife. Below are the steps you can use when segmenting citrus using this knife:
● Place your citrus fruit on a suitable cutting board
● Slice off the pith, rind, and ends of the citrus
● Hold the citrus firmly and gently using your non-dominant hand
● Insert your paring knife between the clear membrane and the citrus flesh, ensure that when inserting the knife, you don't cut or tamper with the membrane
● Using the knife, make rounds on the citrus to ensure that you've cut all the segments.
● Then, gently pry the citrus's segments away from its membrane using the blade's length.
● Prying the segments away from the fruits' membrane helps achieve a perfect ready-to-eat wedge.
Storing a Paring Knife
Paring knives require special and unique storage, as they've got various unique features like small size, sharper than the other cutleries. Significantly, it'd help if you considered choosing the appropriate storage mechanism or location to enhance their durability and functionality. The best option for storing your paring knives properly and easily is using a magnetic knife bar or strip to store the knives.
You can also opt for slide-in inserts if you're a drawer enthusiast and want to store your knives in the drawers. The slide-in inserts offer an appropriate alternative as you can easily adjust the size to ensure the knife's blades don't jostle in the drawer. Alternatively, you can use a guard or sheath to cover the blade or knife before storing them.
Take Away
Despite their small size, paring knives are crucial and stealthy tools for your kitchen. We've got a wide range of paring knives used in your kitchen while preparing meals. You can use them to perform various kitchen tasks from scoring, deseeding, deveining to peeling. They offer the best alternatives to larger knives, as their size allows them to work on tight spaces that most larger knives find challenging. We've got various styles and essential features you can consider when choosing a suitable paring knife. Lastly, proper use and storage enhance the knife's durability and high functionality.