How to Measure A Fry Pan
While buying a frying fan, we focus on a few factors, including size and brand, to get suitable and durable cookware to meet different cooking needs. However, you might not expect maximum benefits if you do not know how to measure a fry pan size. Once you know frying pan sizes, it will be easier to find the right fit.
Many consider having a 10-inch frying pan since it serves most cooking purposes. However, you can have an 8-inch or 12-inch frying pan based on your family size and specific cooking requirements. Know what you want, and then you can narrow down your choices accordingly.
In the following article, we will cover how to measure a skillet, different sizes of frying pans, a few durable and quality products, and other aspects. It will answer all your queries and enable you to find the right cookware.
How To Measure a Frying Pan?
You can measure a frying pan by checking the overall diameter, not the cooking area. You can measure from wall top to wall top. The measurement result might vary based on the design of the frying fan.
While calculating the diameter, you can start from the nearest inch instead of the roundup. Here are the tips for measuring round, oval, and square-shaped frying pans.
Measuring Round-Shaped Frying Pan Sizes
The measurement process of a round-shaped frying pan is straightforward. You can consider the diameter of the inner circle while measuring a round-shaped frying pan. You can measure from one end of the rim to another while passing through the center. Avoid measuring the outer ends if you want the most accurate result.
Diameter Or The Upper Inner Diameter
A 28 cm frying fan will have a 28 cm diameter from one rim inside to another. The total diameter will depend on the edge thickness of the pan. The most common sizes are 16, 20, 28, 24, and 32.
The base diameter is the diameter of the contact surface of the frying pan. You can find the best fit by measuring the size of the stove. Base diameters or cooking plates are available in different sizes, and the base diameter will be less than the diameter of the top.
The height means the outer edge heights of the frying pan and will cover from the upper edge to the contact surface. You can measure the internal height by subtracting the thickness of the bottom from the total height.
Some have confusion when it comes to the capacity of frying pans. The pan capacity reveals the maximum holding ability of a skillet. That means you can measure the edge-high filling to know the exact scope of a frying pan.
Measuring Square-Shaped Frying Pan Sizes
You can follow the same method while measuring a square-shaped frying pan. However, you can measure two points while measuring square-shaped frying pans. Measure across the longest points of the centers to form a cross. You can measure the two longest points and multiply the two results.
Diameter Or The Upper Inner Diameter
As mentioned earlier, you can get the size by measuring the two lengths of your frying pan and multiplying them. For example, you can multiply 28 x 28 cm (two points) to get the size.
The base diameter is the surface of your frying pan. However, you might have less surface area while using a square skillet. You can measure the stove contact surface to know the base diameter of your frying pan.
You can know the height by measuring the outer edge of the skillet. You can measure from the top edge to the surface and then subtract the thickness of the bottom.
The capacity might be a bit less than the mentioned size because of the thickness. However, you might not notice a significant difference.
Measuring Oval-Shaped Frying Pan Sizes
It might not be easy to measure an oval-shaped frying pan. You can start calculating from the widest part of the center across the shorter side. If the smaller side is 24 cm and the longer side is 38 cm, the result will be 38 cm x 24cm.
Diameter Or The Upper Inner Diameter
You can get the inner diameters by following the above measurement rules. However, you can measure the height, capacity, and base diameters by following the steps of other shapes.
The base diameter is the surface diameter that will touch the stove, and you can measure that area.
You can measure from the outer top of the frying pan to the bottom and then subtract the bottom thickness.
The capacity might vary slightly based on the thickness and design of the frying pan.
Frying Pan Sizes & Benefits
The three most common sizes are 8-inch, 10-inch, and 12-inch frying pans. You can find the best fit once you know your specific cooking needs.
Here is more about these three sizes to enable you to choose the right cooking companion.
8-Inch Frying Pan
From the size, it is clear that 8-inch is the smallest of these three options and can be perfect for those who want a small skillet to cook fast.
It can achieve a high temperature due to the collateral heat exposure from its sides. Also, it ensures more even heat distribution compared to other options.
You can consider having this skillet to fry eggs, steaks, chicken breasts, sautéing vegetables, and fluffy omelets. The diameter of this size is 8.5 inches, the base diameter is 5 inches, the length is 15-25 inches, and the height is 2.5 inches. However, the dimensions will vary based on the design, shape, and thickness.
10-Inch Frying Pan
The 10-inch skillet is a medium-sized frying pan that you can use to cook more food. While using this frying pan, you can expect more heat retention.
A 10-inch skillet can be perfect for two chicken breasts, reheating leftovers, frying three eggs, and sautéing vegetables. Its cooking surface, diameter, height, and capacity will be more compared to 10-inch frying pans.
12-Inch Frying Pan
A 12-inch skillet is a large frying pan that can meet most of your cooking needs. You can use it to prepare more food without causing overcrowding. Also, you can expect more heat retention since it will have more material to retain heat.
You can have this skillet to fry four eggs, bacon strips, and three chicken breasts. Since it is large, the diameter, bottom surface, height, and length will be more than the above two.
What is a Skillet?
A skillet is a versatile cookware that you can use to prepare different foods. You can use it for stir-fries, crepes, omelets, and many more. Since skillets are available in different shapes and sizes, you can find a suitable one based on your cooking needs. Many people use skillets and frying pans interchangeably. However, skillets are a little deeper, and skillets are a bit shallow.
The Standard Size of Frying Pans
Small Skillet:
Approximately 6 inches.

Medium Skillet:
Commonly around 8 to 10 inches.

Large Skillet:
Often 12 inches or larger.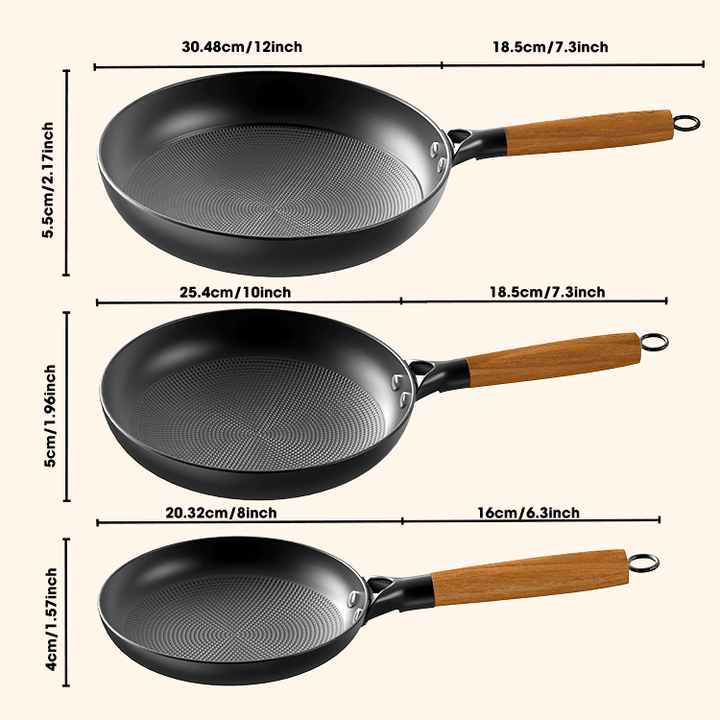 What Skillet Size is Best for Me?
It will mostly depend on your cooking needs and the size of your family. You will need a skillet that can ensure easy cooking without causing overcrowding. While cooking for yourself only, you can have an 8-inch skillet.
However, when you have to cook for a family, you can consider a 10-inch or 12-inch skillet based on your family size. Here are a few options for your consideration.
Introduction
Featuring a Whitford double-layer water-based non-stick coating, this wok pan facilitates easy frying without food sticking, reducing the need for excessive oil and keeping the kitchen clean.
The 12.6-inch carbon steel wok complements this with a wide and deep non-stick cooking surface that addresses traditional skillet shortcomings.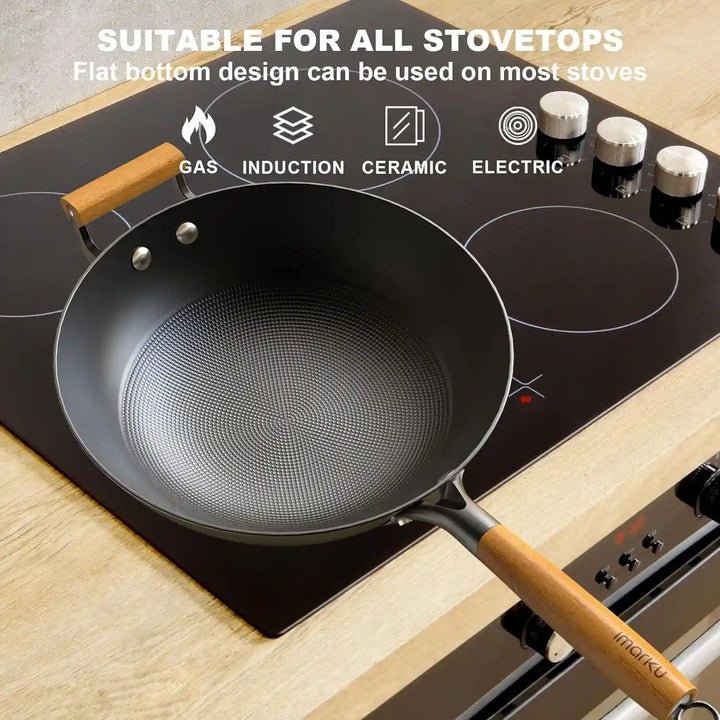 Pros
Nonstick Surface: Facilitates easy food release and simple cleaning.
Versatility: Suitable for a variety of cooking techniques, from stir-frying to deep-frying.
Even Heat Distribution: Ensures consistent cooking results.
Premium Materials: Built with durable materials for long-lasting performance.
Ergonomic Design: Comfortable handle and thoughtful design for user convenience.
Cons
Size Limitation: May be too small for cooking large quantities.
Without a Lid: The pan does not come with a lid, which might limit its versatility for certain cooking styles or recipes.
Introduction
imarku cast iron set is integrally formed by the thick bottom and thin wall design, reducing the bulkiness of traditional iron pans and is not easily deformed. Extra durable to stand up to years of daily use.
The Whitford double-layer water-based nonstick coating in the pans can easily fry food without sticking to the bottom. The non-stick frying pans can minimize the use of oil, and the kitchen is clean and less oily.
The cast iron pan set can also help reduce fat intake, conforming to modern people's tendency to pursue low-fat and low-calorie consumption. These pans are metal utensils safe and free of PFAS, PFOA, lead, and cadmium.
Introduction
14-piece Stainless Steel Cookware Set has 14 pieces, and you can have this set to cook whatever you want without spending on other appliances. Also, the price and durability make this set a must-have product.
It features a pure aluminium core for fast heating, and the non-toxic material will make your food healthy. The elegant look, stay cool handles, and versatility features are also worth considering.
Pros
It is dishwasher safe and induction compatible.
It prevents sticking and helps with effortless cooking.
It suits all cooktops and is perfect for different cooking methods.
Superior heat distribution to make cooking fast.
Cons
You might not have any negative experiences while using this cookware set.
What Matters More, the Material or Size?
Both size and material play a role in a frying pan. You cannot cook for the desired number when you have a small or large size. However, the material will decide the durability and efficiency of the product. Also, it helps to achieve effortless cooking and prepare healthy foods. You can combine both if you want an optimal cooking experience.
Since you know the size of your family, it might not be hard to choose the right size. For example, you can consider an 8-inch size while cooking for yourself. The 10-inch size will be perfect when you have a family of two people, and you can get a bigger size when you have a large family. However, you can inquire about the material to use a safe and durable skillet. Here are the material types for your better understanding.
Non-Stick

: You can use non-stick pans if you do not want food to stick to the surface. You can use less oil and achieve more health benefits.

Stainless Steel

: Stainless steel material offers a durable result and minimizes maintenance requirements. Also, you can use this material to prepare different types of food.

Carbon Steel

: Carbon steel is durable and can be the right choice for sears, crispy textures, and stovetop chars.

Cast Iron:

 You might not find much difference between carbon steel and cast iron. However, cast iron might take more time to season, and its heat conduction ability is less.
Click here to get
The Ultimate Frying Pan Guide
.
Conclusion
Know how to measure a frying pan and the size you need for an optimal cooking experience. Always consider buying the right size to avoid overcrowding your food.
When the small size causes overcrowding, large ones will take more time to cook. Also, you can choose the best material and find versatile cookware to meet different cooking needs.