Can Stainless Steel Go in the Oven
Having oven-safe cookware can take your meal preparation to the next level. You can use oven-safe pans, skillets, and pots to prevent your confinement to the stovetop. Have you heard about stainless steel cookware?
Stainless steel is one of the common cookware choices for professional chefs and homes. While experts consider it a top and high-grade cookware, most individuals have been wondering if you can use it in the oven.
So, can stainless steel go in the oven? Stainless steel cookware has features that make them oven safe. You can use this cookware in your oven to prepare your favorite meals. With its heat-resistant and high-quality nature, stainless steel won't warp when using them in your oven. Nevertheless, you must choose high-quality options that won't react or damage your foods. Let's dive deeper into this topic.
Is Stainless Steel Oven Safe?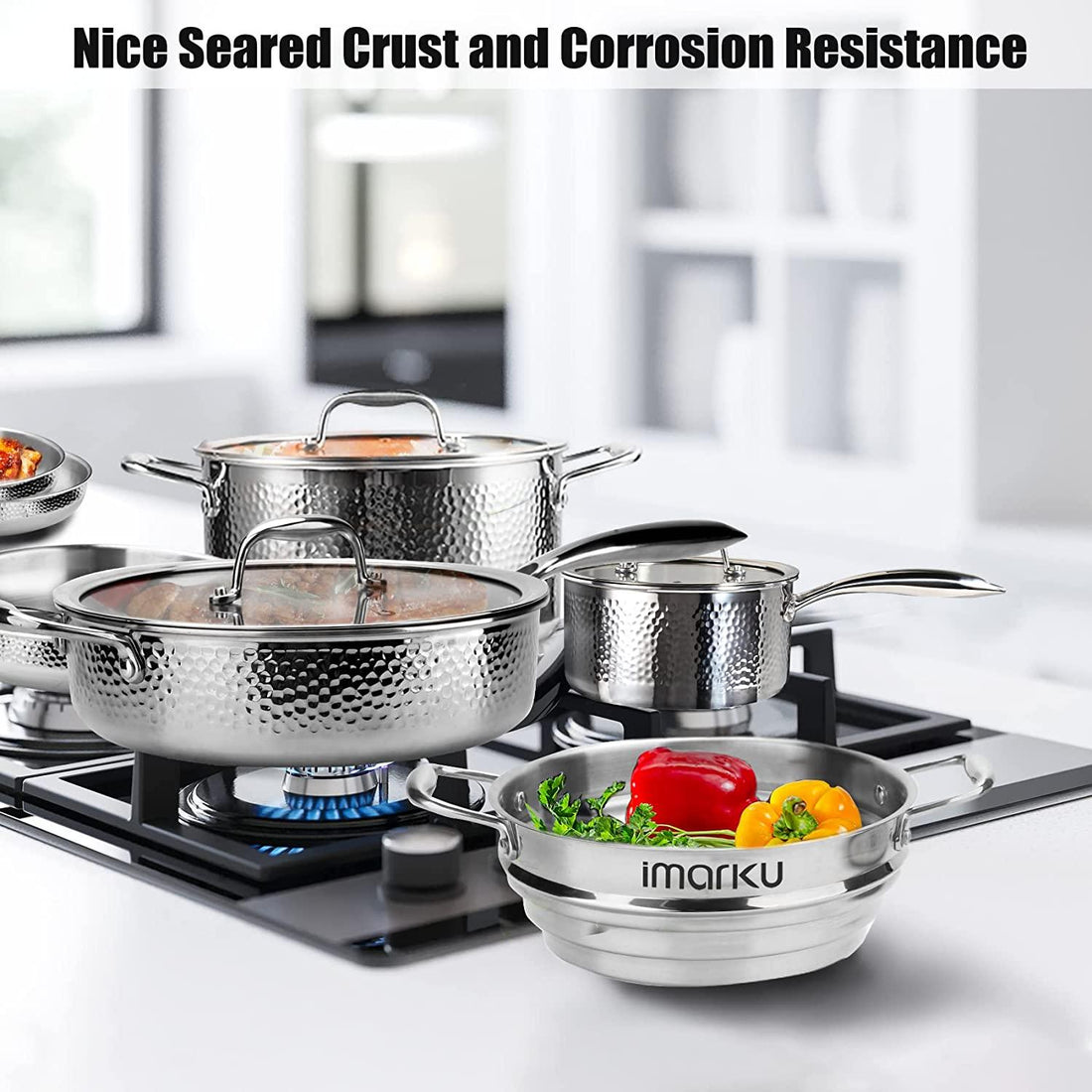 If you're a cooking expert or enthusiast, you may be wondering if stainless steel is oven safe. So, can you put stainless steel cookware in the oven? Experts consider stainless steel safe for use in the oven. You can use these pots, skillets, and pans in the oven to prepare your meals. What makes stainless steel ovens safe? With the different allows properties and a high melting point, experts classify stainless steel as oven safe cookware.
Can you use all stainless steel in your oven? No. If you want to use stainless cookware in the kitchen, ensure you choose high-quality ones. You can consider cookware with 18/10 stainless steel materials with a 300 or 400 grade. With high heat or temperatures in the oven, you should keep off stainless steel cookware having wooden or plastic handles.
How to Know If a Stainless Steel Pan Is Oven Safe
Are all stainless steel pans oven safe? No. While stainless steel cookware is oven-safe, experts reveal that you can't use all this cookware in your oven. You must choose the appropriate ones and oven-safe alternatives, But how will you know if your stainless pan is oven-safe? You can consider various aspects to determine if your pan is oven safe.
You can start by checking the manufacturer's manual to look at the properties. If you misplaced the copy, you can always get one online. What do you check on the manufacturer's manual? You can start by looking at the product's specifications and descriptions. Alternatively, contact the manufacturer or the representatives to request more details on the product. 
Features of the Oven-safe Stainless Steel Cookware
Imarku is one of the manufacturers that produce high-quality stainless cookware. With its high-quality nature and sophisticated features, the cookware is usually oven-safe. Let's look at the features of oven-safe stainless steel cookware:
Smooth cooking surfaces to make cooking easier and safe

Tappered pot design for drip-free pouring

Ergonomic riveted handle to secure the grip

Tempered glass lids having a steam vent

Hammered surface of the pots

Triple fully clad steel design
Pros and Cons of the 14-Piece Stainless Steel & Hammered Imarku Cookware Set
Pros
Have a durable body with no deforms
With the corrosion-resistance stainless steel, you don't have to worry about the coatings altering your food.
Superior heat distribution that suits all your cooktops
The smooth cooking surface makes it easy to clean and cook
Have an ergonomic riveted handle to enhance a secure and comfortable grip
The packaging is dishwasher and oven safe
Attractive hammered exterior design
Offers even heat distribution when cooking
High-quality and beautiful glass lids having metal linings
Cons
Some users find the collection too heavy
It's also one of the best pots and pans for the electric stove. 
How to Use Stainless Steel in the Oven Safely?
If you're planning to use stainless steel in your oven, it'll be important to follow the appropriate procedure. What is the importance of following these procedures? Following the appropriate procedures helps you to use the cookware in the oven safely and appropriately.
With the oven heating up to 800F, it's essential to take precautions to be safe. Let's see how you can use stainless steel safely in the oven:
● Always use high-quality oven mitts. These mitts can withstand high temperatures as you take the cookware from the oven.
● Ensure that you choose oven-safe handles before you use the pans at high temperatures.
● While high-grade stainless pans can endure higher heating levels, it'll be good to avoid extremely high temperatures.
● Ensure you choose the appropriate temperatures to prevent damaging your cookware.
Frequently Asked Questions
Can you put a non-stick metal pan in the oven?
Yes. You can place and use a nonstick pan in your oven. Manufacturers create these pans from aluminum and other materials that create the non-stick coating. Does this coating have any effect on the foods? The non-stick coating is safe as it results from a fluorocarbon-based polymer called Polytetrafluoroethylene (PTFE). With PTFE being a stable compound, it doesn't break at high temperatures.
Can stainless steel cookware go in the oven at 500 degrees?
With the high temperatures, you can't place most cookware in the oven. Nevertheless, stainless are some of the cookware that can withstand higher temperatures in the oven. Experts reveal that stainless steel pans, skillets, and pots are oven safe between 400 degrees and 800 degrees. If you're planning to put these utensils in the oven, ensure that they're of plastic or wooden handles. Plastic and wooden materials usually melt at high temperatures.
Is stainless steel cookware dishwasher safe?
While not all kitchen appliances are dishwasher friendly, you can wash your stainless steel cookware in the dishwasher. Manufacturers create utensils from various high-quality materials. Why are the materials important? These materials help to build up an attack that helps to fight air and oxygen to protect the cookware from corrosion.
Conclusion
Is stainless steel oven safe? With stainless steel being one of the most common cookware, you may be wondering if it's oven safe. Stainless steel has high heat tolerance that makes the cookware stand and oven safe. Nevertheless, it'll be appropriate to choose high-grade alternatives for use in the oven. If you adhere to the manufacturer's guidelines and care, you can use stainless pans, skillets, and pots in your oven safely.