If you cook at home, you most likely have a chef knife and a paring knife already. Still, you may consider shopping for a cleaver knife to get deeper into the culinary arts when you're breaking down ribs, chopping through lobster shells, or separating a whole chicken.
Today I would like to share with you how to choose a great cleaver.
Let's get started.
What's the Trick to Picking a Cleaver Knife?
When you shop for a cleaver, it is necessary to discuss further the three most critical aspects: the material, the blade structure, and the ergonomic handle.
For the best durability, you need a cleaver with:
Tough steel resistant to strike, not easy rust
A sharp blade can cut cleanly without crushing food
Ergonomic, balanced weight control
Material For a Cleaver
The material is a critical factor in making a knife. Some people like to do high-carbon steel. It is durable and has excellent natural properties. Also, it can keep sharp for a long time. However, the material is easy to rust and can also leave a metallic taste in chopped food.
By far, the best material is stainless steel. It's rust-resistant, so it doesn't leave a lingering taste in food. And it's also durable. Now, most of the best stainless steel comes from Germany and Japan.
Cleaver Knife's Design
Blade Length
The length and height of the blade will affect the cleaver's overall efficiency and agility. The length is matched for cutting large items. And the height is vital for adequate joint space also helps the knife cut in a straight plane.
It is better to choose a blade that is 7 to 8 inches long and at least 3.2 inches tall. If you're using a blade that's too short, it's easy to insert it into a bulky item. Or it may become clumsy and lose accuracy if too long. A 7 to 8 inch kitchen knife is versatile and can easily cut through meat, bone, tissue, and hard-skinned vegetables.
This medium-sized knife is also easy to handle when cutting. Small knives are usually too light, while large ones can be too heavy and bulky. However, if you have significantly larger hands, you can pick a more significant size with a bigger handle.
Blade Thickness
Regarding the blade thickness, different vendors have different standards.
Western kitchen knives like to be thick from blade to spine. The edges can range from 13 degrees (thin) to 25 degrees (vast). It does not need to sharpen and can deliver a tremendous striking force. And carbon steels need to be re-polished frequently to regain their sharpness while it is thin.
Most Chinese chef's knives are with thin blades and cutting edges. It is more agile, giving you better control. However, they are easy to wear out. Because of the lighter construction, the cutting edge will be with nicks.
The good thing is now you can find a cleaver that is a blend of the two. Just check one with a sharp cutting edge (around 15-17 degrees). It will offer you a thorough, clean-cut with durability.
Blade Weight
Longer blades will also run you a heavier knife. An 8-inch cleaver can weigh up to 2.0 pounds.
A knife of this size can be a killer for almost anything, but it needs more effort. The loss of accuracy will make you tired.
A short 6-inch blade model could be too light, weighing a mere 10 oz. It is easier to use a more lightweight knife, but it can also become more tiresome. Like when cutting through small bones, you will need to exert extra effort.
A cleaver that weighs around 1 lb has enough power to give you a clean, one-swing cut with accuracy. An average user can handle this range well and won't find it excessively tiring.
Suppose you're just getting started in the kitchen. In that case, the imarku 7-Inch Meat Cleaver is a worthy option because it's a bit easier to use than some other options. Why? The knife is only 13.1 ounces, and it has a shorter blade. So beginners won't feel overwhelmed by the tool in their hands. Still, you can cut with precision and ease because it's forged from a single billet of top north German stainless steel.
The satin finish also helps reduce resistance and drag, making cuts with less effort. The blade is curved, too, so it'll feel a bit more like using the chef's knife. What's more, this knife is technically dishwasher safe.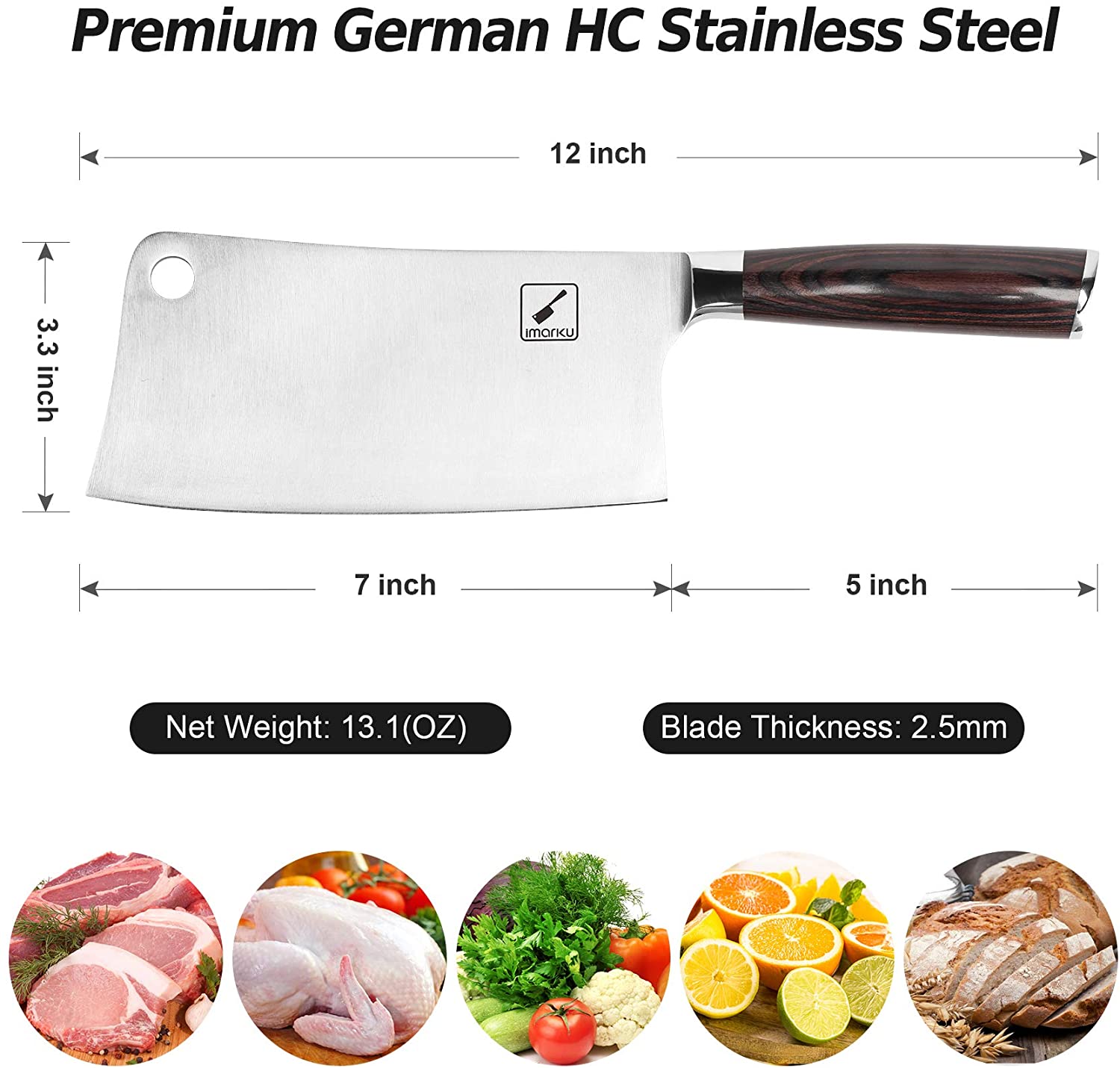 Comfortable Handle
Comfortable handles are essential, especially for your long time use. There are some kinds of handles on the market - wood, stainless steel, and plastic ones. All of them have benefits and drawbacks.
For example, while plastic is comfortable, easy to grip, and simple to clean, it will crack at high temperatures. In contrast, general wood has an appealing aesthetic but can harbor bacteria.
Regardless of the material you use, look for a cleaver with an ergonomic design on the handle. An ergonomic handle works for efficiency and comfort. It will allow you to securely grip the handle of your knife with little worry of an accident due to a slip.
An unbalanced cleaver is unqualified. The balance between the length and weight of the handle and the weight of the blade should be comfortable.
Comparison of Cleaver Knife in Different Countries
May you interested in the difference between German and Japanese cleaver knives. Let's take a look at the difference between these two kinds of ones.
German knives are generally known for thicker and heavier blades, making them more "universal" than Japanese knives.
However, consumers find that the Japanese cleaver is comparable to the German cleaver in cutting animal bones or hard-shelled winter melon. And the Japanese cleaver is sharper and thinner. The blade angle of Japanese knives most are between 10 and 15 degrees, while the blade angle of German knives is wider, about 17.5 degrees.
The top chef confirmed that the angle is the key to determining the sharpness of the knives. Since the cutting path of the object is smaller, the damage to the food is minor.
About the Rockwell scale, German knives come in at around 57, and Japanese knives range from 60 to 63. So Japanese knives' steel is harder. However, harder steel is not always a good thing when it comes to long-term durability.
While the harder Japanese knife will better hold an edge, it is less durable and more prone to chipping and breaking.
Also, if you're a leftie looking for a good cutting knife or a meat cleaver, you'd better get a German knife over a Japanese knife – unless the Japanese knife is made explicitly for the Western market (brands like Shun, Global, and Miyabi). Traditionally, the Japanese blade's edges aren't symmetrical, with the cutting edge being angled towards a right-handed user 70/30.
Differently, all German knives are balanced and symmetrical, making them perfect for right-handed or left-handed cooks.
Besides German and Japanese cleavers, Chinese cleaver is popular as well.
The Chinese cleaver is slightly different from a regular cleaver. It's always used as a versatile tool for various cooking tasks, from slicing and dicing vegetables to hacking apart meat.
The best Chinese cleaver performs more than chop meat. It has a finesse that regular butcher knives lack, allowing it to excel when filleting or chopping shallots and carrots to fine evenness. The versatility and unique quality are the reasons for the popularity of Chinese kitchen knives.
Your Good Choice - imarku Cleaver
Imarku cleaver combining the advantages of German and Japanese knives, it has both thick cutting material and sharp blade. The brand is world-renowned for its exquisite design and top quality.
Now it comes in both 7-inch and 8-inch options for Imarku cleavers. Also, Imarku knives boast beautiful ergonomic handles made from Pakkawood, which offer superior comfort and minimize fatigue, numbness, and pain. They are best for the ones who love using a cleaver for cooking regularly.
The cleaver has a razor-sharp blade that is hand-sanded into a satin finish for a cleaner cut. Because it combines top quality craft with cutting edge technology, it is very sharp with heat-treated. Rockwell's rating is 60 to 62. The blade can easily cut anything from bread and vegetables to fish and chicken.
And here are the testimonials from some of our clients.
"Super nice cleaver. I really liked it better than my older one. The steel is very strong and has not lost its sharpness." – Arizmendi F.
"This knife is one of the best quality I have had in a long time. It is easy to hold, great craftsmanship, and arrives sharp, VERY SHARP! I was able to cut very accurately right out of the box. With the weight of this knife, I could easily cut roast, ribs, brisket, and steak. The paper test on this knife is amazing!" – Shane_TabletLover
Good to Know
The Rockwell scale is a standard to measure material hardness. The HRC (Hardness Rockwell Scale) is often used to rate the harder steels of making knives. An HRC rating of 52-54 works for a great everyday kitchen knife. Skilled cooks should go for an HRC rating of 55 and above, and most premium knives fall in the 59-64 range.
Final Word
Finding the best cleaver should not be so hard. You need to confirm the need and quality you like, also the things listed above.
At Imarku, we have the best selection of top cleaver knives. With 12 years kitchen knives making experience, we are sure we can offer you the nice products.
If you want to pick more classy and top-quality kitchen knives to complete your set, just check out this link and shop with us!