Use Instructions
I )For better experience, please choose the correct type of knife as a different knife apply to different foods.
2) Do not cut through bone with knives (except cleavers). Do not use knives for poking, prying, seperating or cutting semi-frozen or frozen foods.
3)All knife can not used as general tools (like screwdriver). Knife can not placed an hot surface (like stove). Please use the premium knife under proper operation.
Daily Maintenance
I )Not recommend putting knives in the dishwasher. (Except the One-piece Stainless Steel Knives)
2)Do not use knife blade to chop food vigorously.
3) Please clean it timely , wipe with a clean towel, and then put it in a ventilating place.
4)Keep away from acidic or caustic juice like tomato sauce or lemon juice on the blade.
Instructions For Each Section Of Knife
1) The middle section of the knife is suitable to handle most of the ingredients.
2) The front section of the knife is suitable for handling light ingredients such as onions and garlics.
3) The back section of the knife is design to chop some small bones.
4) Suitable for handling hard ingredients.

How To Use The Sharpening Steel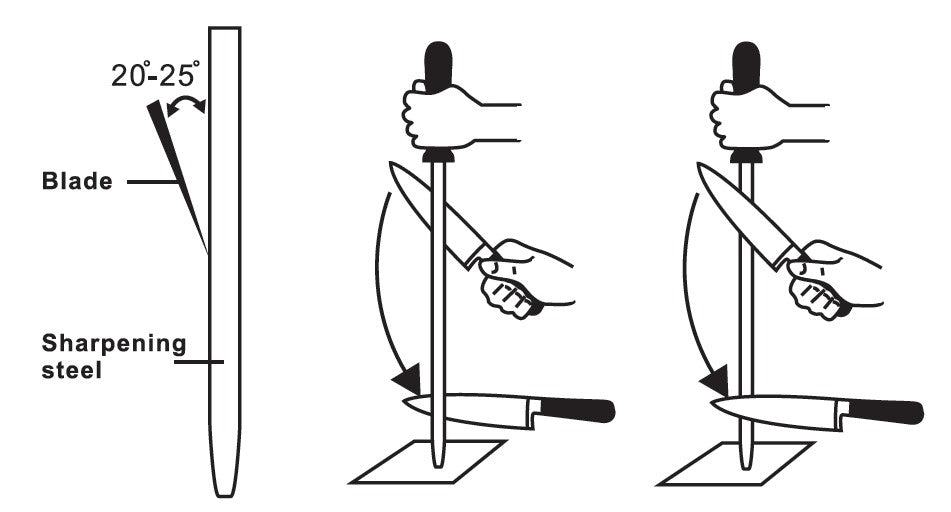 Warning
Keep away from children.
Watch out for the sharp cutter edge and eliminate direct hand touch.
Do not reach blindly for a knife.
Never try to catch a falling knife.
Sharp knives should be washed seperately.
Do not store knives loose in a drawer.
Use the right cutting board or surface.
Read more tips on shapening a knife
.