Do you know what a lot of people love about Thanksgiving? Yes, you have family and/or friends but a lot love the food, especially the turkey. Eating turkey at Thanksgiving is about traditional as it gets.
Usually, you'll see it cooked in a Dutch oven. Cooking turkey in a Dutch oven is quick. They say it is the most delicious way to cook a whole turkey. The whole turkey is full of flavor and moist. No part of the meat is dry.
Ways to Cook Your Turkey
Smoking a turkey on a smoker's grill
When you smoke a turkey, plan 30 minutes for 1 pound. The cooking temperature must be 240-250 degrees. Baste your smoked turkey to have a good smoked char on the skin. 
Cooking turkey on an electric roaster oven
Don't add water because this may steam-burn the turkey. Line the bottom with carrots, onions, cut potatoes, and celery. The temperature of the inner meat is 180 degrees when the turkey is cooked. Use a temperature gauge to check if the turkey is fully cooked. The turkey is juicy and moist, less brown than a turkey roasted in a traditional oven.
Turkey that's deep-fried
Make sure the turkey is fully thawed. Using peanut oil to fry the meat adds more flavor. Heat your fryer to 350 degrees before putting the turkey. Submerge the turkey fully in the oil. It takes about an hour to cook a 15 lb turkey. Again, check the temperature of the inner meat.
Grilled turkey
Cut the turkey down its back. Put it on the grill, and its breast up. Others choose to leave the turkey whole and just turn it, through the grilling process. Don't overcook or over-char the skin.
Oven-baked turkey, the traditional way
Butter up and season your turkey. Enclose the turkey in an aluminum foil tent in the pan. The turkey cooks faster when you lock in its heat. When the temperature reaches 180 degrees, take off the foil in the final 30 minutes. The skin will darken.
Other ways:
3 Traditional Ways to Roast Dutch Oven at Home
In an oven that's either wood-burning or coal-burning.
Over fire where usually wood is used or surrounded by coal but sometimes "hot stones."
Please note that hot stones are used more for slices rather than a whole thick chuck of meat.
When using coal, ideally, you want to use a Dutch oven that's cast iron and you simply put it on top of burning coal, and then you put coals on the lid.
Depending on how traditional you want to get. You want to essentially "bury" your meat. Usually, it'll be wrapped in some kind of giant leaf such as banana leaves. The texture of the meat that is cooked this way is similar to roasting meat in an oven but more moist and soft and chewy.
Ideally, you'd want to use a Dutch oven to do any of this but if you're looking for a particular kind of texture and consistency. It's not entirely necessary but heavily suggested. And of course, you have more modern conveniences such as gas-type ovens or electrical ovens.
Each of these, has its own pros and its own cons, regardless of varying cooking degrees and potential environmental annoyances. We will go over these cooking methods later in the article. Just so it's clear, in the end, regardless of method, they will all products for you delicious meals for you and your family or friends.
Benefits of Cooking Turkey in a Dutch Oven
#1 - Dutch Ovens are Heavy-Duty
A Dutch oven is a heavy, wide, and shallow pot. It has a thick wall. You can grip it with its two handles. A Dutch oven has extreme heat induction. An enameled Dutch oven casserole is made of cast iron which retains heat. So it is a good slow-cooker pot.
#2 - Fantastic for Searing & Frying
You can sear different kinds of foods, like meats and vegetables. It has a tight-fitting lid that steams the vessel inside and helps make food easier to cook. It shortens cooking time. It keeps the moisture of the dishes. It is heavy so the temperature remains constant.
A Dutch oven with its even heat conduction is fantastic for deep-frying or just your typical frying of meat such as chicken. You can do short ribs, with a long-simmering braise. Sear the short ribs in the pot, they'll be tender in 2 hours. And yes, you can put a Dutch oven on a stovetop or oven.
#3 - Great for Ovens
With its heavy weight and its tight lid, the oven gets scorching hot and retains heat very well, you can cook in an oven at over 300 degrees F.
You can even cook Dutch oven turkey on a low flame on your stove. The cooking liquid does not evaporate before the meat is cooked and tender. So it is good for slow cooking.
#4 - Healthy Alternative Cookware
Dutch ovens are made of cast iron. It is a good healthy alternative to non-stick cooking vessels. The Dutch oven has no chemicals.
Pro Tip:
You have to season the cast iron Dutch oven before using it, the same way as with other cast iron cooking vessels. You can use it indoors and outdoors. Bare cast iron is good for camping and outdoor cooking. It's one of the easiest cooking pots to bring when you go camping with your family.
#5 - Great for Baking (evenly cooked)
Because of their structure build, Dutch ovens are great for baking. Take dishes such as macaroni and cheese, any dish that uses a bechamel base cooks well in a Dutch oven as the Dutch oven heats evenly and has no hot spots. It doesn't stick. So the sauce won't scorch.
The scalloped potatoes and leek dish begins with a base of mixed butter and flour - a roux base. Ideal in a Dutch oven because it does not let food burn easily. Strata is a soup of asparagus and fontina. You can serve this as the centerpiece of your brunch menu. Put in fresh strawberries, plentiful mimosas, and no-knead bread.
Cooking Turkey in a Dutch Oven Over Fire
This is one of the reasons why Dutch ovens are fantastic. You can cook Dutch oven turkeys outdoors. You can cook a turkey over fire, you can fry it, bake it, or even boil it.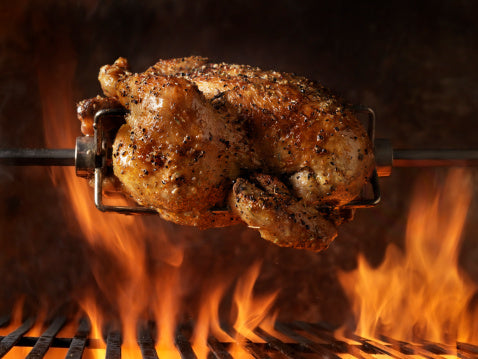 Now, it is important to note that cooking turkey over a fire using just coals underneath and coals on top, the turkey will burn. It will need a lot more wood when you're baking something and you want to try to control heat for a long period of time.
This is the best way to do it. You want to dig a 20-inch hole. Now dig about 5-7 inches in diameter more to your Dutch oven's size (starting at the handles). Put the coals 6 inches of coals in the hole. Level the coals. Wait a few minutes till the coals dry. Put the Dutch oven in there. Then put about 6 inches of coals on top.
The secret to good hole-in-the-ground cooking 

is to make sure everything is sealed to keep the heat inside. It's a lower temperature because it's not getting oxygen.
When you get the Dutch oven on top of the coals, you need to cook all the way around. Make sure you cover all the edges with coals and cover above. Line some aluminum foil on top of the coals so that little wet dirt won't choke the coals.
The ground may be wet, cold dirt. Make sure all the edges are sealed to keep all the heat in the hole. If smoke comes out somewhere, it's not sealed well.
3 hours of baking will do. That's about an hour per 2 lbs of turkey. With a temperature of at least 165 degrees or over. You can lift the pot now. Let the juice drain from the turkey. Slice it. It'll be soft, juicy, and tender.
Dutch Oven Turkey Breast with Vegetables
Ingredients for a 6 lb turkey breast are
2 tbsp butter
2 tsp dried sage
2 Vidalia onions cut into chunks
Fresh rosemary sprigs
Turkey broth (3 cups)
2 chopped carrots
2 peeled and chopped potatoes
1 chopped celery
3 tbsp flour
salt
pepper
How to Cook
Preheat the oven: to 325 degrees
Rub the turkey breast with butter, inside and out
Sprinkle salt, pepper, and sage all over
Heat your large Dutch oven on high heat
Place the turkey breast with its side down.
Cook it for 7-10 minutes until its skin is golden brown on all sides
Lift the turkey breast. Spread onion and rosemary on the bottom of the pan.
Return the turkey breast to the pan, its side up.
Pour broth, 3/4 cup, into the pan. Cover. Bake for 1 hour.
Stir potatoes, carrots, and celery into the juices in the pan. Coat well.
Continue baking, covered, until veggies are tender. Insert the thermometer into the thickest part of the breast. If it registers 160 degrees, bake for 1 to 1 1l2 more hours. It's done.
After its Cooked
Place the turkey breast on a cutting board. Let rest for 20 minutes.
Put the vegetables in a bowl. Cover.
Serve with Gravy
Gravy: From the Dutch oven, pour the pan juices into a measuring cup. After 2 minutes, scrape off the fat that rises. Set aside 3 tbsp of fat.
Add the pan juices to 2 1/4 cups of broth.
Put the 3 tbsp fat on the pan. Place this on a burner, and use med-high heat. Scrape off browned bits from the pan.
Put the broth mixture into the pan. Stir and bring to boil for 3 minutes, until thickened
Strain the gravy. Add salt, and pepper to taste.
Serve the turkey breast. Carve it. Lay it on a platter with vegetables around.
Cooking Turkey in Dutch Oven Recipe
Turkey is a lean bird, especially its breast meat. The lack of fat easily makes the meat dry and tough. Brine the Dutch oven turkey in a solution of salt and water to give it moisture and flavor. Put salt, dried herbs, and spices. The salt breaks down its proteins and makes the turkey more tender. Leave this in the fridge for a little over 10 hours. Remove from the fridge, 1 to 2 hours before cooking.
Note: brine only turkeys that are not pre-salted or labeled "enhanced", or "kosher".
To achieve this balance, let the turkey be covered and uncovered:
It is best to cover your turkey for most of the cooking time to prevent it from drying out.
If you plan to cook your turkey covered, recipes often recommend adding a cup of water or broth, midway through roasting. The liquid gently steams your turkey. Just make sure you remove the cover for the last 30 minutes before the turkey's roasted. So the skin comes out crispy.
Dutch oven Turkey:
Preheat the oven for 1/2 hour before cooking it.
Heat the turkey stock in a saucepan.
Pour the liquid carefully around the turkey, not on top of it; you don't want to wash away the seasoning and butter.
Place the lid cover. Put the pot in the oven.
Roast the turkey for 1 hour.
Remove the lid. Roast for another 30 minutes until the internal temperature reaches 74 degrees Celsius or 165 degrees Fahrenheit. Until the skin becomes golden brown and crispy.
The roasting time may seem short. You may be used to roasting a turkey for long hours. The brining and the Dutch oven help lessen cooking time.
Give it a rest of 30 minutes. Carve. Serve with gravy.
Imarku Tools for Turkey Recipe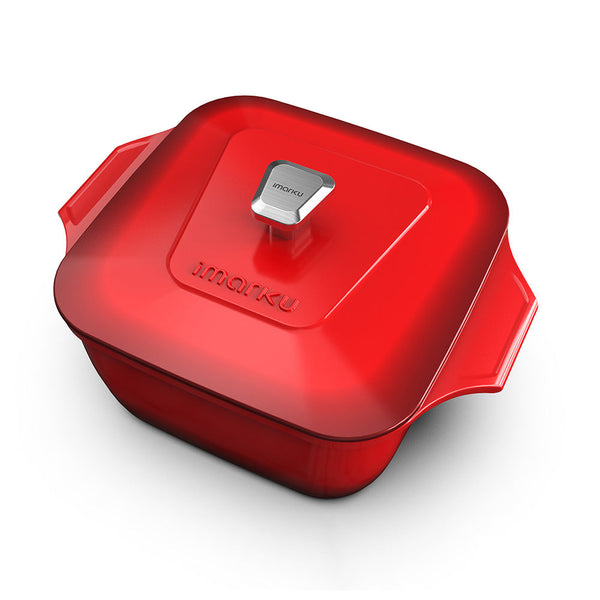 The imarku enameled cast iron dutch oven is a 1-piece dutch oven pot with a lid. This square enameled cast iron pot is more stylish than a round pot. It is thick and heavy-duty. Its sleek and modern design, with its gorgeous colors, matches the style and decor of your kitchen. You'll love using a dutch oven as a beautiful serving dish. It works well with nearly all stoves, except microwave ovens.
They are perfect as gifts for birthdays, weddings, housewarming, Mother's day, Valentine's, and Thanksgiving gifts.
Pros
The cast-iron handles are sturdy. They don't break easily when you remove the pot from the oven or from heat.
Its thickness makes a Dutch oven heat very quickly on a low to medium flame. It holds heat for a long time, up to when you put the pot on the table.
The spikes in the lid help to evenly distribute the moisture.
A Dutch oven is safe up to 550 degrees F inside an oven
Easy to clean: with the long use of the dutch oven, grease penetrates the layer of cast iron and forms a nonstick surface. This lessens stains and sticking.
The inner enamel is shock-resistant, and prevents chipping or falling off.
The inner enamel coating of the pot's inner wall and the lid button are made of stainless steel, that's 304 food-grade: both follow the US FDA Food Standard
No PFOA, PFOS, cadmium, and lead: guarantees safe and healthy exposure to food
Rest assured, the manufacturing process has an enameled cast iron dutch oven baked at 1472F. It is sprayed with many layers of inorganic glass enamel that make it resistant to rust and corrosion.
Cons
The square-shaped Dutch oven may result in uneven cooking. Most stoves have circle-shaped burners and may be quite small for the square pot. This pot will hang over the perimeter of the burner.
When the pot cools, the decrease in temperature weakens the pressure of the pot, so you can't open the lid. After you heat the food, you must open the lid before turning off the heat
A Dutch oven can lose its sealing effect if you drop or bump it.
The imarku 16-piece premium Japanese knife set is a complete set of the small, medium, and large knives for your slicing, cutting, and dicing tasks. With it, you can easily carve a turkey like a chef. There is also a knife sharpener to keep the knife blades sharp. It is made of imported, anti-rust, premium-grade Japanese steel. There's a durable walnut knife block, where you can store the knives in style. The knife set is known for its craftsmanship, ergonomics, and maneuverability.
The set includes knives you'll need in your kitchen:
a 8-inch chef's knife
a bread knife
a slicing knife
a santoku knife
a 6-inch chef's knife
a utility knife
6 pieces of steak knives
a 3.5-inch pairing knife
a 6-inch TGD
a 7-inch cleaver knife
a knife sharpener, kitchen scissors
And a unique knife block, with a space-saving design, it's made from natural walnut material.
Specifications:
Brand

: Imarku

Blade material

: Stainless steel- high carbo/alloy steel

Blade edge

: serrated

Dimensions

: 9.8 L x 6,3 W x 13,78 H inches
Pros
The various sizes of knives let you handle your many small and big cutting tasks.
The steak knife set block is removable. Easy to insert and remove knife set. You can freely detach the 6 steak knives and move these from the kitchen to the dining room. Ideal for busy kitchens.
Ergonomic 

pakkawood 

handles give optimal grip. Durable and high-density. Do not crack with long use.
Knife blades have very sharp edges.
Knife blades are vacuum-heat treated and do not break with long use.
The knife block provides a stylish compartment to safely store your knives.
1-year extended warranty.
Cons
Some users say it is not clear which spot belongs to a particular item in the knife block
Knives need to be regularly sharpened. Sharpness degrades with long use.
Users may find the knife handle too slippery because of its smooth surface.
Frequently Asked Questions
#1 - How Long does it Take to Cook a Turkey in a Dutch Oven?
You can cook a 4 kg Dutch oven turkey in only 1 1/2 hours, faster than in a regular oven.
The general rule is here, for every 2 pounds of turkey. It is equivalent to 1 hour.
So, if it's 8 pounds... it'll be 4 hours. If it's 10 pounds, it'll be 5 hours, and so on.
#2 - What Size Dutch Oven for Turkey
For a less than 10-pound turkey, use a 5-quart Dutch oven
For turkey, less than 15 pounds, use a 10-quart cast iron Dutch oven
For a whole turkey (over 15 pounds), use a 15-quart oval Dutch oven
Pro Tip:
If the turkey you're cooking is over 20 pounds. Unless you're very strong. You'll need help as when you fit the whole turkey into that Dutch oven, it can weigh over 45 pounds.