Best China Woks to Buy in 2023
Wok,a bowl-shaped frying pan is believed to have first been invented in China over 2000 years ago. It is a cooking pan for its versatility, including stir-frying, steaming, pan frying, boiling, roasting, and more. You're curious about Chinese cooking and want to buy the best China wok. What type of wok is the best fit for you? And what should we be looking out for?
Why Do You Need A Wok?
A wok is one of the most versatile kitchen appliances ever found. Here are some reasons why you need a wok.
Versatility
The wok is designed with a wide and long surface, allowing it to be used for various cooking methods. For example, you can use the wok over an open fire for searing on a stovetop for stir-frying and deep-frying. Whether you are a baker or a cook, the wok can become your best friend. The wok is designed in such a way that it can be used for the preparation of all your favourite recipes. Plus, with the right tools and techniques, you can prepare most recipes in less time.
Economical
The wok is the most economically sound cooking vessel you can get. The material is easy to acquire, and it is less costly when compared to modern-day's steel or ceramic pots and pans. It is less expensive than the more expensive pots and pans on the market. The wok is quite durable, and most of the time, it serves you for a lifetime. You can use it for cooking your favourite recipes over the years together. The cooking vessel is also lightweight, so you can quickly transfer it from one place to another.
Saves Energy
You can cook up to three times faster when you use a kauli. The reason for this is because the wok uses less heat than the traditional works. This means that you need to use lesser energy and fuel while cooking. You can also use less energy when you are searing meat. There are other techniques available to save your energy while cooking. For example, you can use your wok as the main gas burner while cooking.
Easy Maintenance
You don't have to spend a lot of time cleaning the wok. The wok is not made using glass or other fragile materials, so it will not break if you drop it. The wok is quite easy to clean because of its design. Whether you are making a meal for your family or relatives, cleaning the wok will not take much time. All you need is a paper towel, some hot water and a dish-washing liquid- it's that easy.
Safe Cooking
The cooking vessel is made of high-quality materials. The vessel is made up of copper, aluminium, iron or carbon steel which makes it easy to clean. The wok does not contain harmful chemicals, and you can use it for years without causing any harm to your health. The wok is also made of food-grade materials, so it does not leach harmful chemicals. The vessel is designed to avoid splatter and can be stacked easily. This makes the wok safer to use, especially for children.
What are the Different Kinds of Wok?
In order to find the right wok for you, it's necessary to get to know the most common types of woks: carbon steel woks, Stainless Steel Woks, Cast Iron Woks and Non-stick woks.
Carbon Steel Woks
Carbon Steel woks are always the most recommended by wok enthusiasts. The carbon steel material can tolerate high heat, heap up quickly and evenly. They are prone to rust very easily, so seasoning the wok in every use is required. However, Some of the carbon steel woks available in the market today are pre-seasoned. They are light enough to pick up with one hand. Meanwhile, they're very durable and indestructible, which can be used for over 20 years.
 
Stainless Steel Woks
The woks made of stainless steel are another popular type today. They're non-reactive and won't rust from long-time streaming. Seasoning woks isn't required, when use the stainless steel woks. However, it may also cause that some foods may stick to the surface of a stainless steel wok, as these woks transmit heat very quickly. The hot spots will blacken your pan and very hard to scrub off. All in all, stainless steel wok is not ideal for stir-frying, but it fits for steaming, stewing, and braising, especially when cooking acidic foods.
 
Cast Iron Woks
Cast iron woks are widely used by Chinese families. They are known for their durability and the ability to withstand high heat. Because of their thinker side, they take longer time to heat up, but when they are ready, cooking goes very fast for their superior heat retention. They are always heavy. Don't worry about sticks due to the natural nonstick coating developed through proper seasoning. Cast iron woks were used across China for years in every household.

Nonstick Woks
The type of woks are very friendly to wok beginners. The most outstanding characteristic: nothing sticks! They are always light, it's easy to practice with one hand for the nonstick material tend to be on the lighter side. However, they can't bear high heat and they are not suitable for deep frying.
What Kind of Wok do Professionals Use?
Professional cooks often use china wok such as carbon steel woks and stainless steel works which are easy to clean. Carbon steel woks are light in weight and easy to handle. The weight of the material makes it easy for you to cook for a long time. It also allows you to cook without exerting too much energy.
The material is durable, and the wok can last for years together. It also has a long-lasting non-stick coating which makes it even more durable. More importantly, the wok is easy to clean. You can clean it using warm water, dish-washing liquid, and a paper towel.
How do I Choose a Good Chinese Wok?
Choosing an excellent Chinese wok means you need to select a material that is perfect for your cooking needs. Here are some factors to consider when you are buying a Chinese wok:
Material
The material is the most important aspect when you are buying a wok. The wok should be made of a material that can withstand high heat and distribute heat easily. The material should be long-lasting, easy to clean, and dishwasher safe.
Choosing a Size
You should choose a size of the wok that is perfect for your cooking needs. The wok size should be the same as what you plan to cook in your home. If you prefer to cook large meals, then you should get a wok with a larger size. You can get a smaller-sized wok if you prefer to cook smaller meals.
Decide on Your Budget
How much you want to spend on your kauli is another important thing you need to consider. If you are looking for a long-term investment, choose a high-quality wok made of high-quality material.
Shape and Flat Bottom
You should consider the shape and flat bottom when looking for quality. The quality should be in a shape that is not very deep. This is important because it will allow the wok to distribute the heat and cook your food evenly.
Handle and Lid
The handle should be made of a material that will help you lift the kuali easily. The handle should also be easy to grip. This will allow you to lift the wok without making any mistakes easily. You should also choose a kuali that has a lid which you can use to cover the food when you are cooking.
What Kind of Nonstick Wok is Good is best?
You can easily find woks made of a non-stick coating that is safe to use. These types of works are known to distribute heat evenly and also allow you to cook with ease. Here is the best non-stick Kauli that you can buy today:
This wok is a small-sized work which is perfect for home use. It has a 12.6" diameter, making it ideal for cooking small meals. It is non-stick and has a flat bottom. The wok has a beautiful exterior finish and a wooden handle, which allows you to move the wok with ease. The traditional hammered finish makes it easy for you to clean the wok easily.
The 12" Iron Wok Rust Proof Carbon Steel Wook has a unique design and is made of high-quality material. This wok is 12 inches in diameter with a flat bottom. The material used in this wok is rust-proof carbon steel. The wok has a wooden handle, which makes it easy to move. The wok is also known for its non-stick ability. Using warm water, soap, and a paper towel, you can easily clean the non-stick coating on this wok.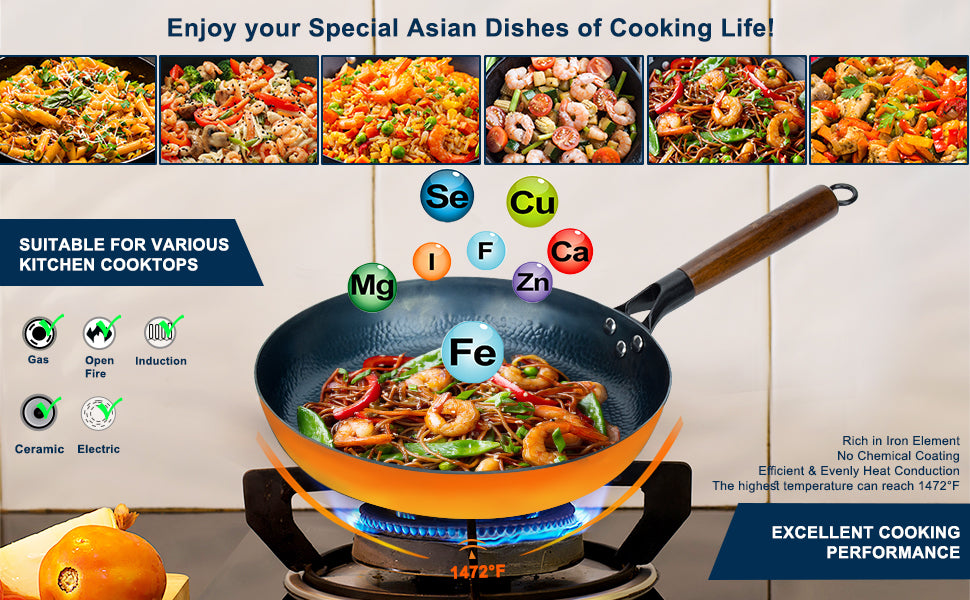 All in all, when buying a wok, you need to consider many things. The material of the work should be the first thing to consider. You should also choose a size that is perfect for your cooking needs. You should also decide on your budget. The handle of the wok is just as important as the material used. Also, you should choose a shape of the wok that is not too deep.